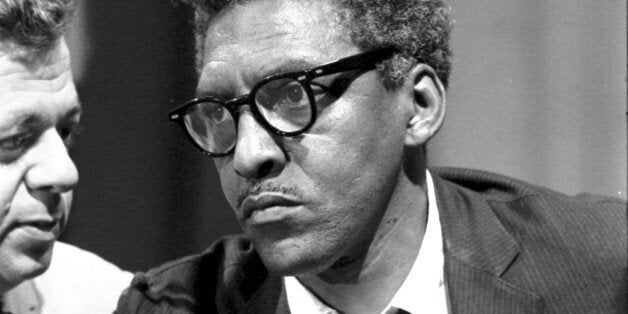 Fifty years ago, a broad coalition of people from across the United States were preparing to march on our nation's capital for jobs and freedom. The march would both make history and hurry history for the millions hungry for jobs, equality and freedom.
On that day, Dr. King would put into words what was in the hearts and minds of those in the audience; his dream stirred a nation to action. The march would galvanize public and political pressure to create change and to deliver civil rights. It would lead to the passage of landmark legislation such as the Voting Rights Act and help inspire LBGT people to fight for their rights a mere decade later at Stonewall -- and the creation of organizations like the National Gay and Lesbian Task Force.
The lead organizer of the march was Bayard Rustin -- an openly gay man who was recently posthumously awarded the Presidential Medal of Freedom. He and many other LGBT people were marching that day.
This year an even broader coalition of people prepare to commemorate the march's 50th anniversary with another march on August 24, 2013, to rededicate ourselves to realize the dream of jobs, justice and freedom.
To be sure, many in that huge crowd will reflect on the progress that has been made in the fight for equality over five decades, many in the LGBT community will also be thinking about our recent victories: the first ever Senate committee markup of an inclusive Employment Non-Discrimination Act (ENDA), the Social Security Administration's modernization of its gender marker policy, and Supreme Court marriage equality rulings. Yet every victory we achieve makes clearer the inequalities that remain-- and we only have to look at the headlines to see how fundamental rights can be reversed and how many fundamental rights are yet to be realized.
We all know that at the heart of the American Dream is a good job at a good company or organization. Yet LGBT workers face the prospect of being fired for who they are and who they love. We believe that everyone deserves the opportunity to find and keep a job in a safe work environment with a living wage regardless of their sexual orientation or gender identity and expression. Congress must pass the Employment Non-Discrimination Act now. And while President Obama is the most LGBT-friendly commander-in-chief in history, he can do more; he must issue an executive order that bans discrimination against LGBT people working for federal contractors, thereby immediately improving the lives of millions of people across the country. We all know that at the heart of a just society is a democracy that is free, fair and accessible for everyone. In fact, you only had to watch the voter suppression tactics against people of color in the last election to be reminded that the landmark Voting Rights Act is still absolutely essential to deliver justice. Yet, just a few weeks ago the act was gutted by the Supreme Court. Congress must restore the Voting Right Act.
We also believe that all members of our community, whether they are seniors, middle-aged or youth, deserve to be safe from violence, harassment, exploitation and racial profiling when they are at home, school, work, or in any other public places.
As LGBTQ people, we believe that quality health care should be accessible, affordable and culturally competent. We believe that the 11 million undocumented immigrants, including at least 267,000 undocumented LGBT people living in this country, should have a real pathway to citizenship and people from all backgrounds should be able to stay with their families. We need comprehensive immigration reform now.
And, we cannot begin to imagine the continued pain and suffering endured by Trayvon Martin's family and friends. We stand in solidarity with them as they continue to fight for justice, civil rights and closure. And we thank everyone who has pushed and will continue to push for justice.
For all of these reasons and more, LGBT people will be marching again to create change -- because we believe that these issues are connected, they cut across all lines of gender, race and ethnicity, gender identity and sexual orientation, ability and immigration status.
And when the 50th anniversary march ends, we will continue to march towards a brighter future for all: a country where all people and their families experience full freedom, equality and justice; a place where every single one of us feels safe to express ourselves sexually, intellectually and spiritually; a society where LGBT people find support in their homes, places of worship, workplaces and communities; a world where no one is devalued and no one is an afterthought.
In the spirit of King and Rustin, we will continue marching until we realize the dream for everyone.
Calling all HuffPost superfans!
Sign up for membership to become a founding member and help shape HuffPost's next chapter