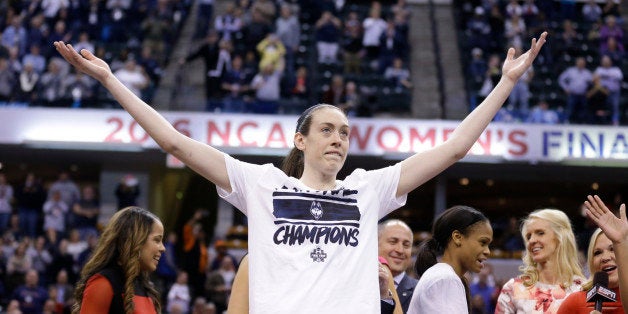 The Women's National Basketball Association held their 2016 Draft on Thursday. The first three players drafted were all members of the NCAA champion UCONN Huskies, led by first-overall pick Breanna Stewart. Many female players were drafted, and it was a pretty huge event.
I personally was looking forward to it, considering I got the opportunity to photograph the University of Maryland women's basketball team all year long. The most exciting part of the night was when Brene Moseley, one of the Terps who played her senior season this past year, got selected 21st overall by the Indiana Fever.
It's amazing to see that players you watch the entire season are going pro. You can say that you watched them, know how they play and then further get to see them bring that ability to the next level. With Moseley, I got to watch how she has complete control over the ball, maintains posession and overall plays with such skill that makes her explosive and dangerous on offense. I get to say, "Wow, that girl who hit me with a buzzer-beater shot is headed to the big leagues."
The night was pretty exciting, until ESPN decided to share ESPNW's post about the draft.
Here, they pointed out the fact that the Huskies provided the first three draft picks. Here's why the post killed the excitement; just look at some of the comments posted.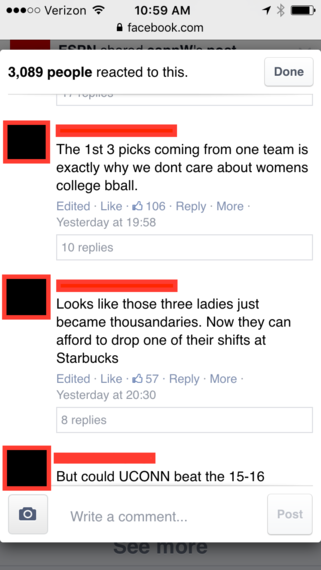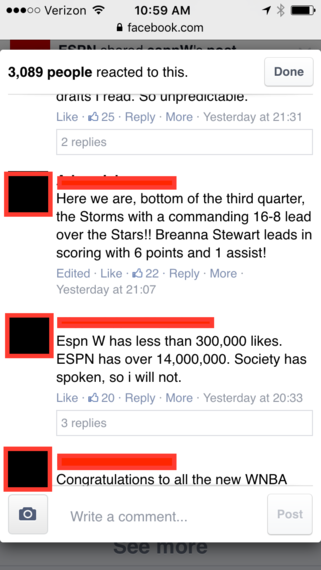 If you continuously scroll through the comments made on the post, it will discuss how women's players don't stack up to men's and how they lack the ability to play well or score high. Many of them, which I refuse to post, criticize Stewart, based primarily off appearance.
The WNBA deserves more respect than this. It is a legitimate league, showcasing one of the greatest sports out there in women's basketball. Hopefully, some facts provided, and some more information from someone who actually watches and understands women's basketball, will clear the air and put an end to these stereotypical, offensive tropes.
Let's start of by looking at the history of the WNBA. It was in fact created by the National Basketball Association (NBA) in 1997, starting off with eight teams playing in the same cities as their men's affiliates. Encyclopedia Britannica further cites it as the "most successful American women's professional sports league ever."
Saying that these players have no skill is astonishing to me. Many of them are over six feet tall, and have just as much ability as men's players do. There are players like Cynthia Cooper, Lauren Jackson and Lisa Leslie, who are WNBA superstars and could definitely take on many of the players playing in the NBA today.
For those who point out that the WNBA is typically low-scoring affairs, keep in mind that there are players like Elena Delle Donne, who average at least 20 points per game. That's better than John Wall and Chris Bosh's career numbers. This past season, Donne averaged 23.4 points per game with Chicago, which is a better PPG than many players, including Klay Thompson, Kyle Lowry and even Kryie Irving had this season.
Some may argue that it is easier to score in the women's league, but it is absolutely not. These girls tower over one another, and it is just as intense as watching the men's game. Watching the Terps women's team this year, they played such a strong defensive game that would sometimes limit their opponent to about 30 points. Women's basketball is just as difficult as men's, and their final scores are not low. Not to mention, there are many players that can bring the heat, just like Donne.
Let's go into discussing UConn. The Huskies have not lost since November 2014 and have won 72 consecutive contests, including the 2016 NCAA championship title, their fourth championship in a row.
Breanna Stewart is an incredibly talented young player, and she earned the first-overall pick last night. She was the one who led the Huskies to four straight championship titles. "Stewie" is 6-foot-4 and averaged 19.4 points per game in her final season. She is UConn's all-time blocks leader with 414, and her 2,676 career points with the Huskies is the second-best in team history. She won the Final Four's MOP (most outstanding player) award four times in four years. She has been one of the reason's that UCONN is the most dominant team in the NCAA.
Despite all of this, many chose to criticize her appearance. There is something wrong with the fact that so many only focus on how someone appears, rather than looking at what really matters: their character, their numbers and their ability. And to finish this, there is nothing wrong with how she looks. She's beautiful, and a great basketball player.
You can see it from their starting line-up. Shatori Walker-Kimbrough is the best three-point shooter in the NCAA, Brionna Jones leads the NCAA in field-goal percentage and is a great rebounder, Malina Howard exemplifies outstanding sportsmanship and plays as an outstanding center and guards Chloe Pavlech and Kristen Confroy provided amazing defensive play, as well as quietly remarkable offense (seriously, those girls can shoot three-pointers like there's no tomorrow). To add, four of five of these starters are Big Ten All-Academic players.
To end this piece, I ask you to do yourself a favor. Stop doubting women's leagues because of perceived generalizations and stereotypes. There are many leagues besides the WNBA (such as the National Women's Hockey League, Women's Soccer, etc.) that also showcase players with just as much ability as male athletes of the same sport. All athletes play for the love of the game, and no league, game or player should be considered lesser because of their gender.
Calling all HuffPost superfans!
Sign up for membership to become a founding member and help shape HuffPost's next chapter