A woman's relationship with her hair is a tumultuous love affair. She's satisfied, unsatisfied, fulfilled, unfulfilled…she breaks it off (pixie cut, anyone?), tries to change her lover (highlights, perms, flat irons) and sometimes only finds relationship bliss with the help of a good therapist (mine is Lina Arrojo of Arrojo Studios). But nothing puts strain on this particular relationship like the issue of thinning hair.
I've often loved (thank you, Lina) and occasionally hated (damn you, genetics) my hair. Then a year and a half ago, after two kids, one MBA and a very exciting entrepreneurial venture, my hair and I starting having some major relationship troubles. My hair was leaving me – for the shower drain, my hairbrush and the back of my wool coat. Anyone who's experienced hair thinning knows what an unsettling, upsetting experience it is.
A Trip to Philip Kingsley's Trichological Clinic
After much fretting and lamenting, I remembered that beauty is my business, and I got in action. I visited the Philip Kingsley Trichological Clinic in New York City. In addition to the sublime scalp treatments I received, I also received invaluable healthy hair and scalp diet and lifestyle guidance from trichologist Elizabeth Cunnane Phillips. I never skipped a protein-rich breakfast again and stocked up on hair-healing supplements. My quest for healthy hair also led to my discovery of Phylia de M. products. Along Came Phylia de M. I read in beauty book after beauty book that this new, organic hair and scalp care line produced extraordinary results for those suffering from thinning hair. I could not get my hands on them quick enough! I started with Condition and Connect, adding in Re-Connect after a month or so, as directed. The short and long term results were extraordinary. Immediately, I noticed an improvement in the overall look, feel and texture of my hair. Since I would massage Connect and Re-Connect into my scalp with my fingertips, I also noticed an immediate improvement in my nails – they were less dry, less brittle and started growing like weeds. I was fairly certain this boded well for my mane.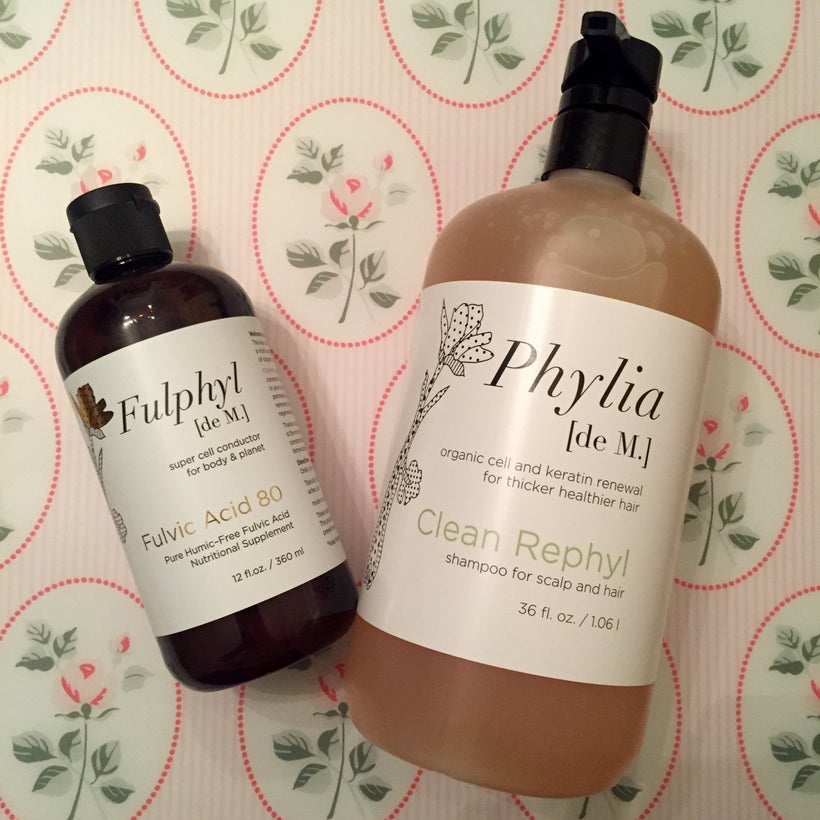 Eyebrows, Nails and Hair – Oh My!
The first place I noticed significant hair regrowth was my eyebrows, where I also applied Connect and Re-Connect. I was genetically blessed with my mom's big eyes and lush lashes, and I had full brows to match. I then proceeded to spend the 90s plucking my brows into oblivion, when Kate Moss made us think we all could pull that off. Years of tweezer detox later, I still had brows that didn't quite pass the ideal brow length pencil test. It took a few months, but after diligent daily application of Connect and Re-Connect, my brows started to go all the way…to the end of my big eyes. Here Comes the New Baby Hair
Now, this was all very exciting stuff, but I purchased these products to treat the hair on my head. Though I soon saw a significant improvement in the overall health of my hair, actual regrowth on my scalp was harder to gauge. I kept spraying and praying though, and sure enough, I started to see new little hairs sprouting about 2 months in. Elizabeth at Philip Kingsley had taught me how to distinguish new hair growth from broken hairs: new hairs would be tapered at the end, broken strands would not. A subtle distinction though this was, the difference became very clear upon close inspection: I knew these little hairs were newbies. My fledgling hairs are still there today…and have grown long enough so as to not stick straight up when I part my hair. Progress!
Phylia de M.'s science defines scalp & hair care as an integral part of optimum total health. The brand's proprietary formula restores the body's inherent ability to grow its best hair and help activate and maintain hair's vital role in maintaining overall well being. In other words, Phylia is focused on getting to the root of the problem. Hair is a barometer of one's health; internal disease and dysfunction are reflected in the condition of the scalp and hair. Now the only things my hair says about me are the kind words of a doting (and doted upon) lover.
REAL LIFE. REAL NEWS. REAL VOICES.
Help us tell more of the stories that matter from voices that too often remain unheard.
This post was published on the now-closed HuffPost Contributor platform. Contributors control their own work and posted freely to our site. If you need to flag this entry as abusive,
send us an email
.