Outside the back porch, growing almost to the railing, clusters of pale green globes adorn the branches, each sporting a miniature coronet. Over the July weeks, blueberries ripen, dark purple-blue, gaining volume and sweetness. If you sneak one early, it is too tart; if you wait until the right afternoon, warm sweetness explodes, the taste of summer. What else happens in those days it takes for blueberries to ripen?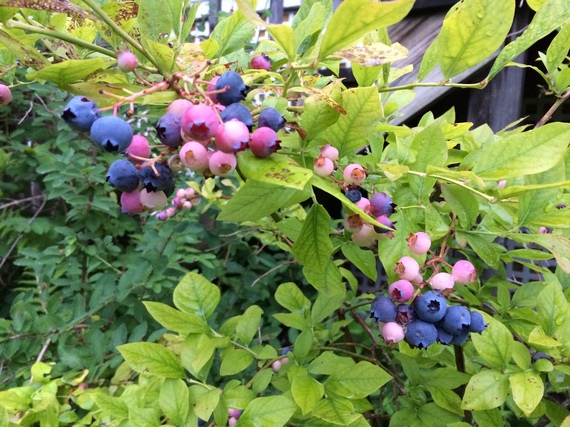 • Dusk lengthens; daylight lingers. No see-'ems, June's plague in the Pennsylvania mountains, give way to summer fireflies.
• Long afternoons at the beach end with another swim from the dock at 6:00 p.m., lake smooth and clear. One day, we watch a thunderstorm move across the water, drops ferociously pelting the surface, gone again in 15 minutes, the lake's glass surface restored. Three seagulls swoop, not understanding this is a freshwater lake and they are far away from any ocean.
• Our son, who claims neon is a color, grows confident tying florescent orange sneakers each day, scores his second goal ever in a soccer game, and wins the Cannonball Contest at Sports Week. Mid-month, he turns 10!
• Far away, in Massachusetts, my beloved Meg moves again, from a lovely to a less lovely home, still retaining her sense of humor and her grace, despite snakes and bad water and the indignity of having to purchase futons when we thought we were long past futon-buying age. Resilient and optimistic, she bakes popovers, their golden airiness a harbinger of new beginnings.
• Our list of household projects grows too long. We remove an old rug from a bedroom and, after battling decades of grime, we discover a gorgeous hardwood floor had been there all along. One project begets another in true If You Give a Mouse a Cookie fashion. We do what we can do -- dusty, ambitious, paint-streaked -- each day. Home improvement is not for sissies.
• My husband rescues a tiny kitten sitting in the middle of Rte. 239, underweight, ill, eyes gummed shut, full of fleas. Despite his best efforts, the kitten, loved too short a time, dies in days.
• We lose power for almost 24 hours, drawing together in the dark, sharing ice and water, speculating about when electricity might be restored. Once the lights come back on, I am sad at the adventure's end.
• My friend, Nancy, takes us to a waterfall I did not remember. There, our son and her daughter splash, cavort like otters, glistening in mossy pools, pearl skin glowing against ferns and dark wet rock.
• One night, illuminated by the super moon, this same duo, joined by other neighbor children, plays a game of Man Hunt across three yards, joyful shrieks echoing late into the glowing darkness.
All this in a month. This year, last, next. Images float up in February -- long bright days recalled as snow falls, pipes freeze -- summer, a mirage. Thornton Wilder tells us, "Something is eternal." Blueberries ripen -- requiring neither help nor schooling. Boys grow up. We can neither quicken nor slow their transformation. And, no matter how much we wish July could last, it must give way to August. Every year. Perhaps its evanescence makes us love it more.