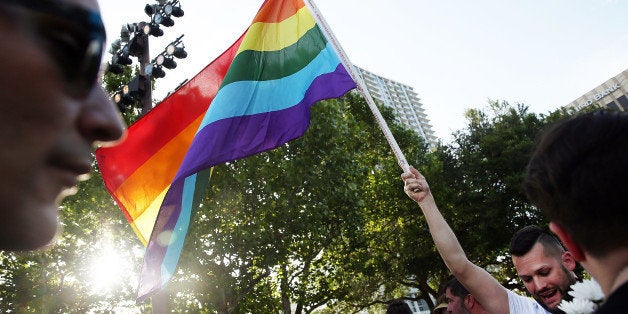 Is anybody else out there still anxious, uneasy, or just plain scared? I hate to admit it. I think I might even be ashamed to admit it. But uneasy is exactly the way I've been feeling for the past few days. The tragedy in Orlando not only saddened me it angered me, frustrated me, and continues to leave me with my defenses up; an uneasy feeling, not just in the pit of my stomach, but pulsing through my entire body.
In the face of that unease I have to admit my truth one more time: I am homosexual.
It was June 22, 1993. North Carolina (of all places). I was performing in summer stock for the first time. I was at the pool. The water was crystal clear as the sun glinted off its translucent ripples. The sounds of laughter and music from that day are still present in my memory. Friends -- both gay and straight -- basked in the sun's rays. It was on this day nearly 23 years ago that I quietly, yet bravely, opened my closet door and walked out into the world. 
I celebrate the anniversary of that day every year as another birthday. For that's exactly what it is. Coming out was scary but necessary. It was the only way I could live. Staying in the closet could only continue to propagate loneliness, fear, and confinement. It was suffocating. I was dying. I needed to be set free. I was fortunate enough (as theatre people often are) to be surrounded by a gaggle of gay men who hugged me, loved me, welcomed me (even if some said, "It's about time"). That slap on the ass did not elicit crying it beget a laugh of elation. It was the first time I started being me. The relief far outweighed the trepidation of what my future might hold, i.e. coming out to my parents, revealing my true self to the world. That's reason enough to celebrate this day every year.
With those same embracing, accepting, welcoming men I went many times to the gay bar, Scandals, in Asheville, North Carolina. I enjoyed the unrestricted freedom of dancing the night away with my friends...and strangers alike. I watched with glee as the drag queens lip-synced the hell out of songs by Celine Dion, Whitney Houston, and Cher. I sang along at the top of my lungs. I laughed. I drank. I kissed boys. I pressed my body against other men, nary a slit wide enough for light between us. It was freedom. I wasn't scared. It was a place filled with people just like me, celebrating life, hurting no one. 
I was a young 22-year-old man; naive, excited, nervous, ready. 
I'm now a 45-year-old man who has seen the world change since that June day in North Carolina all those years ago -- change that I didn't think I would ever see. Personally, I've made tremendous strides in accepting myself and living my life authentically in public. And humankind has made tremendous strides toward equality and human rights.
Change is happening. Most of it positive. It's exciting. But it creates what a friend of mine described perfectly as "a false sense of comfort." We forget how many people merely tolerate us and in some cases simply wish we would shut up and go back inside our closets. There are haters out there and social media allows them to share their hate prolifically.
I live in New York City. And in my City I often feel we live in what I can only describe as a bubble. I don't regularly stop to wonder what life is like for people who don't live here. New York City is such a melting pot of races, cultures, religions. I doubt I'm alone in that bias. Do you think about the attitudes and opinions of people who live in upstate New York, the Midwest, or Deep South very often? Ask yourself. That imaginary bubble creates a sense of security that when truly pondered, especially in the wake of the devastating shooting at Pulse night club in Orlando, is misleading at best.
Gay bars should be a safe haven. We shouldn't have to fear for our lives when we're inside. There's enough to threaten us outside the door when homophobic people lie in wait for us to head home so they can hit us with their hateful slurs or, in some cases, their hateful fists. LGBTQ people should not have to worry about losing their jobs because of who they kiss, hold hands with, fuck, or marry. LGBTQ people should not have to worry that a member of one of the Baptist churches, pastored by one of the above mentioned men, will take to heart what their spiritual leader is saying and gun us down.
I have needed all my courage to throw my shoulders back, hold my head up, and walk down the street, completely visible -- vitally visible -- in the days since waking to the nightmare in Orlando. I understand that we, the LGBTQ community, cannot hide, must not hide. We have to be seen. We have to be louder. We. Have. To! That means no matter how uneasy I might still be feeling, I have to continue to be me -- gay, beautiful, fabulous, gender expansive, funny, creative, normal me. 
And you, if you're LGBTQ, have to continue to be you. 
"There are some wounds that can never heal. There are scars that make us who we are but without them we don't exist." Written by John Logan for the character of Lily on Penny Dreadful. 
If you're feeling like me, reach out to the LGBTQ people in your life for support, strength, and courage. I have done that. I continue to do that. If you're the parent of an LGBTQ child or a straight ally, reach out to the LGBTQ people in your life and show them you support them, that you love them, that you're there for them.
"I love you, Michael!!" Those words came to me via text on the Monday following Orlando. They were from my mom. I knew that she was reaching out to her gay child to assure me in four simple words that she was thinking about me after the senseless attack on the LGBTQ community took the lives of 49 people who were merely enjoying their lives in what should have been a safe place to do just that -- enjoy their lives. 
That text meant so much to me. You never know who is frightened, who is angry, who is suffering. But kindness and support and love goes a long way toward restoring calm...and healing.
"Openness may not completely disarm prejudice, but it's a good place to start."  Jason Collins
REAL LIFE. REAL NEWS. REAL VOICES.
Help us tell more of the stories that matter from voices that too often remain unheard.