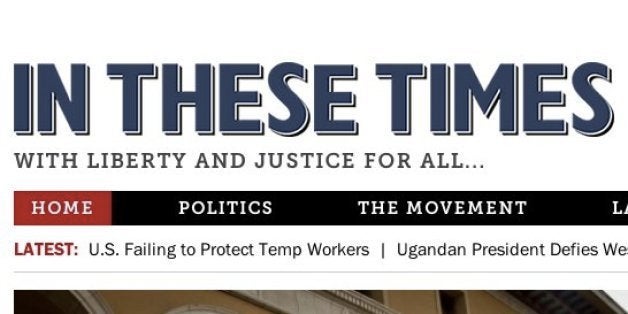 WASHINGTON -- The staff of the progressive independent magazine In These Times joined the Communications Workers of America on Monday, formally making union members out of a news outlet that's long chronicled the ups and downs of the U.S. labor movement.
The decision to unionize was unanimous among staff and went unopposed by the magazine's management and board, according to journalists there. The magazine's editor and publisher, Joel Bleifuss, met with union representatives on Monday to finalize the paperwork, paving the way for contract talks. All the staff writers and most other editorial employees at the Chicago-based magazine will be part of the bargaining unit.
"As a magazine that champions worker rights, we're very proud that our workplace is going to reflect the principles we value as an organization," said Rebecca Burns, an assistant editor and reporter in Chicago. "As labor reporters, we believe workplaces function best when they have labor unions representing workers."
Founded in 1976, In These Times is one of the few media outlets with a devoted and unabashedly pro-worker labor beat. The board's agreement to voluntary recognition -- commonly known as "card check" -- was a relief to the magazine's stable of progressive journalists, since it allowed staffers and management to avoid the ugly fight that often accompanies a full-blown union election.
Bleifuss said the management "welcomed" the staff's decision. "In These Times is proud to help increase the ranks of the union movement," he said in a statement. "We look forward to our partnership with the Communications Workers of America as together we work to 'bring to birth a new world,'" he continued, referencing the union anthem "Solidarity Forever."
Burns praised the magazine's management for agreeing to voluntary card check and being "willing to practice what they preach."
For many staffers, the reasons for unionizing went beyond the mere desire to formally espouse the magazine's progressive virtues. Like many other small, independent media outlets, In These Times relies on a mix of subscription fees, donations and, in particular, non-profit grant money to produce its online and print content. In the past, as large grants have dried up, the magazine has laid off or drastically cut the pay of staffers, only to rehire them later once the spigot turned back on.
Staff members hope that being represented by CWA will give me them a greater voice if they face another big funding squeeze. The employees will be members of the Washington-Baltimore Newspaper Guild, a CWA local that also includes employees of the Washington Post, the Baltimore Sun and Bloomberg BNA.
Mike Elk, the magazine's Washington-based labor reporter who helped organize the staff, said a round of layoffs after grant money ran out in 2012 served as "an impetus" for considering the union. (Embodying the highs and lows of cash-strapped independent reporting, Elk learned he'd be pink-slipped the same week his work was cited in a front-page story in The New York Times on corporations pressuring workers how to vote.) After losing his job, Elk collected unemployment insurance and contributed on a part-time basis before being rehired at the magazine. His eight months without steady full-time work left him with $4,000 of debt, he said.
"We were laid off arbitrarily with three weeks notice and told by a progressive foundation that it was okay to not give severance, to not give notice," said Elk, who declined to name the foundation. "Our issue is with these foundations, who are essentially our employers and with whom we have no contact."
According to financial disclosure forms, the publisher of In These Times, the Institute for Public Affairs, had total revenues of $1.3 million in 2012, $900,000 of that through grants and contributions, and $325,000 through subscriptions. In 2011, Bleifuss told the Chicago Reader that after cratering during the recession, the magazine's circulation had recently surged to 22,000, in large part because of a direct-mail campaign. That's still down from around 40,000 in the late 1980s, however.
The magazine has survived because of a "loyal community of supporters who pay above and beyond the cost of their subscriptions," Bleifuss told the paper.
Having unionized with the magazine's blessing, the process apparently gave In These Times staffers a renewed respect for workers who try to organize under an employer hostile to labor unions. Both Burns and Elk said they were surprised at how much planning and effort was required to unionize a workforce that's inherently pro-union and whose management pledged to remain neutral in the process.
"We've had to spend a lot of time talking about how we'd do this," said Elk. "I couldn't imagine doing this and being afraid of getting fired. It's a testament to our employer that we've been able to organize under neutrality."
According to Burns, the collaboration between the magazine's staffers over recent months led to an ongoing joke: "How many labor journalists does it take to organize a labor union?"
Unlike most of the employers who end up in the pages of In These Times, the magazine's board chair told staffers in writing that it was "committed to an amicable, efficient and timely process" for unionization. That pledge, staffers said, was in keeping with the magazine's mission of "independent journalism based on progressive values."
Cards signed by every prospective member of the bargaining unit were counted and certified on Monday. But with a magazine to produce and a website to feed, staffers had been too busy to plan any celebration marking their formal entrance in the labor movement. Burns said she was taking part in some "celebratory editing."
"I've pushed for a group viewing of 'Newsies,'" she said, "but I'm not getting much traction on that."
Related
Popular in the Community