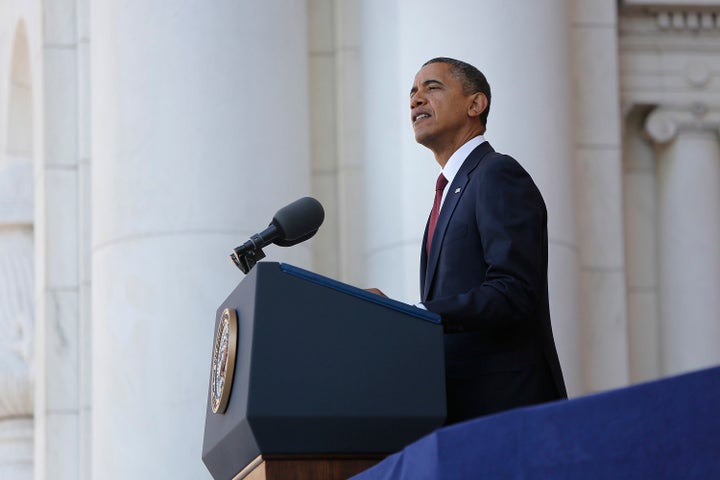 It started happening early. We saw it in the hours-long lines outside of polling places in Ohio and Virginia, as citizens showed up for early voting in record numbers. We saw it in Florida, when poll workers closed their doors on an unexpectedly massive crowd of early voters, only to be met with determined chants of "We want to vote! We want to vote!" It appeared through Florida's black church leaders who, in response to the state's elimination of the last Sunday of early voting, set a new date for their community's popular "Souls to the Polls" voter mobilization campaign -- and made history with a larger-than-ever early voting turnout.
The story of this election was bigger than the candidates. This year, democracy itself was on the ballot -- and America chose it in droves. Latino voters in particular made a historic showing at the polls this year, comprising 10 percent of the electorate, up from nine percent in 2008. We also saw heavy African American turnout, with their numbers in Ohio, Virginia, North Carolina and Florida exceeding 2008 levels.
What makes this turnout more remarkable is that it happened amid the biggest rollback on voting rights in more than a century. This election cycle brought with it a wave of new laws and policies that made it harder to vote, from restricting the type of ID a voter can use, to limiting early voting, to attempting to unilaterally throw registered voters off the rolls. And it was no mistake that these strategies affected people of color the most. Yet the plan backfired.
It didn't work because something else happened this election cycle. The national conversation around voting rights was amplified like we haven't seen since 1965. Americans began to recognize that democracy was under assault. And rather than concede to this partisan effort to restrict their vote as an insurmountable setback, they saw it as a challenge to be met.
The prologue to this Election Day was an unprecedented effort to hinder voting rights, the largest since the Reconstruction-era days of poll taxes and literacy tests. The epilog to this story will define the character of our nation. Restrictive voter ID laws were proposed in 38 states. In the end, only Tennessee, Georgia, Indiana and Kansas ended up with strict voter ID laws - thanks to gubernatorial vetoes of photo ID laws in six states, and court or Department of Justice orders blocking restrictive photo ID laws for 2012 in Pennsylvania, Wisconsin, Texas, Mississippi and South Carolina. Yet there are additional roadblocks ahead.
Some of those victories, such as the legal challenges to Pennsylvania and South Carolina's photo ID laws, were partial wins with laws blocked for now, but on track to stand in the next election. The Department of Justice's review of Mississippi's law has it on hold for now. Court orders striking photo ID laws in Wisconsin and Texas are on appeal, still to be considered by higher courts. Certain politicians will undoubtedly revisit their playbook, doubling down on pushes for more reductions to early voting, onerous restrictions to registration, and error-riddled voter purges.
Thousands of citizens -- disproportionately African Americans and Latinos -- were improperly forced to vote a provisional ballot, particularly in Ohio, Florida and Arizona. At one Tampa precinct, voters were given so many provisional ballots that volunteers dubbed the location "Provisional City." And although the resolve of voters who waited in line for up to eight hours made for an inspiring sight, it also proved that our system of elections is in dire need of repair. As President Obama made it plain in his re-election victory speech, "We have to fix that."
The essence of American exceptionalism is a robust and inclusive democracy. The ballot box is the one place where every citizen -- rich or poor, young or old, and of every race -- has an equal voice in determining the course of our government. But with 50 states administering elections in 50 different ways, it's far too easy to manipulate the system. To that end, the continued work on voter protection must involve new, affirmative measures to solve the problems with our election infrastructure. That means advocating for reforms like a modernized, automated voter registration system; early voting in every state; or declaring Election Day as a federal holiday to encourage greater voting access and participation. It is imperative that we finally enshrine the right to vote in federal law to provide national standards for our election system.
Regardless of which candidate they went with, in this election Americans cast an unequivocal vote for democracy. We must honor that mandate by shielding this fundamental right through new laws that ensure that our election process will be free, fair and accessible to all.
Popular in the Community