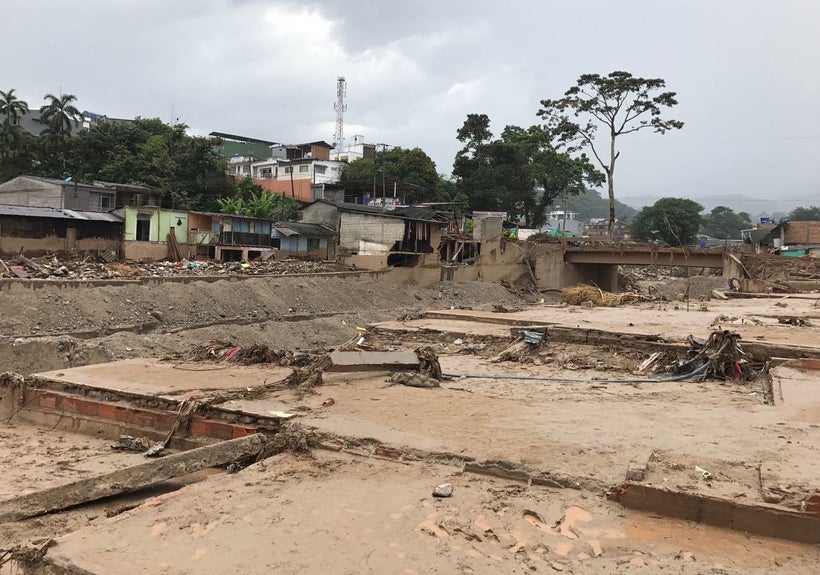 Over the last several months, severe landslides have devastated communities in Peru and Colombia. Together, they left more than 500 people dead, dozens missing, and more than 100,000 victims.
Tragedies like these have some things in common: they occurred in cities and regions with high rates of deforestation and changes in land use; in both areas there was evidence of poor planning and regulation. Effectively, these disasters were foreshadowed.
They make clear once again the vital need to care for our forests and riverbanks, and to avoid deforestation and erosion.
Climate change means hard rains, fires, and hurricanes will become increasingly frequent and more intense. In Mocoa, Colombia, the equivalent of 10 days of rain fell in just one night, causing flash flooding that devastated much of the small town.
In many cases, nature is only taken into account after tragedy strikes. But nature, when well cared for, can literally save lives. In Mocoa, a native forest helped protect one neighborhood from being washed away.
That's why environmental protection must be taken seriously, and any exploitation of natural resources must be well planned and sensible.
Yet in Latin America, there remains a regional tendency towards unregulated extractivism. Over the last few years, governments across the region have been weakening environmental regulations in the name of development.
Meanwhile, year after year, hundreds of people in Latin America and the Caribbean—especially children and others in vulnerable situations—die from events associated with droughts and floods. Activists, movements, mayors, and others seeking to protect land and water from extractive activities are frequently criticized, even criminalized and attacked.
In the small Andean town of Cajamarca, Colombia, 98 percent of voters recently chose to ban all mining in their territory.
It's a decision that has sparked national controversy. Critics of the referendum have questioned whether the results are mandatory, despite the fact that Colombian law clearly states, "the decision of the people is mandatory."
Through their popular vote, the people of Cajamarca reminded their government of its commitment to protect their water and natural resources. Communities in Guatemala, Honduras, Costa Rica, Peru, and El Salvador have done the same.
While some extraction is necessary in modern society, there must be a healthy balance. Not every project is safe, and alternative development models must be embraced and explored. It's time to incorporate the environment into public policy and development, once and for all.
Two Latin American nations have shown what is possible. In 2011, Costa Rica banned all open-pit metal mining. In March, El Salvador did the same. In both cases it's a big yet viable change, because alternatives exist and it's understood that protecting land and water is necessary to secure a healthy future.
El Salvador has the second-highest rates of deforestation and environmental degradation, which has led to severe water scarcity. This is why the ban on metal mining passed there. It was no favor to environmentalists; it was based on years of sound analysis.
Social and economic studies of the proposal concluded that the best thing for the country was to care for and restore its remaining forests and water sources. The decision prioritized environmental restoration—particularly its social and economic benefits—above the perceived benefits of mining.
Environmental degradation is not a problem that exists in a vacuum. That's why States have signed treaties and other international instruments that recognize their obligation to protect the environment. The Paris Agreement on Climate Change, signed by 34 of 35 States on the American continent, is the most recent.
Now, more than ever, these commitments must be honored and fulfilled.
Not all extractive projects are viable. Determining their worth must involve sound planning, coupled with policies and legal frameworks that are strong and effective. Environmental Impact Studies must be done carefully, objectively, and independently. Decisions should consider short- and long-term impacts on both local and national levels.
We are living now with the realities of climate change; to act otherwise would be ignorant and irresponsible. But, in case we forget, nature will surely remind us.
This blog was originally published in Spanish in El País.
REAL LIFE. REAL NEWS. REAL VOICES.
Help us tell more of the stories that matter from voices that too often remain unheard.
This post was published on the now-closed HuffPost Contributor platform. Contributors control their own work and posted freely to our site. If you need to flag this entry as abusive,
send us an email
.