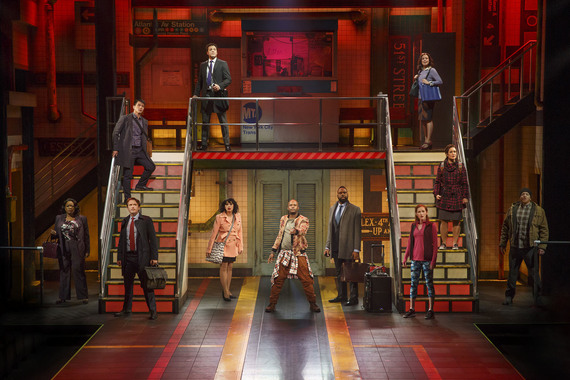 By Jil Picariello, ZEALnyc Theater Editor, December 21, 2016
The subway system is now 112 years old (which is about how long we've been waiting for the Second Avenue line to open). So are the stories that intertwine through the book of the new a cappella musical In Transit, which opened recently.
Broken hearts, missed soul mates, lost opportunities, lessons that need learning: All the clichés that warm the heart (often while numbing the brain) are here. They aren't any brighter, there is no new take, and very little of this book is surprising.
I couldn't have cared less. Because, frankly, we're not there for the story. We're there for the song. And the song is marvelously, infectiously, ear-wormishly entertaining. The talented cast is polished to a high-gloss gleam, and they perform with such precision and--excuse the pun--harmony, that I did not miss a single instrument, or mind one of the overworked clichés.
The voices are glorious, and the cast puts you in mind of an old-fashioned Mickey-and-Judy musical, where young people give it their all and you end up smiling and, heaven help us, even tearing up a little.
The evening's entertainment is, in a sense, "hosted" by a beat-box champ/underground Yoda named Boxman played by Steven "HeaveN" Cantor alternating with Chesney Snow. In addition to dispensing wisdom, Boxman is also the glue that holds the story together as the other characters swirl around him. The simple and marvelously versatile set by Donyale Werle also swirls, transforming from subway to office to bar and back again. Donald Holder's lighting and Ken Travis' sound designs add to the ambiance. And director/choreographer Kathleen Marshall keeps the plates spinning with nary a dull moment, at least while the talented cast is singing.
The stories are (almost) beside the point. Jane is an aspiring actress, about ready to give up on her dreams. Her agent, Trent, who is planning to marry his fiancé, Steven, still has not come out to his bible-thumping Texas mamma. Trent's friend (from an a capella group in college called--wait for it--"Resting Pitch Face") Ali is heartbroken and a bit unhinged. Ali's brother Nate has recently lost his job due to a distressing "Reply All" incident. Nate meets Jane, likes her, then loses her. They are all, in one way or another, "in transit." Poke, poke. Get it?
You can guess where it's all going to go, and you don't care. Because every member of the cast is charming, the songs utterly infectious, and every single time they open their mouths to spin their glorious harmonies you completely forget how many times before you've heard all those theatrical tropes and concentrate on how rarely you hear voices like these, spinning together in completely enrapturing harmony.
They're all great, but two deserve a special shout-out. Moya Angela handles three roles, all with aplomb. She's Trent's in-denial mother, Jane's office manager, and the subway booth worker who foils Nate's plans. Her fun and funny advice number to the striving Jane is a stand-out, as is her moment in the spotlight in a showstopping dress made completely out of MetroCards. Lady Gaga, take note. The other killer number belongs to Nicholas Ward, the super-lively "Wingman."
The rest of the cast is just as great, especially the very talented Margo Siebert as Jane. And the songs that show off their voices to a T are written and composed by Kristen Anderson-Lopez (looking to pick up the third arm of her EGOT?), James-Allen Ford, Russ Kaplan, and Sara Wordsworth. And clearly the performances owe much to music supervisor Rick Hip-Flores and the a cappella arranger Deke Sharon, the vocal producer of the Pitch Perfect movies and star of the reality show Pitch Slapped.
Take the bus, the car, or, better yet, the subway. However you get there, In Transit will take you away.
In Transit is at Circle in the Square, 1633 Broadway. First Preview: November 10; Opened: December 11, 2016 for an open-end run. Running time 1 hour and 40 minutes with no intermission. Book, music and lyrics by Kristen Anderson-Lopez, James-Allen Ford, Russ Kaplan, and Sara Wordsworth. Vocal arrangements by Deke Sharon. Musical supervision by Rick Hip-Flores. Directed and choreographed by Kathleen Marshall. Cast: David Abeles, Moya Angela, Steven "HeaveN" Cantor, Justin Guarini, Telly Leung, Erin Mackey, Gerianne Pérez, Margo Seibert, Chesney Snow, James Snyder, Mariand Torres, Nicholas Ward, Adam Bashian, Laurel Harris, Aurelia Williams.
Cover: Company of 'In Transit:' photo: Joan Marcus
____________________
Jil Picariello ZEALnyc's Theater Editor writes frequently on theater and culture.
For more features from ZEALnyc read:
For all the news on New York City arts and culture, visit ZEALnyc Front Page.
Calling all HuffPost superfans!
Sign up for membership to become a founding member and help shape HuffPost's next chapter