On a snowy night in Syracuse, New York, community members stream into Grace Episcopal Church. Soon the church hall is packed. As the lights are dimmed, the insistent cry of a fiddle cuts through the darkness. One by one, from every direction, lanterns flicker to life, causing a series of staccato expressions of surprise and laughter. A tall, lanky fellow with a handlebar moustache, wearing a stovepipe hat, a preacher's collar, and combat boots takes the microphone and introduces himself as the Dr. Reverend Ebenezer Abernathy. Backed by a nine-piece rock band, the 15-person ensemble -- part church choir, part traveling vaudeville troupe -- bursts into song:
Have you ever stopped to wonder
From whence comes freedom's call?
That sound that rips asunder the chains
Binding us all?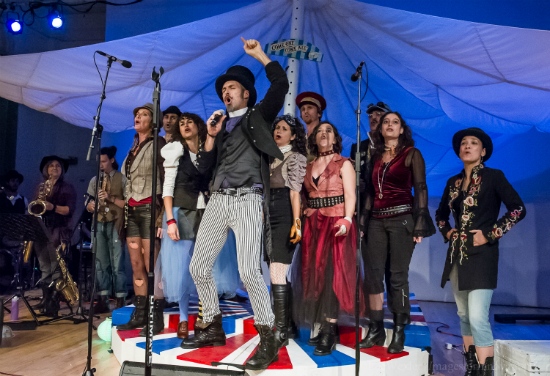 "We are the mellifluously melodious and medicative Freedom Revival of Syracuse and Greater Central New York," Abernathy exclaims in a playful Irish brogue as the band and choir shout their full-throated approval. "This is a tent revival for freedom and democracy!" The Dream Freedom Revival's high-energy performance has people in the audience grinning and clapping along. But the group wants the audience to do more than simply enjoy the show. The Revival asks audience members to come onto the stage and testify about their dreams and struggles. On this particular night, many of those who do so happen to be political refugees relocated from the Congo to Syracuse. With grace and eloquence -- and encouragement from the audience -- each testifies about their struggles in their new home.

Abernathy is played by Dr. Kevin Bott, a performer and engaged citizen at heart and an educator by trade. He combines these aspects as associate director of a national network of nearly 100 colleges and universities that is headquartered at Syracuse University called Imagining America: Artists and Scholars in Public Life. The Dream Freedom Revival's performance is one example of what Imagining America is all about: catalyzing and organizing a revival in American higher education that emboldens scholars and students -- especially but not only in arts, humanities, and design fields -- to join with others in their communities to do the public work of democracy.

It's important not to miss that The Dream Freedom Revival and Imagining America represent a renewed commitment to one of higher education's most important and yet recently neglected roles in our society: to function as a civic as well as economic engine, a force for bringing people from all walks of life together in collaborative work. To address serious economic challenges in a new global economy, Imagining America believes we need to leaven technical expertise with a spirit that awakens people's sense of themselves as civic actors -- a spirit that respects and taps the expertise and knowledge of everyone, whether they have a college degree or not. And Imagining America believes that higher education's role as a civic engine not only can but should be interwoven with its role as an economic engine, giving both cultural and political meaning, direction, and purpose.

The importance of a democratic revival in troubled times reaches beyond the embrace of a cultural or political ideal. Imagining America is calling for a revival that engages people in productive work in their communities, and that sparks and supports an innovative and creative entrepreneurialism that's motivated as much by a love of place and a concern for the commonwealth as it is by individual ambition. Such entrepreneurialism is key to generating jobs that not only pay but also matter, in a broad cultural and civic sense. And it's key to the important task of reclaiming and strengthening the civic responsibilities and contributions of the professions, and of work and livelihoods of all kinds.

While we can confidently report that there is a democratic revival emerging in our troubled times, and that colleges are taking part in it, we can also say that there is no guarantee it will be sustained, or that it will fulfill its potential. There are many barriers in the way, including a deeply ingrained pessimism about the possibility of change as long as a narrow, bottom-line economics continues to dominate our politics and culture. And in the academy itself, there is lingering doubt among many about the legitimacy and value of engaging in the ordinary, everyday work of local democracy.

To encourage an emerging democratic revival, Imagining America fosters a field-wide critical discourse that produces knowledge about and resources for changing institutional structures to better support publicly engaged art and scholarship. Imagining America's annual conference creates a welcoming space for faculty, staff, administrators, students, and community members to build and sharpen each other -- and to collectively re-imagine the possibilities of a higher education system that is radically reoriented to address and enrich local problems and life.
Back in the church hall in Syracuse, Ebenezer Abernathy is giving his final address. "We must remember, my friends," he exclaims, his voice hoarse after an exuberant evening of singing and storytelling, "while we can all agree that we're in need of reviving a spirit of true freedom and democracy, we must not delude ourselves into thinking we know what a revival looks like, or that we alone hold the answers. We must be vigilant in remembering that it is the imagination - the dreaming if you will -- that must precede our actions. And it is a dreaming that we must do together, face to face, neighbor to neighbor, in the places that we live."
To take it seriously we must give up at once any notion that imagination is disconnected from reality or truth or knowledge... For humans to have a responsible relationship to the world, they must imagine their places in it... As imagination enables sympathy, sympathy enables affection. And it is in affection that we find the possibility of a neighborly, kind, and conserving economy.
For an opportunity to join with others from across the country in imagining a better future for higher education and our communities, we invite you to come to Imagining America's next national conference, October 4-6 in Syracuse.

#
Calling all HuffPost superfans!
Sign up for membership to become a founding member and help shape HuffPost's next chapter