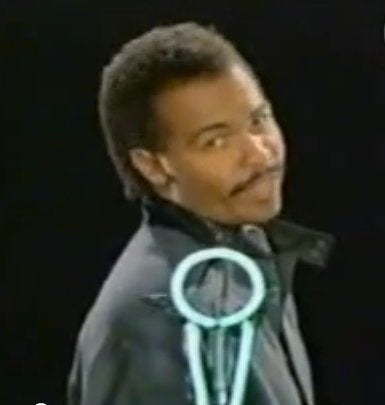 In keeping with this season's trend of featuring musicians who haven't faded into bitter oblivion, this week's Unsung heralds the career and eventual semi-retirement of Ray Parker Jr.
If you're a child of the '80s like I am, Parker Jr. will forever be linked to the Ghostbusters soundtrack anthem. (Seriously. I defy you to think of that song right now and not find yourself singing it.) Oddly, I also remember Ray Parker Jr. from his rock-fueled hit, "The Other Woman." (Imagine a three-year-old bopping around in hair baubles to an upbeat ditty about infidelity.)
It's almost too bad that I never got to know Parker Jr.'s music better than his most commercial, pop-laden mega-hits. It's like only knowing Bobby McFerrin for "Don't Worry, Be Happy" (and really, in all earnestness, if that's all you know of Bobby McFerrin, get thee to a discography. And then: get thee to iTunes. Incidentally, where's his Unsung?).
As a musician, Ray Parker Jr. is as revered as they come. His story begins in Detroit, where he was raised in a home within walking distance of Motown. By age 15, he was doing session work there as a guitarist for established acts. He left college after a year to tour with Stevie Wonder, went on to earn a slot in Barry White's Love Unlimited Orchestra, and cut his teeth as a songwriter for Rufus and Chaka Khan.
Long before he boasted, "I ain't afraid of no ghosts," he had six back-to-back number one hits with his band, Raydio. And not one to be cheated out of his earning rights, save for one youthful error he discusses in this episode, Ray got paid on writing, producing, engineering, and performing levels.
If you're holding your breath in anticipation of a predictable scandal and fall from grace here, you should exhale. Ray Parker Jr. didn't leave the music industry penniless or disgraced; he cashed out in the '90s, after leaving the label that launched him, Arista, for the less supportive Geffen Records, and suffering the loss of both his parents.
There are a few really pleasant moments in this Unsung episode. For one, it immediately becomes clear how much Ray adores the guitar; he plays it in every other scene and even accompanies Chaka Khan and Cheryl Lynn as they reminisce about his work on their hits. No one interviewed speaks ill of him, least of all his childhood friends, with whom he remains close.
After listening to colleagues and loved ones toast him for an hour, he begins to feel like your cool, well-to-do uncle, who always comes to town bearing gifts and telling tales. His Unsung episode is as mellow as he is.
Support HuffPost
Every Voice Matters
Popular in the Community