The list of the American architecture firms now building in Vietnam reads like a veritable Who's Who of the design world.
Among them: Pelli Clarke Pelli Architects from New Haven, Boston-based Sasaki, the London office of SOM, along with HOK St. Louis, and Carlos Zapata Studio from New York.
They're engaged in all manner and shape of architectural practice in the two major cities of Hanoi and Ho Chi Minh City, from master plans to suburban development to very tall buildings.
And as counterintuitive as it may seem to those engaged here in the Great Recession, one of their major challenges is to temper pent-up demand -- for modern conveniences, luxury homes and big automobiles -- with the sustainable lessons they've learned in the states.
"The nation is driven by the local population to modernize -- to do what the West did in the 1960s," said SOM's Daniel Ringelstein, who's helped develop a master plan for a suburban development outside Hanoi. "The challenge is to develop mixed-use policies linking land and transportation, so that they grow in an intelligent way."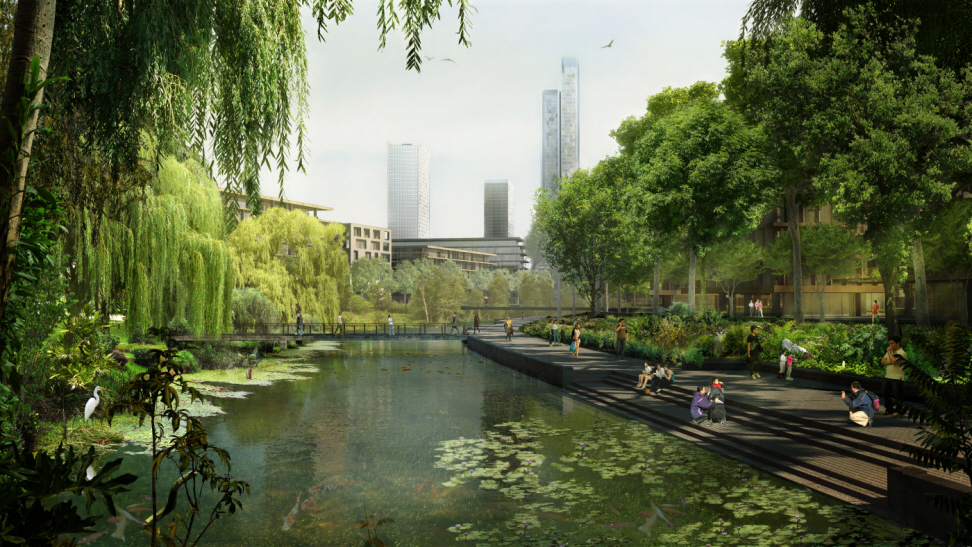 There are also the questions of climate change and the environment. Both of Vietnam's two major cities are located in a flood zone along a river. As they grow, they'll be susceptible to rising water.
"They need to look at the impact of growth," Ringelstein said. "They need to look at what needs to be done to grow in an environmentally safe way -- there will be more flooding if it's not done carefully."
That's an issue Dennis Pieprz and his team from Sasaki took into account when they entered a competition for the Thu Thiem Urban Districts in Ho Chi Minh City. The firm's 2006 winning entry for the city's former port area, totalling 1,800 acres, looked at a projected 40 years of growth along the waterfront. They won in part because of its sensitivity to the flood plain.
"We offered a powerful ecological response to the site and its rivers, wetlands and mangroves," Pieprz said. "We preserved them in the plan, and concentrated most development on higher land."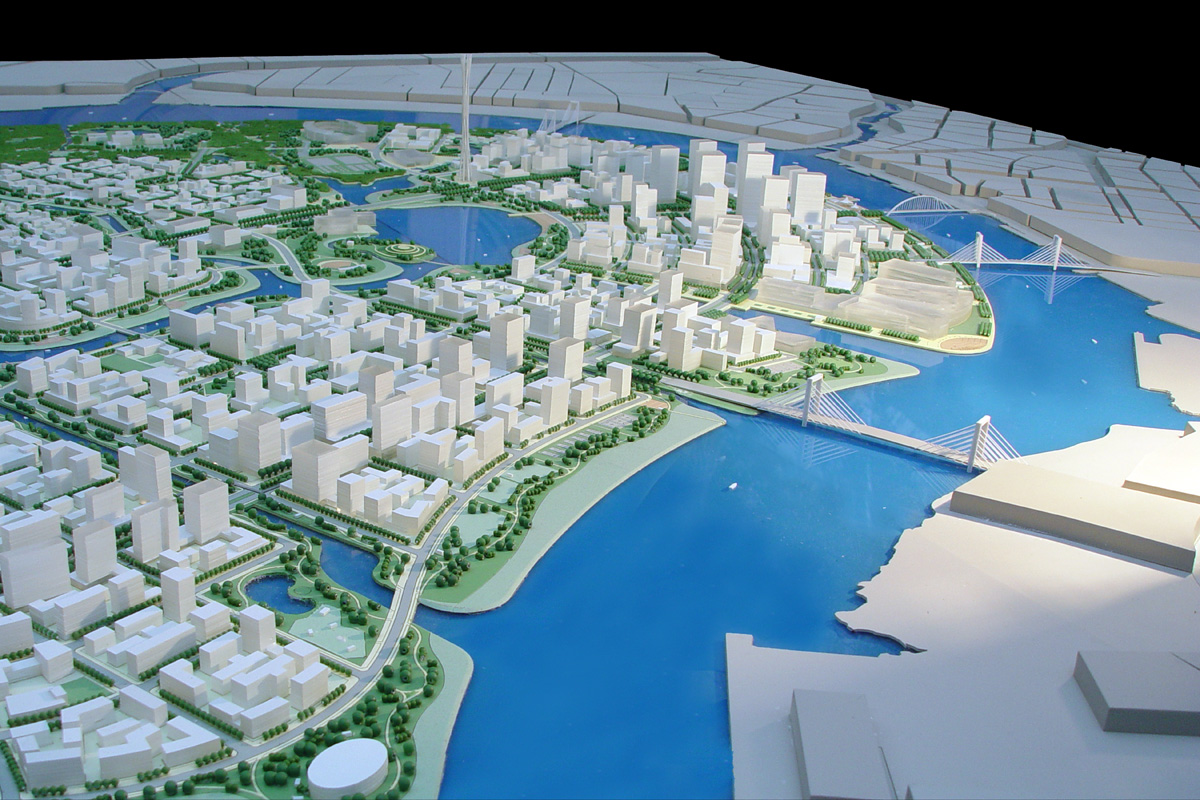 Their plan, its suggested infrastructure of bridges and tunnels now complete, calls for waterfront parks, public gathering spaces and integrated parks accessible to anyone. It cites integrated transit systems of street cars, underground subways and water taxis. In essence, it respects the existing scale and connectivity of the city.
"We want to avoid the mega, super-block scale of other cities," Pieprz said.
Still, the desire for Western-style iconic buildings remains solidly on the radar. After a Vietnamese developer approached Carlos Zapata Studio five years ago for an symbolic skyscrapere, the firm designed the new the 68-story Bitexo Tower for Ho Chi Minh City.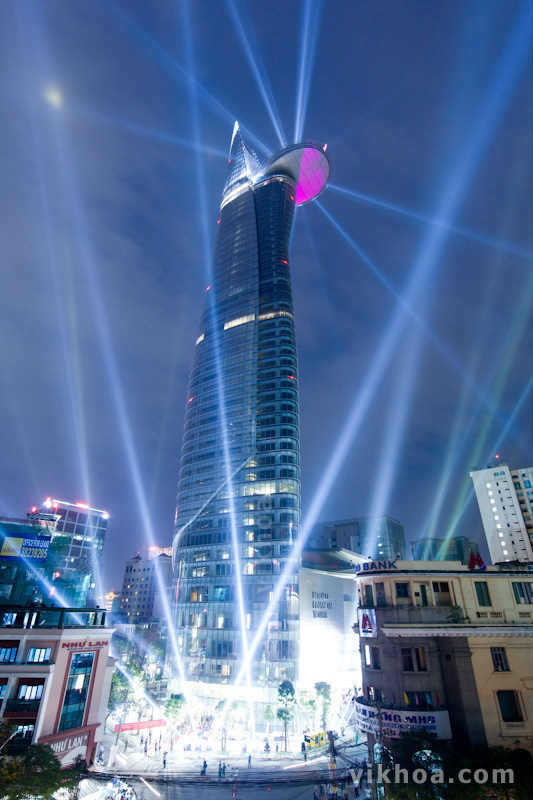 "It's a result of Vietnam joining the World Trade Organization. The developer wanted the first tall building, and the tallest building in the country," Zapata said. "This is the first state-of-the art high rise in Vietnam."
Zapata deliberately and symbolically based its form on the shape of a lotus bud instead of its flower. "Its shape represents growth to a point at the top. We wanted it to taper, like the early skyscrapers," he said.
Not far away, on Me Linh Square, Pelli Clarke Pelli broke ground in October on the Vietcombank Tower, a 35 story affair on the west bank of the Saigon River. "We front the river and we're on the edge of the city and very prominent," said Fred Clarke, senior design principal at the firm. "This site demanded a powerful and iconic design."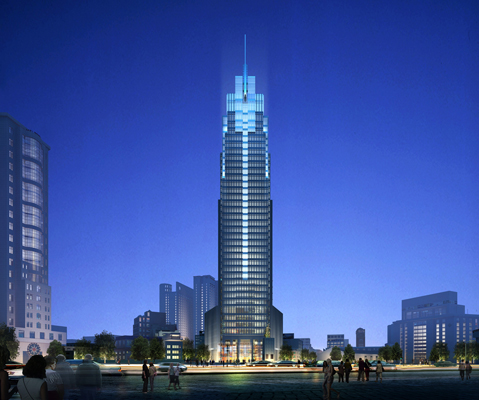 The architect's carefully refined response looks for its cues to the city's culture, history and heritage. Ho Chi Minh City has preserved its public buildings designed by the Colonial French, and its powerful axial plan inspired by the City of Paris. They're not only intact and restored, but valued by the Vietnamese as well. The result is an elegant city that's clearly proud of its artifacts from the past.
"It's really a graceful city and we wanted a building that had texture, richly sculpted walls, and substantial materials," Clarke said. "It needed to be a building fitting for this place and this site -- not just a demonstration of American brilliance, but a natural addition to a beautiful city."
The St. Louis office of HOK brings to the table a disciplined approach that Tyler Meyr, senior urban designer in the firm's planning group, calls "fully integrated thinking."
It links social, environmental and economic solutions. "By protecting natural systems and integrating projects like new schools, we can achieve a balance," Meyr said. "We can make a place more valuable than it was before."
He cites a 235-hectare development facing issues with flooding because past development was not only haphazard, but destroyed the area's original canals. "By restoring natural systems to deal with storm water, we can alleviate flooding and create parks at the same time," he said. "They like that."
For good reason. It works with the environment to create spaces for all the people.
But equally important, it enhances value and promises to turn a profit.
REAL LIFE. REAL NEWS. REAL VOICES.
Help us tell more of the stories that matter from voices that too often remain unheard.