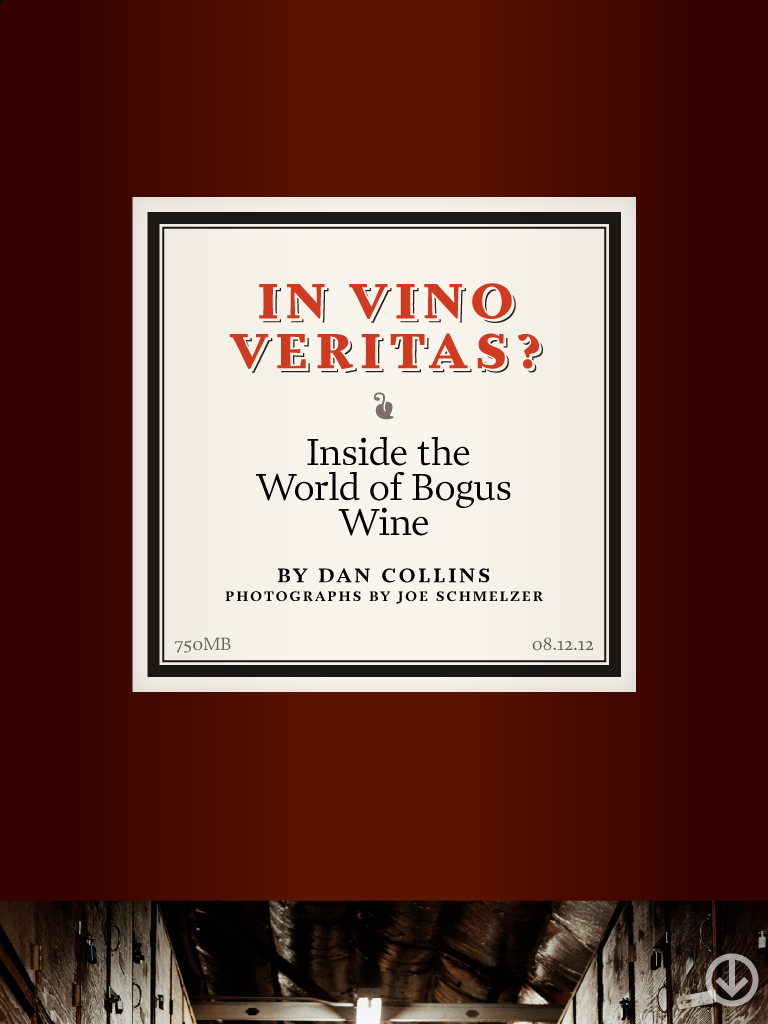 Don Cornwell says he got his first real look at wine counterfeiting in 1986 as a young attorney working in Los Angeles when the manager of a local wine store ushered him into the store's basement.
"It was unbelievable," Cornwell recalls. "The owner had been routinely turning cases of 1983 Bordeaux into cases of 1982 Bordeaux."

In Bordeaux, 1983 was a pretty good year. But 1982 was at the top of the heap. Legendary. The owner's slight of hand potentially added thousands of dollars to the value of the wine.
"It was done rather crudely," Cornwell says. "He had sanded off the 1983 vintage date on the wooden crates the wine is shipped in, and burned in 1982."
A local printer, meanwhile, provided bogus labels for each bottle. That allowed the store's owner to turn wines like a 1983 La Mission Haut Brion (a very good wine that now retails for around $250 a bottle) into a 1982 La Mission Haut Brion (a magnificent wine that often sells for $1,000 or more in today's market.)
The local district attorney eventually launched an investigation of the storeowner, but none of that helped the manager who had recruited Cornwell for help. The owner fired him.
Welcome to the underbelly of the fine wine market, a sometimes lawless place where scammers often have free rein to repackage and reconstitute lesser vintages as premier vino, pocketing handsome sums of money along the way. Wine is easy to enjoy, fun to learn about and nearly impossible to totally master. That's one reason counterfeiters have multiplied like gerbils.
The wine auction market generated about $478 million in revenue last year, up about 17 percent from 2010, according to the Wine Spectator. Eager collectors have turned New York, London and lately, Hong Kong, into the world's auction capitals. Many more millions of dollars change hands in private sales. All of this happens despite the fact that many of the old and rare wines in the market are almost certainly fake, according to vintners and investigators like Cornwell, who has become one of the world's leading wine sleuths in the years since he walked into the basement of that Los Angeles wine store.
Laurent Ponsot, the owner of one of Burgundy's most prestigious wines, Domaine Ponsot, estimates that 80 percent of the highly prized old and rare Burgundies offered for sale are bogus.
There's a reason why the number of fakes keeps growing. One is the inability of many collectors to tell that the rare vintage they've just opened for their special guests is just filler.
"There are very few people in the world who actually know what old wines taste like," says John Tilson, founder of the Underground Wineletter, a small online magazine that has spotlighted wine fraud since the 1980s. "That's what makes wine fraud so easy to do."
Then there's complicity. Rather than blowing the whistle on a counterfeiter, many duped buyers prefer to recoup their losses by reselling the phony wine to other unsuspecting buyers. Cornwell has tracked several cases in which wealthy collectors purchased millions in counterfeit wine. But instead of calling the authorities and surrendering the bogus bottles, the collectors resold them to other unknowing collectors.
And so a simple and depressing logic has come to rule the market for old and rare wines. Counterfeit bottles tend to remain in circulation because they keep being resold. In addition, counterfeiters are pumping more fake wine into the system.
Meanwhile, the supply of real vintage wine is finite. Over time, the amount of genuine 1947 Chateau Lafleur declines as the wine is consumed. A small amount is also probably lost to accident or fire. Still, lots of people would still like to be able to drink — or at least imagine they're drinking — the famous '47. Others, of course, would love to sell it to them. So at some point, the amount of fake '47 Lafleur in the market exceeds that of the real stuff and continues to grow.
Things haven't changed much since 2002, when Don Cornwell met Rudy Kurniawan, a young Indonesian from a Chinese family, at a wine tasting in Los Angeles.
"My bullshit meter went off the scale," is how Cornwell remembers that first encounter. "If you told him you'd tasted a rare Roumier, (a prized Burgundy) he'd say, 'Oh yes, I had three rarer Roumiers at a recent tasting.' He had to dominate the conversation, and he seemed to do this with every person he met."
Cornwell and Kurniawan, who was one of the biggest wine counterfeiters in the world, eventually engaged in a series of face-offs that came to a climax earlier this year­—showing just how porous and deeply compromised the market for fine wine remains.
Don Cornwell grew up in Denver and attended the University of Georgia on a debating scholarship. While attending law school at the University of Virginia in the late-1970s, he found summer work as a clerk in a major Los Angeles law firm. It was there that he was accidentally introduced to the joy, pleasures and frustrations of fine wine.
Cornwell likes telling this story. He and a friend had agreed to housesit for a partner at the firm who was going on vacation. "Well, behind his bar he had this little room built in, which was his wine cellar, and he brought us over there and he said: 'Feel free to drink whatever you want.'"
When Cornwell and his friend invited two girls for dinner one night, they purchased a large bottle of jug wine for the occasion, hesitant to indulge in the more expensive bottles stashed in the cellar. But when that was gone, the night was still young. "My friend Jay said, 'Let's go to his cellar and see what he's got most of. And we'll drink some of that and then we'll replace it.' And I said, 'Great idea!'"
Cornwell soon found 18 bottles of a wine called Chateau Latour from the 1970 vintage. He grabbed three bottles, and he and his friends frolicked in the partner's pool until the early morning hours while guzzling the blue-chip Bordeaux.
It was a night of two epiphanies. One — which every wine maven can recount in one way or another — was the shock of discovering that there really was something special about the good stuff. "I had to find out what the hell was going on, because the Latour was in an altogether different league from the kind of stuff that I was accustomed to drinking," Cornwell says.
The other revelation was that the good stuff wasn't easy to come by. Seeking to replace the missing bottles, Cornwell discovered that they weren't simply sitting on the shelves in the local wine store. And when he did find two bottles, he discovered they cost what was then an eye-popping $37 a bottle. (He never did find a third bottle of the Latour, and substituted another Bordeaux with the blessing of the partner.)
Cornwell was a man on a mission when he returned to law school.
"I went back to Charlottesville, where there was a little wine shop. I was constantly going over there and buying whatever $7- or $8-bottle of French wine that I could find," he says.
Over the ensuing years, Cornwell, now 59, built a law practice in L.A. and a wine cellar that now tops 5,000 bottles. He's an authority on the wines of Burgundy, and is an expert on such insanely geeky subjects as the premature oxidation of white Burgundies.
He has also become winedom's No. 1 detective. Although Kurniawan's exploits have been broadly covered in trade publications, newspapers and magazines — including New York and Vanity Fair — until now Cornwell has remained relatively quiet about his role in exposing the scams.
"I got really mad about the fact that Rudy Kurniawan was getting away with selling large quantities of counterfeit wine," Cornwell notes. "I thought there must be a way to stop him, even though I knew what I was doing had a Don Quixote quality."
Says the Underground Wineletter's John Tilson: "Don is an attorney, number one. So he's used to digging deep for stuff. Secondly, he's very diligent, and he's very thorough and he's very careful. And he has a passion for wine, and a passion for this kind of digging."
"Don is incredibly tenacious," adds Geoff Troy, the New York wine merchant and expert on Burgundy who also eventually played a key role in Kurniawan's downfall. "He has blown the whistle on a number of auction houses selling questionable wines."
KEEP THE CHANGE, SHIP THE EMPTIES
From 2002 to 2008, the slender Kurniawan, a bespectacled wine prodigy, bamboozled many in the world of fine wine. He played the role of free-spending rich kid with a passion for old and rare Bordeaux and Burgundy — the holy of holies in the temple of fine wine.
His background was, by design, murky. He told some friends that he attended Cal State Northridge on a golf scholarship, but the school's longtime golf coach has no recollection of a student by that name. School records show he graduated in 1996 with a degree in accounting.
Kurniawan told the Los Angeles Times that he had his first taste of wine in 2000, at age 24­­ — the same year he applied for political asylum in the U.S. When his application was denied, he appealed, but that too failed and he was ordered to leave the country in 2003. He never did. But unlike many undocumented immigrants, he seemed to have no fear of attracting attention to himself. He even cooperated with the Los Angeles Times for a page-one profile in 2006. ("Rudy Kurniawan inhabits a high-rolling club of wine fanatics to whom money's no object. Young and hip, he's upped the industry ante.")
He cut a wide swath through the auction market in New York and Los Angeles, where he was spending a reported $1 million a month on old and rare wines. Some said he had single-handedly driven up worldwide prices of such wines.
In 2005, he spent $8 million for a newly constructed mansion in Bel-Air, one of Los Angeles' toniest neighborhood. He also launched a series of expensive improvements that included a pool, a spa and — of course­ — a wine cellar. (The work was never completed and, seven years later, the mansion has never been occupied.)
Kurniawan also amassed an art collection that included works by Andy Warhol and Damien Hirst. He drove flashy cars and wore expensive clothing and jewelry. He told the Robb Report — the luxury lifestyle magazine — that he had moved away from "edgy" watches to a more "classic" timepiece by purchasing a Patek Philippe 5960 Annual Calendar Chronograph (retail price $92,000). "It looks elegant and sophisticated with a suit, yet you can wear it every day without being too flashy," the wine collector advised.
Kurniawan ran up more than $16 million in charges on his American Express card from 2006 to 2011. He wrote personal checks for millions more during the same five years, according to the criminal complaint that was later filed against him.
Along the way, Kurniawan acquired a bicoastal reputation for having a formidable palate and a keen eye for counterfeit wine. He was also widely viewed as extremely generous. Kurniawan shelled out tens of thousands of dollars on drinking binges at the restaurant Cru, a gathering spot in New York for wine lovers that later closed.
"Rudy would just waltz in, buy wine off the list, and treat everybody to some very expensive bottles," says Paul Wasserman, a wine professional and friend of Kurnaniawan's who attended several of the gatherings at Cru. "He was very cocky and arrogant about wine, but he was also very generous. He was definitely the center of attention."
At the end of the meals, he asked the restaurant staff to ship him all of the empty bottles of wine his party had consumed. He gave various explanations for this peculiar request, including a "photo shoot." In all, 13 packages containing empty bottles were shipped by FedEx to Kurniawan's home in Los Angeles in 2005 and 2006. He complained angrily to the puzzled restaurant staff when one of the shipments arrived with some broken bottles.

Kurniawan also hosted lavish tasting dinners in Los Angeles, where old and rare bottlings of astronomically expensive wines like Chateau Petrus and Domaine de la Romanee-Conti were served. In the wine world, these dinners were taken to be an example of his well-publicized generosity. Less well known was that he charged dinner guests $5,000 each, according to two people who were invited to these dinners. If many of the wines were counterfeit, as now seems likely, the magnanimous Kurniawan walked away with a profit.
When Kurniawan felt the need to explain where he got his money, he often said he received an allowance from his brother in China to care for their mother. As with much else in his life, it was a mixture of fact and fiction. Kurniawan did indeed live with his mother in Los Angeles, and occasionally took the family matriarch to wine tastings. The government said Kurniawan's brother gave him $1.5 million during one 18-month period, but that barely covered his lavish lifestyle.
In reality, Kurniawan financed his spending sprees by selling tens of millions of dollars in rare wines at public auction and millions more in private sales, according to government documents and civil lawsuits.
The boom in the sale and price of rare wines several years ago mirrored the U.S. housing bubble. Instead of mortgage brokers willing to look the other way while people with sketchy income signed on to six-figure mortgages, the wine boom was fueled by an industry willing to look the other way when seemingly unavailable vintages popped up for auction.
"Wines that had disappeared from the market 30 years ago were reappearing, often in large-format bottles," Cornwell says. Large-format bottles may contain the equivalent of anywhere from two bottles (a magnum) to 40 bottles (a Melchizedek). Collectors prize them.
Kurniawan seemed to have more than his share of this new supply of previously unavailable wines. His most celebrated achievement was selling $35 million in wine in 2006 at two auctions in New York City dubbed "The Cellar" and "The Cellar II" by the auction house, Acker, Merrall and Condit. (Kurniawan was not identified by name as the seller in promotional material for the auctions.)
Speaking of "The Cellar," the fine-living magazine Robb Report said "the young owner of this fabled trove regards it less as a collection than as an opportunity to share with others his passion for wine."
This was a fable any wine lover wanted to believe. The seller was putting up these almost-impossible-to-come-by bottles because he wanted to share his good fortune with others.
Acker CEO and auctioneer John Kapon, a Kurniawan drinking buddy, readily confirmed his friend's indifference to money. "He's kind enough to open $50,000 bottles for people. He can't help himself," Kapon explained.
Despite the incredible success of "The Cellar" auction, the Robb Report told its readers, the sales failed to put much of a dent in Kurniawan's extensive collection. Therefore, another auction, dubbed the "The Cellar II," would be necessary. Money would again be a secondary consideration for the seller.
"In the beginning, you just want the rarest stuff in the world," Kurniawan told the luxury magazine. "But to have a $100 million or $200 million cellar when I'm 50 years old doesn't make sense. It's more about sharing and drinking. And I'm really a drinker."
Cellar II shattered auction records. Sitting on top of the auction world in 2006 was a young man who didn't hold a job, and who was theoretically in the business just to make people happy.
Kurniawan overreached at another Acker auction in New York City in 2008 by trying to sell 87 counterfeit bottles of Domaine Ponsot, a blue-chip Burgundy. The winemaker, Laurent Ponsot, denounced the wines as fake and demanded that they be withdrawn from the auction. Everyone involved in the sale professed astonishment. Kurniawan himself seemed to shrug.
"We try our best to get it right, but it's Burgundy, and sometimes shit happens," Kurniawan told Wine Spectator.
Actually, nothing happened for nearly four years. Besides the inability of wine buyers to really tell a vintage classic from a normal nice bottle of wine, and the complicity of some in the rare wine business in the trafficking of frauds, the counterfeiters had another advantage: law enforcement was in no rush to help buyers of five- and six-figure bottles of Burgundy and Bordeaux. The FBI was focused on terrorism. There were also traditional priorities: organized crime and bank robbers.
Then, in a bad break for Kurniawan, Jason Hernandez, a federal prosecutor with a passion for wine, was assigned to the investigation. Meanwhile, Kurniawan was becoming increasingly strapped for cash.
His luxurious lifestyle had pushed him deeply into debt, according to government documents. He battled the problem by stepping up his alleged counterfeiting activities and obtaining large loans that he failed to repay in most cases. "can u send a mil?" Kurniawan e-mailed a wealthy collector. He got the money. He borrowed about $11.5 million in 2007 alone. In apparent desperation, he used his art collection as collateral on one loan, then used the same art as collateral on a second loan.
In addition to the demands of his lavish lifestyle, Kurniawan faced another serious financial problem. Angry collectors who came to realize they'd purchased fake wine from him were demanding their money back. This included collectors who purchased his wine at Acker auctions. They claimed he owed them millions.
To many in the wine world, Kurniawan seemed to disappear after the Domaine Ponsot disaster. In fact, he had only moved his operation underground, where he was being tracked by a small group of wine lovers, including Cornwell, New York wine retailer Geoff Troy and New York lawyer and Burgundy-lover Doug Barzelay.
Cornwell discovered that Kurniawan had used at least two aliases to sell bogus wine to unsuspecting collectors. A civil lawsuit filed against Kurniawan by one, billionaire collector William Koch, said Kurniawan's real name was Zhen Wang Huang. The real Rudy Kurniawan, it turned out, was an Indonesian badminton great in the 1960s and 1970s. (Another Huang alias, Darmawan Saputra, is the name of another Indonesian badminton star.)
Cornwell's friends and contacts in the wine industry began to provide him with the identities of people who had dealings with Kurniawan. He found several collectors who had been ripped off. He also learned that Kurniawan was using a front man to pose as the owner of rare wine he wanted sold at auction. Frequently, auction houses release very little information about a wine's history — its provenance — or the identities of sellers. It's a perfect recipe for fraud.
Cornwell says he twice warned Christie's about consignments of wines that originated from Kurniawan, as did Geoff Troy. But the auction house ignored them and sold the suspect wines anyway. Christie's declined to comment, except to say, like the other auction houses that have put Kurniawan's wines up for sale, that it would never knowingly sell counterfeit wines.
In January of this year, Cornwell discovered that Spectrum, another U.S. auction house, was preparing to sell a large consignment of Kurniawan wines in London, including many scarce bottlings of the Burgundy most prized by collectors, Domaine de la Romanee Conti. (Kurniawan's nickname was "Dr. Conti.")
Cornwell's warnings to the auction house were again ignored (Spectrum also declined to comment, a spokeswoman said). This time, Cornwell decided to act. He published a warning about the auction on Wine Berserkers, the most popular online wine board and a gathering place for Burgundy lovers.
"Don is a total bulldog. He took this story and ran with it, which took a lot of cojones," says Doug Barzelay, the New York lawyer and Burgundy collector who also played an important role in Kurniawan's downfall. "You have to remember that the auction took place in England, where libel laws favor the plaintiff. You could find yourself in trouble over there for printing something that's the absolute truth." (It was Barzelay who first alerted the owner of Domaine Ponsot that Kurniawan was selling suspicious bottlings of Ponsot at the Acker auction in 2008.)
Cornwell's detective work had produced a laundry list of counterfeiting errors committed by Kurniawan. He published these as well: There were missing accents and misspellings on some of the labels and bottle numbers with too many digits or too few. The capsules — the wrapping that covers the cork and the top of the bottle — might look old, while the labels looked fresh and clean. Some wines had the wrong capsules. Others had the wrong kind of glass. In some cases, there just too many bottles of stupendously rare vintages. Only seven bottles of the 1966 DRC Montrachet had reached the auction market since 1996, but Kurniawan claimed to have 14 available for sale from his own personal cellar.
"Surely this requires, at a minimum, a detailed description of the provenance of these bottles," Cornwell wrote.
Cornwell's posts went viral. Spectrum resisted at first, but finally removed Kurniawan's bottles from the sale, saying it planned to sue Kurniawan if the wines were proven to be bogus.
FBI agents arrested Kurniawan in Los Angeles last March, less than a month after Cornwell posted his notes on the Internet, and charged him with four counts of mail and wire fraud. He has pleaded not guilty and is jailed without bail in the federal detention center in Brooklyn. His lawyer did not respond to requests for comment.
"The revelation that Rudy was continuing, with seeming impunity, to manufacture and sell millions of dollars of counterfeit wine in the marketplace, may have played a significant role in the government's decision to arrest him," Doug Barzelay, the Burgundy-loving New York lawyer, wrote in essay published on the Internet.
At the Los Angeles home Kurniawan shared with his mother, authorities found a counterfeiting factory. The feds seized hundreds of wine labels, corks and stamps. Kurniawan, the government says, used California cabernet in an effort to mimic the taste of blue-chip Bordeaux wines, and California pinot noir to do the same thing for Burgundy bottlings.
The jury is still out on the impact of Kurniawan's downfall. John Tilson of the Underground Wineletter said the level of worldwide wine fraud remains "outrageous" and pointed to the fact that the auction houses — and the counterfeiters — have shifted to China, where fine wine is very hot. (It has been lamented that there is now more 1982 Lafite Rothschild in China that was ever produced by the legendary French chateau.)
Barzelay has a more optimistic outlook.
"One good thing is that the market has come back to Earth," he says. "There is now a reasonable skepticism out there. Kurniawan's arrest has made people realize that there really is a problem here."
Don Cornwell isn't so sure.
"All I can say for certain at this point is, it's a start," he observes. "Rudy left behind a veritable ocean of fake highly collectible wines and a lot of people are reselling them."
"It's the end," he continues, "of one battle, in what really
has to be a war fought against wine counterfeiting." And perhaps, it would lead to arrests of some who enabled Kurniawan. But for anything to really change, Cornwell believes laws need to be overhauled.
"The auction houses in particular have very little incentive under existing state laws to actively screen out counterfeits or to disclose real provenance information to prospective bidders," he says. "If Rudy's arrest ultimately leads to changes in the laws or serious changes in how the auction houses conduct their business, I'll feel my efforts really accomplished something."
Putting future Rudy Kurniawans out of business will require reforms that would include — at a minimum — giving buyers detailed information about the provenance of old and rare wines put on the auction bloc or sold privately. Many wine lovers don't think that will happen anytime soon.
In the interim, Don Cornwell remains vigilant. And if you're interested in buying a rare bottle or two of blue-chip Bordeaux, I know a guy in China who's got a case of 1982 Lafite — cheap.
Popular in the Community