It's been just over a year since the Boost Social Security Now campaign was launched to help build a national movement to strengthen Social Security and provide beneficiaries a much needed raise in benefits. After decades of protecting and defending the program from harmful, even dangerous policy proposals that could lead to benefit cuts and a weakening of the program's finances, advocates have been encouraged to see some of our Congressional leaders wrestle control of the national discourse on Social Security away from those who would prefer to see it privatized, dismantled or turned into a welfare program.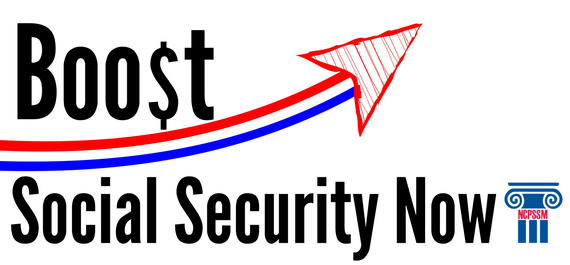 For too long, Washington's fiscal hawks and conservative ideologues have monopolized the conversation about our nation's safety net programs. Their misleading messages and PR campaigns, funded by billionaires like the Koch bothers and Pete Peterson, are designed to undermine public confidence in the Social Security program. The anti-Social Security messages have benefited from a level of visibility in the media, on Capitol Hill, and even on college campuses that only big money influencers can afford to buy.
This legislation will strengthen Social Security for the next 75 years by asking the wealthiest Americans to pay their fair share into Social Security. Specifically, my legislation would apply all income over $250,000 a year to the Social Security payroll tax. The Chief Actuary of the Social Security Administration has projected that doing this will ensure that Social Security can pay out all benefits for at least the next 75 years.
The Sanders bill gained 10 co-sponsors and triggered the start of a movement to strengthen Social Security; a movement that has grown steadily over the past few years, bringing together more members of Congress, along with opinion leaders, advocates, labor and consumer groups and, most importantly, the American public.

Massachusetts Senator Elizabeth Warren gave a huge shot in the arm to the Boost Social Security movement during her speech from the Senate floor in November 2013 that was picked up by news outlets across the country:
...we should be talking about expanding Social Security benefits -- not cutting them. Senator Harkin... Senator Sanders... and others have been pushing hard in that direction. Social Security is incredibly effective, it is incredibly popular, and the calls for strengthening it are growing louder every day.
In fact, there have been multiple bills introduced in subsequent sessions of Congress that call for a boost in benefits including improving the formula used to calculate the annual cost of living adjustment (COLA) for the elderly, providing earnings credits for workers who leave employment to provide full-time care for children or elderly family members, extending survivor benefits for children up to age 22, lifting the wage cap to extend Social Security's long term solvency and many more.
As Senator Warren said, Senator Tom Harkin of Iowa along with Representative Linda Sanchez of California, was "pushing hard" by introducing the Strengthening Social Security Act of 2013 which had a combined 65 co-sponsors. In the 114th Congress, it is anticipated that Senator Sherrod Brown of Ohio will introduce an updated version of the Harkin bill. Last month, Senator Richard Blumenthal and Representative John Larson of Connecticut introduced the Social Security 2100 Act and I hope to see other legislation from members like Representative Gwen Moore of Wisconsin who previously introduced the Social Security Protection and Enhancement Act of 2013.
The Boost movement had its most recent success on March 27, 2015 when 42 Senators voted for an amendment introduced by Senator Warren that would expand Social Security.

The momentum of the Boost movement is undeniable. In towns, cities and states across the country, hundreds of thousands of petition signatures have been collected, local and state elected officials are signing and sponsoring proclamations and town halls and rallies are drawing crowds. The public response to the idea of a boost in Social Security benefits is not surprising. In fact, the National Academy of Social Insurance conducted a survey last year which found that:
... Americans don't mind paying for Social Security; 86 percent said current benefits aren't sufficient and 72 percent said we should consider increasing benefits. More than that, 77 percent said they support paying higher taxes on average Americans, and 83 percent said we should raise taxes on top earners.
Support for this idea was remarkably strong across all demographic groups - by income, age and political party.
Joined by Senator Sheldon Whitehouse of Rhode Island, Senator Sanders accepted the petitions during a Capitol Hill event, telling the audience:
We've got to send a very clear and loud message. That's what your petitions have done. To the Republican leadership in the Senate and the House: stop manufacturing a crisis that does not exist in the Social Security Disability Insurance Program. Stop trying to pit senior citizens on fixed incomes against the disabled. Stop rigging the rules for making it easier to cut Social Security - benefits for the most vulnerable people in this country, while providing even more tax breaks for millionaires, billionaires and the most profitable corporations in this country. Does anybody in America support that? Not really, but they get away with that, because many Americans don't know what's going on. The skyrocketing increase in wealth and income inequality over the past three decades has not only hurt millions of Americans, it caused the middle class to shrink, but it is also hurting Social Security. One thing I do know damn well is that you don't cut those benefits. You expand those benefits.
The first step in any journey is often the most difficult. We've come along way on the Boost Social Security journey, in large part because Bernie Sanders took that bold, first step.
Popular in the Community