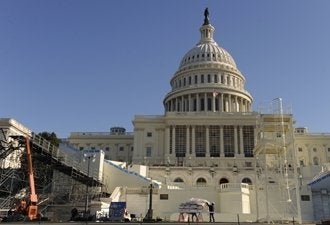 One might think it is too late to secure lodging in our great capital for the upcoming Inauguration. Think again. It is not too late to pack up and head out to Washington, DC and experience this historical event live.
There has been so much interest in this historic moment as Barack Obama is sworn in as the nation's 44th President, that Washington, DC hotels are sold out and house rentals in the city are reaching stratospheric levels.
Eastern Shore Vacation Rentals is offering travelers another option for lodging outside the city. They have availability for their vacation homes, and are offering special inaugural rates. Guests who book one of their waterfront houses for three nights will receive their fourth night free. Cottages or elegant estates are available, with prices ranging from $600 to $2,000 for three nights.
All of their vacation homes are located about an hour and half from downtown DC and an hour from Baltimore-Washington International Airport and New Carrollton train station.
ESVR will also arrange transportation for guests via shuttle or private car to the festivities.
Adventure Girl, Stefanie Michaels is an eco-travel and lifestyle expert and an advocate for the environment. Her site Adventuregirl.com offers tips for travelers on green locales around the globe, as well as granting monthly Adventure Girl Green Awards to hotels and resorts making good on their green initiatives.
You can reach Stefanie at www.adventuregirl.com
Related