The 2013 Inauguration ceremonies to honor the start of President Barack Obama's second term in office include two official Inaugural Balls, a National Day of Service and two swearing-in ceremonies.
Thousands flocked to Washington, D.C. to help Obama kick off his second round in the White House, including notable names like James Taylor, Stevie Wonder, Katy Perry and Beyonce.
Check out the latest updates from the Inauguration ceremonies below.
01/25/2013 1:48 PM EST
The Capitol At Sunset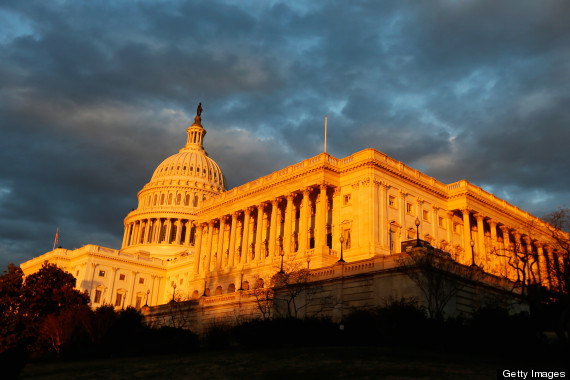 The U.S. Capitol is shown following the public ceremonial inauguration of U.S. President Barack Obama and U.S. Vice President Joe Biden on January 21, 2013 in Washington, DC. (Photo by Rob Carr/Getty Images)
01/21/2013 9:34 PM EST
Latest News From The Inauguration With Jason Linkins
01/21/2013 9:12 PM EST
First Lady: 'I'm So Proud'
@ FLOTUS :

Just danced to "Let's Stay Together" with the love of my life and the President of the United States. I'm so proud of Barack. –mo
01/21/2013 9:10 PM EST
Wu, Choo Again For FLOTUS
HuffPost reports:
It seems like only yesterday that First Lady Michelle Obama took the stage at the Inaugural Ball in that sparkling white gown and immediately made Jason Wu a household name.

Four years later, at the Obamas' second and final inauguration, Michelle stunned in a long high-neck red Jason Wu gown with velvet details and an armful of sparkly bangles. She wore Jimmy Choo shoes, and a ring by Kimberly McDonald.
Click here to read more and see a photo of FLOTUS's gown.
01/21/2013 8:33 PM EST
Obama, Roberts Inscribed Traveling King Family Bible
Per a White House pool report:
From a WH official: After today's swearing in ceremony at the Capitol this afternoon, at the request of the King family, the President and Chief Justice Roberts inscribed the traveling King family Bible.
01/21/2013 7:24 PM EST
Inaugural Ball Main Floor: Cash Bar And Peanuts
Guests at Monday night's main inaugural ball for President Obama will be well served to eat a hearty dinner beforehand, and bring plenty of cash.
The main ballroom floor of the Walter E. Washington Convention Center was festooned with disco balls and thumping Madonna's "Holiday" as the doors opened to guests at around 6:45 p.m., but the bars and food tables were far from lavish: A cash bar required that customers purchase drink tickets from a separate location, while the food laid out on tables consisted of peanuts and pretzels.
Inauguration officials said in December that this year's festivities would be scaled back -- Obama's first inauguration included 10 balls, a fireworks show and a Bruce Springsteen concert. This time around only two official balls were scheduled, the main ball and the Commander In Chief's Ball, for military personnel and VIPs.
The main ballroom space was the least exclusive of the various events taking place tonight in the convention center -- upper floors contained various receptions for donors, diplomats and administration officials. Still, tickets for the main ball initially sold for $1,000, a lot of money to pay for for pretzels and a cash bar.
The cost of tickets was cut to $500 in recent weeks, leading to speculation that inauguration fundraising was lagging behind expectations.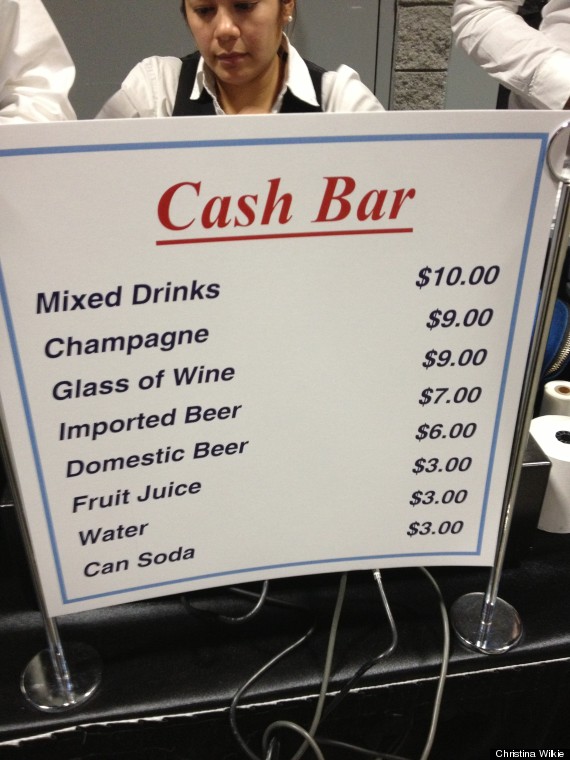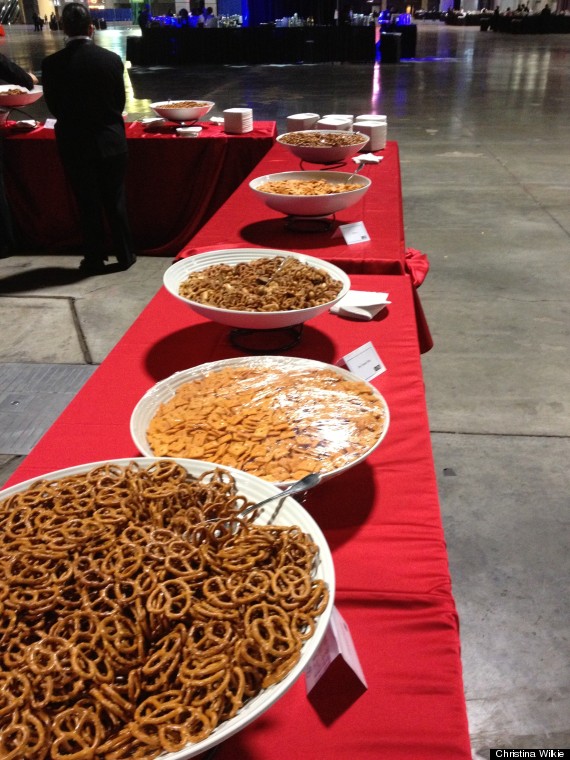 -- Christina Wilkie
01/21/2013 6:49 PM EST
WATCH: Sasha Yawns During Dad's Inauguration Speech
HuffPost reports:
A .gif of Sasha Obama is becoming quite the viral smash, after the younger First Daughter was caught yawning during her father's inauguration speech.

According to the Atlantic Wire, 11-year-old Sasha's mighty yawn was captured on camera Monday while President Obama was speaking about education policy.

"No single person can train all the math and science teachers we'll need to equip our children for the future, or build the roads and networks and research labs that will bring new jobs and businesses to our shores. Now, more than ever, we must do these things together, as one nation, and one people," the president had said, before pausing for applause.
Click here to read more.
01/21/2013 6:37 PM EST
Crowd Estimates Are In
@ ChadPergram :

DC's security and emergency mgt agency says turnout for #inaug2013 was 800,000 and maybe higher.
01/21/2013 5:51 PM EST
Obamas' Inauguration Kiss Captured By Sasha & Malia On Cell Phones
HuffPost reports:
Most kids get squeamish at the sight of their parents canoodling, but Sasha and Malia Obama love them some good parental PDA.

While watching the Inauguration Day Parade on Monday, the First Daughters got President and Michelle Obama to pose for a quick kiss -- and captured it on their cell phones. First FLOTUS gave her best duck face, then she and POTUS locked lips ever so briefly... then Malia and Sasha examined the results on their small screens and tried out some duck faces of their own.
Click here to read more.
01/21/2013 5:44 PM EST
Sasha And Malia Obama To Hit Teen Milestones
The AP reports:
That's how it goes with kids. You hardly notice how fast they're growing up, then suddenly big sis is nearly as tall as Mom and the little one is a tween, gently sassing Dad.

On the inaugural platform again four years later, a more mature Malia Obama, 14, and Sasha, 11, smiled, sometimes giggled, and chatted with their cousin Avery Robinson as they awaited their father's arrival. Sasha bounced on her feet a bit as if chilly in temperatures hovering around 40 degrees, and later huddled in her seat. Malia, looking poised in calf-high black boots, rivaled her mother's 5 feet 11 inches. Like any girls their age, they whipped out their smartphones in the parade reviewing stand to take photos.
Click here to read more.
Calling all HuffPost superfans!
Sign up for membership to become a founding member and help shape HuffPost's next chapter
BEFORE YOU GO
PHOTO GALLERY
Presidents On Inauguration Day