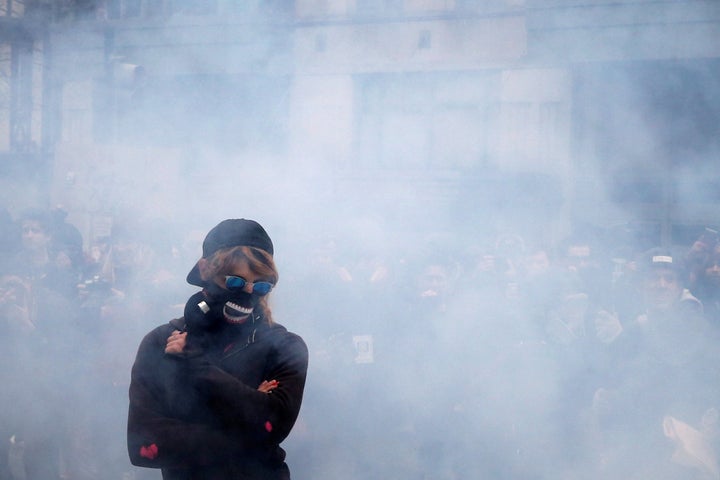 WASHINGTON ― They may not have broken any windows, set any fires, tossed any rocks or thrown any bricks. But a United States prosecutor here Monday told a jury that six defendants facing felony charges in connection with the protests and mayhem surrounding President Donald Trump's inauguration in January deserve to be found guilty of several felony crimes that would expose them to potential sentences of decades in prison.
Six defendants ― Jennifer Armento, Alexei Wood, Oliver Harris, Michelle Macchio, Brittne Lawson and Christina Simmons ― were among the 234 people arrested en masse during protests on Jan. 20, commonly referred to as the J20 protests. They're the first group to go to trial, and their case could determine whether prosecutors continue pursuing felony rioting charges against the nearly 200 people who have trials spread out over the course of the next year.
In a dramatic opening statement, Assistant U.S. Attorney Jennifer Kerkhoff repeatedly referred to a "sea of black masks" that roamed the city causing chaos, violence and destruction. Authorities have said there was more than $100,000 in property damage that day. The prosecution's first witness was the manager of a downtown Au Bon Pain cafe that had its windows broken.
Kerkhoff, in her opening statement, told the stories of individuals who were working downtown that day and were affected by the unrest: a Starbucks worker who had to "dive for cover" as a window was smashed; a shop owner who was devastated to find her own window broken; a limousine driver whose vehicle was set on fire after the defendants had been arrested; and police officers who felt "helpless" as the large group overran the downtown area.
Kerkhoff told the jurors that the six defendants "made a choice" to take part in a violent and destructive riot, arguing they "had countless opportunities to walk away, to say this was too much, this isn't what I signed up for, this isn't what I'm going to do, this isn't how I'm going to express my opinion."
Instead, she said, the defendants chose to stay, and "helped this path of destruction through the city," moving together with the group as individual members popped out, caused destruction and were "reabsorbed" into the massive group.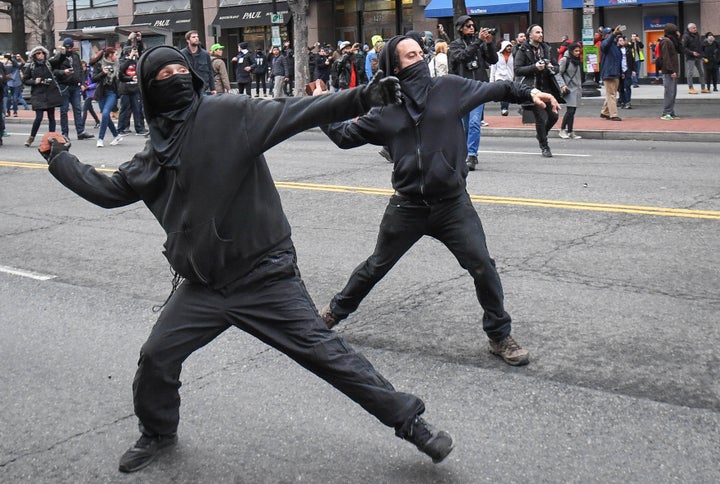 "Each of them made a choice, and each of them played a role," Kerkhoff said. "You don't personally have to be the one who breaks the window to be guilty of rioting."
Kerkhoff claimed that even as the defendants saw the destruction members of the group were causing, they stayed with the group until they were rounded up by police. "Each of these defendants still said 'I'm in.' 'Let's keep going, I'm in,'" she said. Alleging that one of the defendants was masked, she added: "That mask comes off today."
Several attorneys for the six defendants, on the other hand, told the jury there was not evidence that their clients participated in any destruction. But they were indiscriminately treated by police, with defendants' attorneys alleging that the D.C. Metropolitan Police Department ― which is facing a lawsuit for its tactics that day ― violated its own policies by "kettling" a large group of people. It's much easier to treat everyone the same, call the protest a riot, and lock everyone up, rather than comply with the First Amendment, one lawyer argued.
Steven McCool, who was representing Harris, suggested the charges were being pursued because groups like the American Civil Liberties Union would sue the police department, and the government would lose. "They want to convict everyone they trap," McCool said.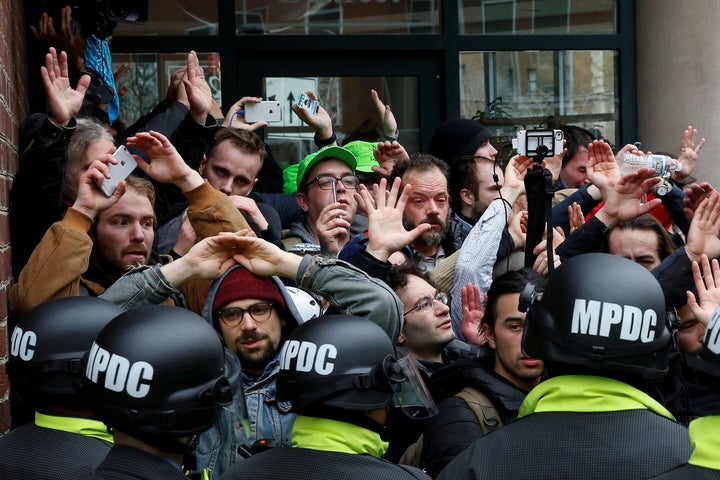 Defense attorneys prepared jurors to see lots of videos showing the destruction from that day, but said it was important for them to remember that the government wouldn't be able to prove their clients took part in it.
Tammy Jacques, representing Christina Simmons, said that her client was "arrested for something she did not do," and noted this was the first presidential election Simmons was old enough to vote in. "She was in the District of Columbia doing what she had the right to do. The right to protest," Jacques said.
Brett Cohen was in court representing Alexei Wood, whose case has drawn particular attention because the 37-year-old videographer and photographer said he was there in his capacity as a photojournalist.
Kerkhoff said in her opening that anyone can be a photographer in this day and age because of technology. She said that Wood did not hide his face, and darkly warned that Wood's Facebook livestream, a key piece of government evidence in the case, was available on the internet for "anyone that wanted to watch." Kerkhoff said jurors would see Wood "cheering when the destruction happens" and "celebrating" when someone was struck in the groin with a rock.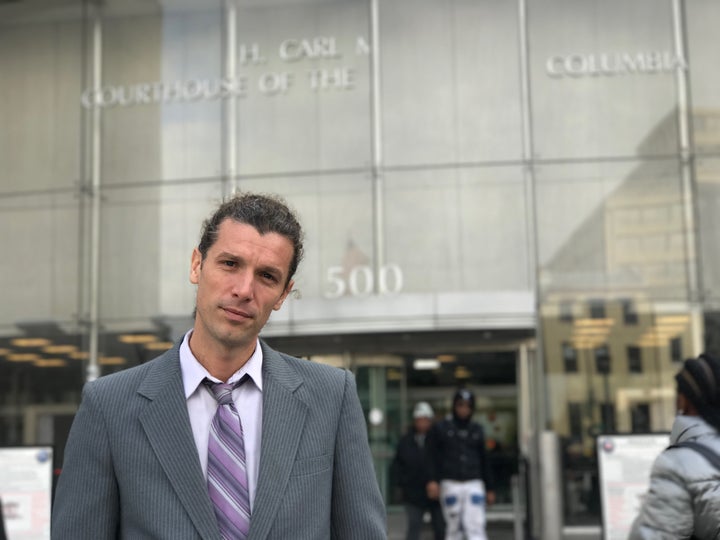 Cohen, Wood's attorney, painted a different picture, saying his case was "a little bit different" than the others because it "involves the right to a free press." Wood is a professional photographer, mostly working on weddings and commercial photography, Cohen said. But he developed an interest in photojournalism in recent years. "He's independent, he's up-and-coming, and he's building a resume," Cohen said. So, he argued, it made sense for Wood to attend the inauguration, a perfect opportunity to advance his work.
Cohen said that Wood may have said things on the livestream that are "disagreeable," but he didn't do anything illegal. Cohen also said Wood's comments, which appeared to be supportive of the property destruction, were directed at the audience watching the livestream, not the people out on the street.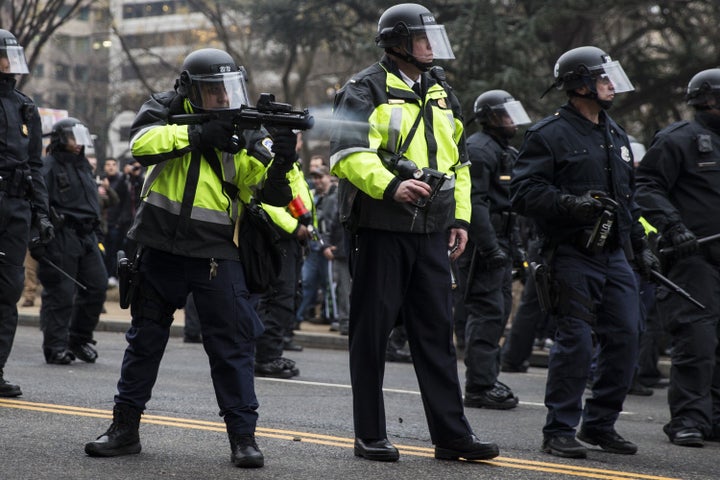 The government, Cohen said, would have to prove that Wood's statements or reactions were made with the intent of furthering the riot and the destruction of property. Prosecutors have dropped charges against seven of the nine journalists arrested in the kettle that day.
Kerkhoff said that people are allowed to have emotions and feel what they want, but that this case wasn't about that. It was, she said, about the defendants' choice to stick with a group that caused mayhem in downtown D.C.
"That is why we're here. Violence and destruction was a choice," Kerkhoff said. "And they made choices that day to participate in it."
Ryan Reilly is HuffPost's senior justice reporter, covering criminal justice, federal law enforcement and legal affairs. Have a tip? Reach him at ryan.reilly@huffpost.com or on Signal at 202-527-9261.
Support HuffPost
The Stakes Have Never Been Higher
Popular in the Community