President Obama looked dignified in a black overcoat and thick burgundy tie. Michelle Obama wore tailored layers of butter cream. The adorable first daughters were chic in J.Crew. And the two million people who gathered on the Mall were gussied up in clothing fit for arctic exploration.
The hot accessory of choice? The hand warmer! The toasty treats made a comeback that we haven't seen since the Aspen ski season of '98. "They're appealing to people of all ages," said a young woman donating a pair to a child whose exposed hands were turning an anemic gray. "And their neutral color is all the rage for 1.20.09."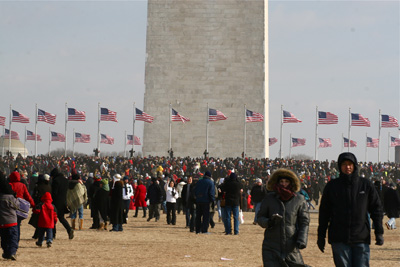 Another must-have for the zillions of blue-lipped citizens sandwiched between the Capitol and the Lincoln Memorial was the proper topper. And by proper I certainly don't mean the debonair top hats of inaugurations past. The trend this season was a massive lump of bumpy wool that covered head, ears and eyebrows. The fashion-forward folks that traveled from across the nation showed that America is happy to color outside the lines when it comes to style. The snow hat with a scarf tied around it and a hood layered on top was an extremely popular trend in the jumbotron section. Many quoted "old man winter" as the inspiration behind the layered look.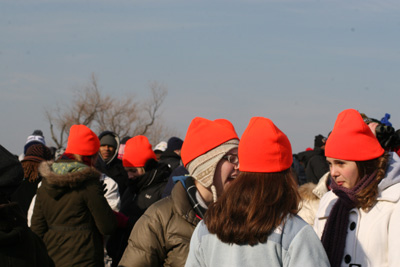 Another noticeable trend was any item that helped to find your lost and panic-stricken peers, like American flags roped to your cranium or matching electric tangerine hats. The kiddy leash and the formation of the unbreakable human chain also made unexpected comebacks. In fact, leaving the Mall was akin to an extremely challenging game of Red Rover.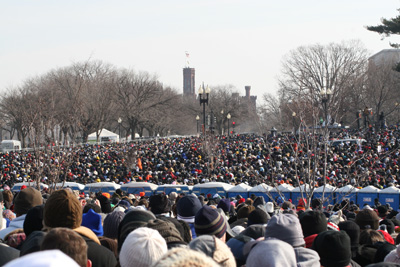 One accessory that was noticeably missing this season was the beverage. "I haven't had a drink since noon on January 19th," said several dehydrated Obama supporters when asked where the Evian was. Many said they preferred a head rush to "crowd surfing to port-a-potty row."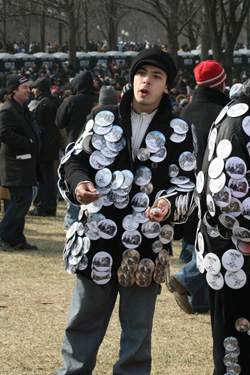 As expected, accessories printed with the words "hope," "change," or the faces of the first family proved very popular, but many style mavens have been waiting with bated breath for the declaration of this season's inauguration "it" bag. Is it the "Yes We Can," fanny pack? Or perhaps purses made out of discarded McCain paraphernalia? To the surprise of many fashionistas, this season's must-have bag is...the sleeping bag! As I snuggled up nose to nose with patriotic strangers, I glimpsed a potpourri of sleeping bag patterns including stars and stripes and camouflage. "They're just so roomy," an older dame decked out like a human glowworm declared, sneaking her head out to watch the new president's inaugural address. The popular bags, spotted in Hollywood blockbusters like "Into the Wild," also have crossover appeal, with thousands of men on the Mall toting them under their frozen arms.
But not everyone adhered to the "Greenland or bust!" code of dressing emphasized by the inauguration committee and anyone with common sense. On my cold walk down Constitution Avenue, I saw a frightening amount of inauguration fashion faux pas. I caught sight of many a pair of sky-high stilettos. I glimpsed fingerless gloves and inches of exposed neck. I saw women dressed to swirl cognac in a chalet in Chamonix. And yes, I even saw a "Sarah Palin 2012" button or two.
But the most abundant accessory of all on Inauguration Day? Tears. Buckets and buckets full of tears of joy. And I hear they never go out of style.