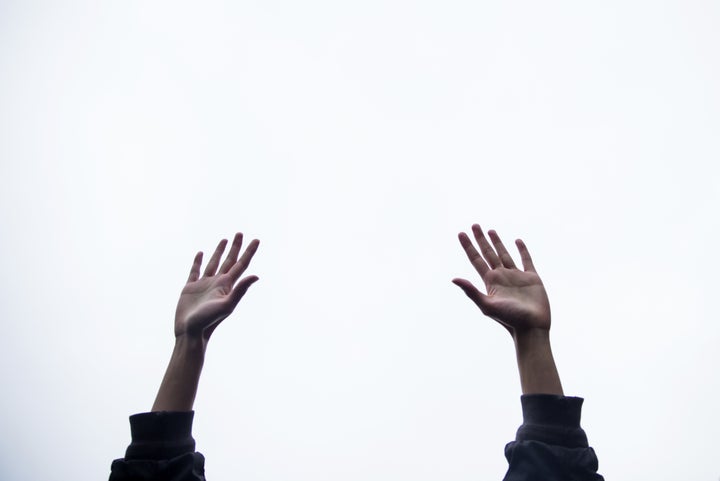 WASHINGTON ― Attorneys for six people facing felony charges for attending a demonstration that spawned property damage in downtown D.C. on the day of President Donald Trump's inauguration told jurors here that the Trump administration was trying to "criminalize" their First Amendment rights.
The government has conceded there's no evidence that any of the six individuals currently on trial caused any property damage or committed any violence on Jan. 20, during an anti-fascist demonstration that included anti-capitalist and anarchist elements. But the government has labeled the event a riot, and sought to hold nearly 200 participants who were arrested en masse that day accountable for the actions of those individuals who smashed windows and caused roughly $100,000 in damages.
Each of the defendants who have been on trial since Nov. 20 ― Michelle Macchio, Christina Simmons, Jennifer Armento, Oliver Harris, Brittne Lawson and Alexei Wood ― are facing two misdemeanor rioting charges as well as five felony charges of property destruction, which the government contends they're responsible for because they participated in a conspiracy to riot.
The outcome of this trial could impact nearly 200 other cases, most of them involving felony charges, against defendants arrested that day. The jury began deliberating the case on Friday afternoon.
Assistant U.S. Attorney Rizwan Qureshi told jurors on Thursday that the six defendants and other "co-conspirators" in a group that at times numbered in the hundreds had "agreed to destroy your city, and now they're hiding behind the First Amendment."
Qureshi said he was "tired" of hearing the chant "Whose streets? Our streets," and he was sure jurors were too.
"They intend to hijack the First Amendment. And you need to remind them, 'Whose streets? Our streets.' These are your streets. You're DC residents. Many of them are not," Qureshi said.
In her rebuttal to closing arguments from the defense team on Friday morning, Assistant U.S. Attorney Jennifer Kerkhoff told jurors that the mere presence of the protesters at the event once it turned into a riot counted as aiding and abetting the rioting conspiracy. Large groups of people can make people do things they might not otherwise do, she said.
"It can give them a type of courage they might not otherwise have, for better or for worse," Kerkhoff argued.
Kerkhoff said that the defendants were "privileged and entitled" for suggesting that the D.C. police should have followed their own rules regarding demonstrations and issued an order of dispersal before making arrests. That didn't happen on Jan. 20, and defense attorneys have shown videos of officers using excessive force and shooting pepper spray with abandon.
In a mocking tone, she suggested it was ridiculous to say that individuals could show up to an anti-fascist and anti-capitalist event in all black and not anticipate there would be criminal activity.
Returning to the "sea of black" phrase that the government used repeatedly in opening arguments last month, Qureshi said that the "sea of black" was like the "getaway car" in a bank robbery. "It was basically the tint on that getaway car to make sure nobody was identified," he said.
Carrie Weletz, an attorney representing Armento, said Qureshi left out a role in his comparison.
"He's missing the patsy, that fall guy, that person that takes the fall for those people that actually willingly and intentionally participated in the robbery," Weletz said. "Ms. Armento is that patsy."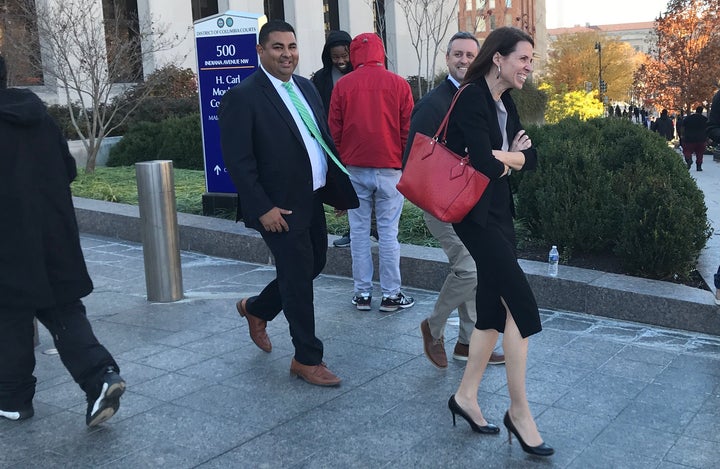 Among the group of defendants currently on trial are two street medics, a photographer who livestreamed the entire event on Facebook, and a college student who was 19 years old at the time and had just voted in her first election.
Qureshi, making his case against photographer Alexei Wood, went as far as to assert that it was suspicious for a journalist covering a protest to know the terms "black bloc" and a police "kettle," both of which are common terms that should be known to reporters familiar with demonstrations and policing practices. A "black bloc" refers to the practice of wearing black clothing, which can make it more difficult for authorities to distinguish between individuals in a group. A police "kettle," or "kettling," is a common term for when police encircle large groups of people, a tactic which has been the subject of litigation in D.C.
"How is he an up-and-coming journalist and he's talking about, quote, black bloc?" Qureshi asked the jurors. "How is he an up-and-coming journalist and he's talking about a kettle? I didn't know what a kettle was before this case. Did you?"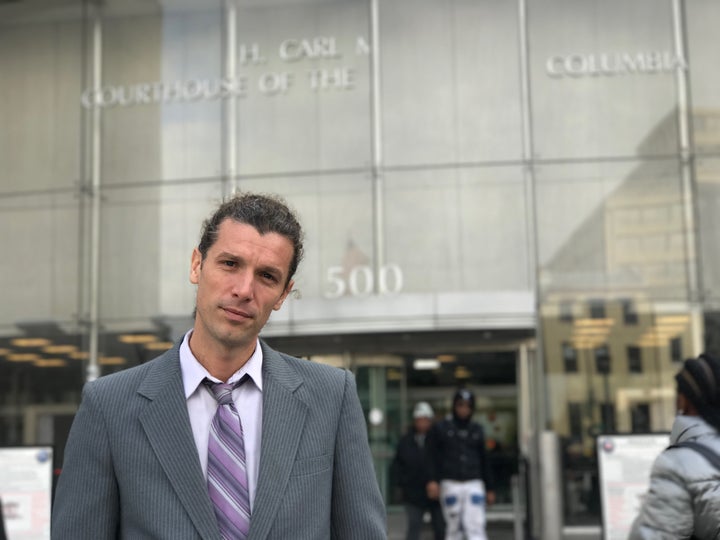 Relatively speaking, prosecutors may have their strongest case against Wood, who had mostly focused on wedding and commercial photography but was trying to break into photojournalism. In his own Facebook livestream, Wood is heard saying "woo" and "who-hoo" and other sounds that could be seen as cheers supportive of destruction, all of which were highlighted in a sizzle reel shown to jurors. And while he never used it or showed it to authorities, Wood was carrying what the government has labeled a "fake" press pass that bore another individual's name, which hasn't been fully explained to the jury.
Several other journalists were caught in the police kettle. Many of them were let out, and several who were originally charged had their cases dropped (though one case other than Wood's remains). Wood, although he sent emails to a news outlet soliciting photography work during the inauguration, wasn't working for any established publication at the time.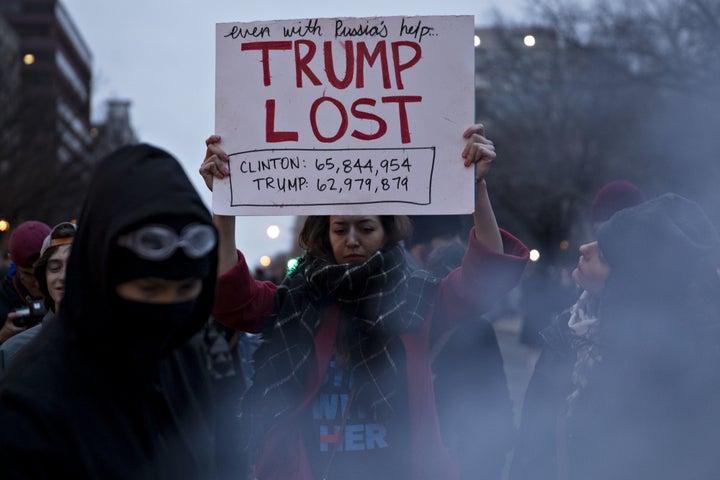 The government has also claimed that two medics ― Michelle Macchio, 26, of Naples, and Brittne Lawson, 27, of Pittsburgh ― had aided and abetted the rioters because they intended to "provide a service" to the people the government has labeled as their co-conspirators.
"What do you need a medic with gauze for? What do you need a medic with all the items that Ms. Kropf [one of the defendant's lawyers] laid out for?" Qureshi asked the jurors. "I thought this was a protest!"
Qureshi added that there's nothing wrong with being a medic, but questioned why Lawson stuck with the group when there was destruction happening around her.
"She was aware that there was a riot going on, based on her conduct and, yet, she continued with the group. Why?" Qureshi asked. "Because she was going to be there to help members who are in black, who get pepper-sprayed, who get hurt because they're provoking the police, to mend them and then get them up on their way so they can continue their destruction. She was aiding and abetting this riot. That was her role. And the evidence supports that."
"As a provider of medical services, she was a co-conspirator. She aided and abetted this group," Qureshi said. "She wasn't prepared for a march or a protest. She was prepared for war."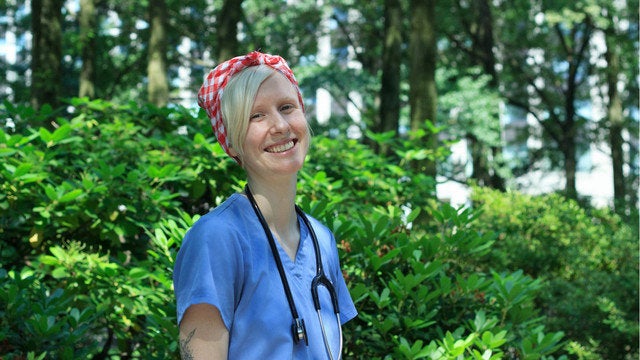 "You can be a journalist and you can riot. You can be a medic, and you can riot," Kerkhoff said. "They are responsible for the destruction that took place."
In their closing arguments, defense attorneys mostly centered on their clients First Amendment rights. Before the D.C. jury, attorney Steven McCool used the metaphor of a Washington Redskins football game, where most people are dressed in the same color jerseys. Sure, McCool said, there might be "a small number people who want to start trouble, probably from Philly," making a joke aimed at Qureshi, who is a Philadelphia Eagles fan.
"If you've been to a section of FedEx [stadium] where this has happened, you'd see hundreds of other people socializing and watching the game. They may wear the same color jersey as those knuckleheads acting up, but that doesn't mean they're there to break anything, help someone break something or hide anyone who's breaking things. The government would have you believe that everyone, the hundreds of people in that section, are breaking the law simply because they didn't get up and leave."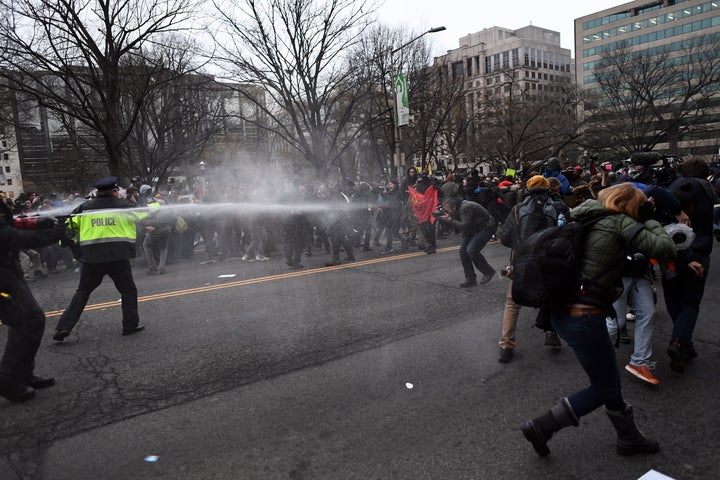 McCool, a former federal prosecutor, said this case was about the First Amendment and told the jury of D.C. residents ― who are very unlikely to support Trump, statistically speaking ― it was about American's ability to "speak out against Donald Trump and his message of hate." He quoted President Barack Obama. And he invoked the civil rights movement, returning to the stadium metaphor.
"To understand the gravity of this case and the importance of this matter, we've got to go back to that stadium. Different time. There's no football game. People are speaking from their hearts. No one's wearing jerseys. They're wearing T-shirts. Some say 'Martin.' Some say 'Malcolm.' Some say "Bobby Kennedy." And Nixon's thugs or someone else they don't know starts some trouble," McCool said.
"Think about this. If the law said we had to leave, think about what that would do to our freedom to effect change," McCool said. "Think about where we would be if they could simply call protesters criminals and silence their voices. That's what happened in this case. That's exactly what happened in this case."
He painted Metropolitan Police Commander Keith Deville as a representative of the "old ways of thinking," who was "telling tall tales" for the government. He reminded jurors about comments that Deville has previously made referring to a Jewish Holocaust survivor as "the one that got away," and comments he made about a colleague who was transitioning from a man to a woman.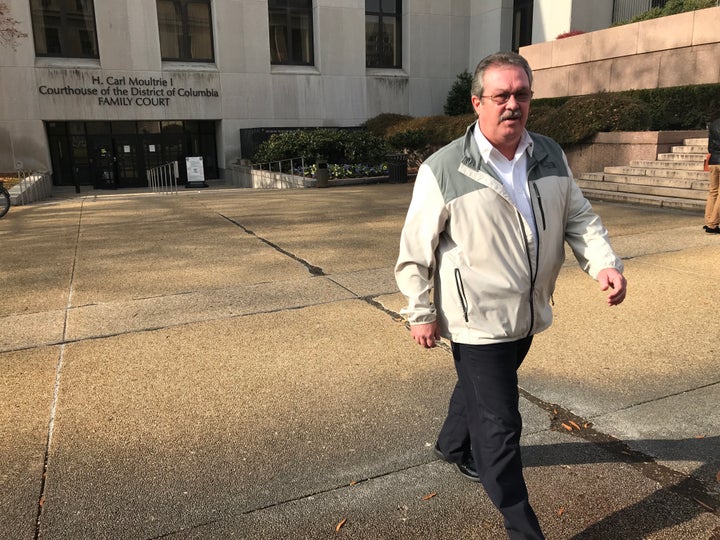 Several attorneys also reminded the jurors that the lead detective in the case, Gregg Pemberton, had sent, retweeted or liked a number of tweets that were anti-activist and anti-Black Lives Matter. Pemberton has spent every working day since Trump's inauguration focused solely on investigating the Jan. 20 unrest.
Jamie Heine, representing Macchio, said Friday that convicting her client would "strip the First Amendment of all meaning" and that the case was a massive overreach.
"The government is taking things that are perfectly legal ... and trying to convince you that they had been up to something illegal," Heine said. She called it an "abomination" that the government was trying to undermine the First Amendment because police didn't want to do their job and hold accountable those who actually inflicted damage that day.
"We have to draw a line between what is right and what is wrong," she said.
Sara Kropf, representing defendant Lawson, noted that the prosecution is being led by the U.S. Attorney's Office for the District of Columbia. She suggested that the pursuit of this case was a political decision by the Trump administration.
"We know who they report to," Kropf said. "This is about politics."
Kropf also suggested that jurors could send a message about the value of free speech and constitutional rights. She noted that the First Amendment and the Bill of Rights were ratified exactly 226 years ago, on Dec. 15, 1791.
"Silence is dangerous," Kropf said.
The government objected. The objection was sustained.
That part of Kropf's argument was silenced.
Ryan Reilly is HuffPost's senior justice reporter, covering criminal justice, federal law enforcement and legal affairs. Have a tip? Reach him at ryan.reilly@huffpost.com or on Signal at 202-527-9261.
Popular in the Community