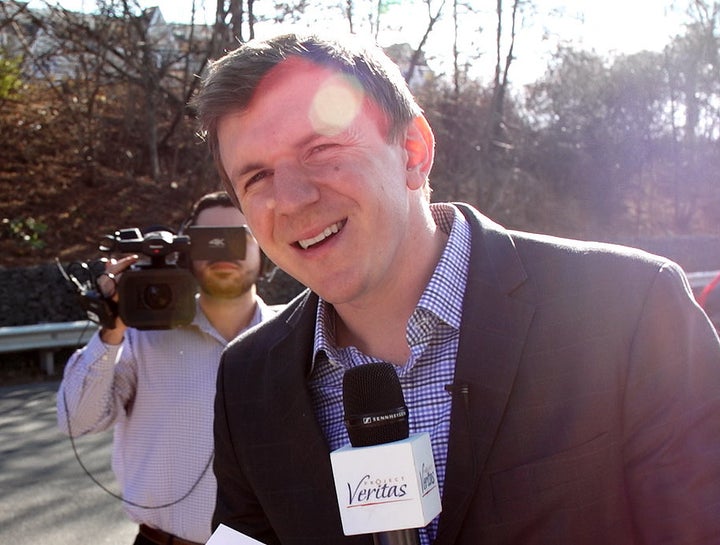 WASHINGTON ― The background of conservative activist James O'Keefe came under scrutiny in D.C. Superior Court on Wednesday morning, as prosecutors continued to seek felony convictions for six individuals swept up in a mass arrest on the day of President Donald Trump's inauguration.
Defense attorneys for those facing felony conspiracy counts pressed Bryan Adelmeyer of the D.C. Metropolitan Police Department about the background of Project Veritas. The conservative organization, which O'Keefe founded, has launched sting operations against liberals and news organizations, and has been accused of deceptive editing practices.
Prosecutors with the U.S. Attorney's Office for the District of Columbia, which is part of the Justice Department, are highlighting a video shot by a Project Veritas operative wearing a button camera. The video shows a planning meeting for a protest on Inauguration Day.
Prosecutors have not alleged that any of the six people currently on trial actually caused any damage ahead of Trump's inauguration, when smashed business windows in downtown D.C. caused tens of thousands of dollars in damage. Instead, they allege that they ― and the 181 others whose felony trials are scheduled ― were part of a conspiracy and should be held accountable for the conduct of others in the group. More than 200 people, including several journalists, were caught up in a mass arrest that day, when demonstrators seeking to disrupt Trump's inauguration gathered, many of them wearing black.
Adelmeyer testified on Wednesday that he provided a false name when he infiltrated a protest-planning meeting held in a church basement in early January. Adelmeyer, who has been on the force for nearly a decade, said his main priority was to find out about "criminal actions masked by First Amendment activities." He said he told his supervisors that he believed protest organizers intended to be "non-violent, but confrontational" on the day of the inauguration. He testified that he took brief notes about the meeting he attended.
Adelmeyer testified that he showed up to the protest in an undercover capacity on Jan. 20 wearing black pants and a zip-up black hoodie, but that he never joined up with protesters because he wasn't allowed to be involved in criminal activity.
Adelmeyer said he later found out that a Project Veritas operative had been at the same meeting. The operative had filmed a video that was played for jurors on Tuesday, despite objections from defense attorneys.
Adelmeyer testified Wednesday that he didn't "really follow" Project Veritas before he learned about the video.
"I never really heard of them before, honestly," he said. Adelmeyer initially didn't recall James O'Keefe's name. But he admitted that he believed the group "side[s] very far to one side, specifically the right."
Assistant U.S. Attorney Jennifer Kerkhoff objected when defense attorney Jamie Heine asked Adelmeyer if he knew that O'Keefe "broke into the office of a Democratic senator." But following a conference at the bench, Judge Lynn Leibovitz allowed a version of the question to proceed: Heine asked Adelmeyer whether he knew that O'Keefe had pleaded guilty to entry by false pretenses, a reference to O'Keefe pleading guilty to a misdemeanor count in connection with an incident at the office of Sen. Mary Landrieu.
Adelmeyer said he wasn't familiar with that incident, but referenced a separate incident he said he believed he'd read about.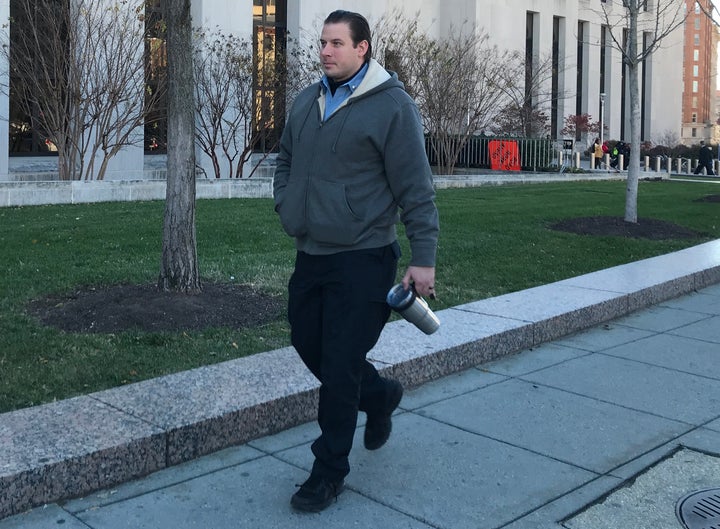 Adelmeyer also testified that he had read about Project Veritas' attempted sting operation aimed at The Washington Post, in which an operative associated with the organization unsuccessfully tried to trick the paper into printing a false allegation against Alabama Senate candidate Roy Moore. He said he had read that Project Veritas had been criticized for splicing together videos, but maintained that the video shown Tuesday was an accurate representation of what he'd seen at the protest-planning meeting.
Sara Kropf, an attorney representing one of the defendants, introduced to the jury the idea that Project Veritas had planted other individuals at the planning meeting and had them speak during it. Adelmeyer said it was possible that another Project Veritas operative had been in the room.
The jury, which has been sitting on the case for nearly two weeks, has heard from employees at businesses where windows were smashed on the morning of Jan. 20. Additional officers are expected to testify in the coming days. The trial is anticipated to stretch into the next two weeks.
Ryan Reilly is HuffPost's senior justice reporter, covering criminal justice, federal law enforcement and legal affairs. Have a tip? Reach him at ryan.reilly@huffpost.com or on Signal at (202) 527-9261.
Popular in the Community