September 7, 2015. Labor Day. 6:05am. New York City.
The City is still asleep on its holiday weekend as I am boarding the Northeast Regional Amtrak from Penn Station to Boston Back Bay. I am off to begin my week at Inbound 2015, the global marketing and business development conference hosted by HubSpot. My first year attending, I am thrilled to be joining 14,000 other professionals from around the world to hear from some of the brightest leaders in industry.
It is business as usual for me leading up to the 6:00pm keynote on Tuesday evening. At 4:00pm, I head to the Boston Convention and Exhibition Center. The event couldn't start any better for me. It begins with one of my favorite authors, Seth Godin. I eagerly enter the auditorium and think back on all I have learned from Seth through his daily blogs and remarkable books.
During this presentation, Seth called for us to stop pointing out the various roadblocks in our business and instead take it upon ourselves to be the one to take action... even when you're "not supposed to." I reflected on countless situations where I was making up obstacles in my head. It is time to get to doing. He left us with this:
"I don't know what the question is. But I know the answer is yes."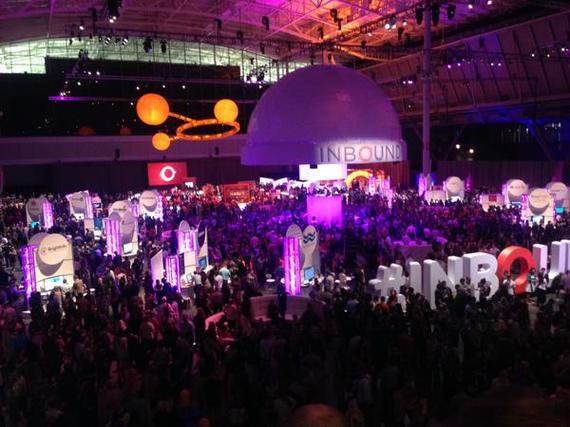 After meandering out of the first keynote and into Club Inbound (shown above), I see Seth Godin himself hanging out and signing books. I had picked up one of his books I hadn't yet read and headed over to meet him. I was ecstatic for this opportunity. I introduced myself and asked for one piece of advice. He opened my book, looked at me, wrote "Go." on the inside cover and told me to "take responsibility." Those two stunning statements said to me by one of my favorite authors started my week in an unforgettable way.
The conference continued with insightful conversations and new connections with people from all over the world. We came together to hear executives from Google and LinkedIn on the challenges facing the biggest companies in the world. We learned from Jonah Peretti on how he went from "doing sh*t on accident that people shared" to building one of the world's largest mobile and social media outlets, BuzzFeed. Numerous entrepreneurs shared their brilliant experiences navigating the modern business world through grand success and devastating failure.
One part that I loved most, is that some of the sessions actually didn't have anything to do with marketing or business development. They allowed us to step back and put our work into a grander perspective. Aziz Ansari and Eric Klinenberg's keynote was a great example. Their presentation was all about how differently Millennials date and find life partners and how that is so different from how it was done just a few years ago. They walked us through their research in a savvy and hysterical way. I am now halfway through Aziz's book, Modern Romance. It is a fascinating tale of sociology and a strong metaphor for the change we are all experiencing today in all facets of our lives.
This added to why Inbound 2015 felt nothing like a "work conference." It was an experience. What other conferences hand you a drink after the day and give you a front stage pass to Amy Schumer's latest standup skit? That happened Thursday night at Inbound, by the way.
To wrap everything up, we heard from Daniel Pink... an extremely talented author and speaker. He called for us to "make sales suck less for everyone." I couldn't agree more. Sales is different now. It is not Glengarry Glen Ross anymore. It is strategic, dynamic and essential. It is social, technical and engaging. Daniel Pink also helped us with our pitches. He shared with us the "Pixar Pitch," which happens to be the simplest yet most profound form of storytelling. It is the formula used in every single Pixar movie you've ever seen. You can try for yourself here. Just as there was no better way to begin the conference, I don't think there was a better way to end it than with Daniel Pink's wisdom.
I am thankful for the opportunity to have experienced Inbound 2015 this year and look forward to joining next year. I hope to see you there!
Calling all HuffPost superfans!
Sign up for membership to become a founding member and help shape HuffPost's next chapter