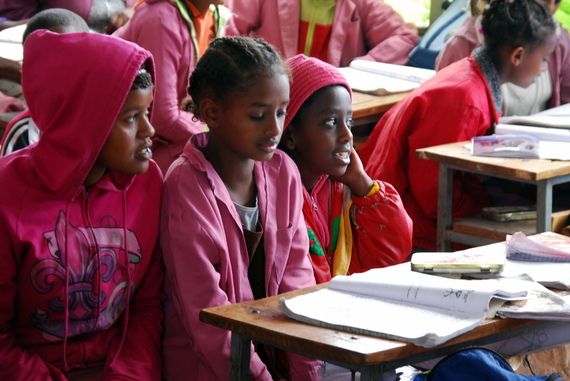 Photo: A World at School
Over the last 15 years, The Millennium Development Goals and the work that has gone into trying to achieve them along with shifts in knowledge, priorities and resources have led to a 50 percent reduction in extreme poverty.
We've seen increased access to essential medicines for AIDS, tuberculosis, malaria and other diseases of poverty that have saved millions of lives. Improved drinking water and sanitation, and access to other services including education have led to significant reductions in child and maternal mortality. We've seen a rise in the empowerment and political participation of women.
In some places however, achievements that were thought possible are slipping away.
We now appear to be going backwards in access to primary education. Despite the target set in 2000, to get all children everywhere access to a basic education, figures released this week show that the numbers of out of school children are nowhere close to zero and are actually on the rise again -- now at 59 million. Meanwhile, donor funding for basic education continues to decline.
These dual failures in financing and access are somewhat obscured by the excitement around the new post-2015 agenda which essentially pushes back the deadline for getting all children everywhere access to at least a basic education by another decade and a half.
We won't get all children into school by the end of 2015 as promised. That means that many of these children will face a life that may include child labor, child marriage, or other forms of exploitation and they will remain trapped in a cycle of poverty. Those most likely to be out of school are girls, those with disabilities, the very poor and those living in remote areas or conflict and emergency situations -- children forced out of school by the earthquake in Nepal, the Syrian conflict, the ongoing crisis in the Central African Republic.
It's possible that we may have started to slowly turn this around. In May education experts and leaders from around the world committed to an ambitious Education For All agenda in Incheon Korea at the World Education Forum and this week leaders from around the world gathered in Oslo, Norway for a high-level meeting to discuss the crisis in financing for global education.
In Oslo, several commitments were made. Two in particular begin to address the two biggest areas of neglect in global basic education. The first is the establishment of a high-level Commission on the Financing of Global Education Opportunities to be chaired by United Nations Special Envoy for Global Education, Gordon Brown. Financing for basic education (which has always been inadequate) has actually declined in last several years especially in the poorest areas. By reinvigorating the case for investment in education, by reminding those making funding decisions of the significant returns on investments in education, the commission could begin to reverse the current crisis of underfunding.
The second commitment that could prove transformational is the 'green light' to assess what's needed for a Global Humanitarian Platform and Fund for Education in Emergencies. The provision of safe places to play and learn in emergencies and greater efforts rebuild education systems after conflict will save lives and could fundamentally change the future for many countries and regions struggling with cyclical poverty and violence. More than half of all out-of-school children live in these contexts. This is not a coincidence.
In Oslo, there were also new funding commitments. Norway, pledged to double its international development assistance for global education and provide an additional $10 million for Syrian refugee children in Lebanon and in the run-up to the meeting the UK announced an additional £100 million for those who have been displaced by the Syria crisis, including up to £20 million for the education of Syrian refugees in Lebanon. The European Union Commissioner for Humanitarian Aid and Crisis Management also committed to increase the percentage of humanitarian aid to education from 1 percent to 4 percent.
The next stop is Addis Ababa, Ethiopia next week for The Third International Conference on Financing for Development (FfD). This potentially historic meeting, involves a wide range of high-level leaders, experts and advocates facing the complex challenge of negotiating the reforms, actions and innovations that will enable financing to achieve the post-2015 development goals to be finalized at the UN General Assembly in September 2015.
If the momentum on education -- and more broadly on ending poverty and creating a more just world -- is continue to in Addis, a great many things will have to come together. Decisions made at Addis to ensure trade, financial and monetary systems contribute to efforts to accelerate progress for all people are the next critical step. Let's hope all states and leaders are up to this challenge.
Calling all HuffPost superfans!
Sign up for membership to become a founding member and help shape HuffPost's next chapter