 For those who have been living 20,000 leagues under the sea for the past few weeks, there is a situation in the depths of the Miami Dolphins organization that has attracted national attention both in and out of the sports realm. Offensive lineman Jonathan Martin left the team two weeks ago citing emotional issues that stem from harassment and other mistreatment -- including racial slurs, threats, and bullying -- by teammate Richie Incognito. The Dolphins not-so-secretly suspended Incognito indefinitely (see what I did there?), who now risks permanent dismissal from the team. Although certainly the most publicized event of his career, whether on or off the field, this allegation would not be the first instance misconduct by Incognito, who has a history of suspension, arrest, and an overall "dirty" player reputation. The media has consistently been all over this story since it surfaced, and we at TheLegalBlitz.com thought it best to call in the pros for a proper analysis of some of the sports law issues at hand.


Jenna N. Kochen is an associate with Allen, Norton & Blue, P.A. in Miami, Florida. Kochen's work is devoted exclusively to the practice of Labor and Employment Law, representing management interests in both the public and private sectors. Kochen's (@JNK33) other interests include coaching a high school girls basketball team and cheering on her local sports teams.
Incognito allegedly said some pretty offensive things to Martin that included racism and violent threats. More information could surface that shows a pattern of such behavior. What would likely be the foundation for any claim by Martin?
As many people are discussing, an NFL locker room is a different type of workplace than a normal office setting. Should NFL players have to follow the same laws as employees in a typical office setting since the culture of the workplace can influence how certain behavior is perceived? Many people's initial reaction as sports fans would lead them to believe that if these players can hit each other as their job description, then they can endure behavior meant to "toughen them up" as well.
There is case law that says that it is not the court's role to purge the workplace of vulgarity or ordinary tribulations of the workplace, but extreme conduct amounting to a material change in the terms and conditions of employment is in fact actionable. Thus, although there are no "anti-bullying" laws, there are laws that protect an individual's civil rights and state that the individual's civil rights cannot be violated. In this situation, Jonathan Martin would likely be able to bring a claim for harassment and hostile work environment. For Martin to succeed on such a claim, he would need to prove that he belongs to a protected group; that he has been subjected to unwelcome harassment; that the harassment has been based on a protected characteristic of the employee (such as race, color, religion, gender, national origin, age, and/or disability); that the harassment was sufficiently severe or pervasive to alter the terms and conditions of employment and create a discriminatorily abusive working environment; and that the employer is responsible for such environment under either a theory of vicarious or direct liability.
The "harasser's" behavior must be both objectively hostile or abusive, as judged by a reasonable person, and subjectively abusive to the actual victim. Therefore, even if Martin subjectively perceived the harassment to be severe or pervasive, the court would need to consider, in light of the totality of the circumstances, whether Martin's perception is objectively reasonable. In order to determine whether harassment objectively altered an employee's terms or conditions of employment, the court would generally look to the frequency and severity of the conduct, whether the conduct was physically threatening or humiliation, and whether the conduct unreasonably interfered with the employee's job performance.
An NFL team is somewhat of a unique workplace in that unlike an office environment in which an entry-level employee might have recourse in the case of harassment by a supervisor, no clear hierarchy exists among players except perhaps league experience and captain status. Could this limit Martin's grounds for suit?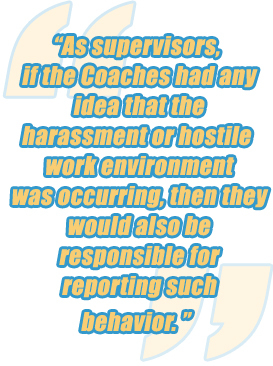 A claim for harassment could be brought even if the alleged harassment was conducted by a co-worker. As supervisors, if the Coaches had any idea that the harassment or hostile work environment was occurring, then they would also be responsible for reporting such behavior.
If the Dolphins were put on notice of such behavior and did nothing to rectify the situation, then the sole fact that no clear hierarchy exists would not negatively affect or limit Martin's grounds for suit.
In terms of a hostile work environment or other employment law suit, what parties are most likely to be subject to liability here (if anyone) ... Incognito, the Dolphins, or the NFL?
If Martin were to sue, the parties most likely to be subject to liability would probably be Incognito and the Dolphins. Unless the NFL was contacted prior to this incident becoming public and did nothing to stop it, then they would probably not be liable. However, that is not to say they will not be sued as well.
Martin would be able to bring a discrimination or harassment claim against Incognito based on Martin being part of a protected class. If Martin can prove the behavior was based on his race or his age, then he would be protected. As far as the Dolphins are concerned, they would probably be liable for harassment and hostile work environment. Under a vicarious liability theory, the Dolphins would be responsible for the acts of their employee - Incognito.
Employers, as Defendants, may assert an affirmative defense if the employer exercised reasonable care to prevent and promptly correct any harassing behavior and the Plaintiff did not exercise preventive opportunities that the employer offers to avoid harm. Here, it is still not clear whether the Dolphins were aware of the situation in order to promptly correct it. There have been varying stories as to whether Martin took any steps to stop the alleged behavior before he left the team. If the Dolphins have a complaint policy for these types of situations, and Martin did not utilize that process, then the Dolphins may have a defense against such a claim. An employer would generally not be liable for co-worker harassment if the employer had a complaint policy or code of conduct, the employee did not complain, and the employer did not know of the alleged conduct.
However, it is clear that since the Dolphins became aware of the locker room behavior, they have taken steps to remedy the situation by suspending Incognito and initiating an investigation with the NFL. An employee cannot defeat an affirmative defense such as this one if they have not complained properly. If it is in fact true that this behavior has been going on for a long time, Martin will be questioned as to why he never complained to another teammate, coach, management personnel, etc. about it.
Managed by active attorneys, TheLegalBlitz.com is a website dedicated to tackling the toughest sports law issues. Our mission is to frame all aspects of athletics - including but not limited to competition, contracts, agents, media & technology, marketing & sponsorships, franchises & stadiums, economics, communications, and labor relations - in the context of law through a forum that everyone can enjoy and learn.


Calling all HuffPost superfans!
Sign up for membership to become a founding member and help shape HuffPost's next chapter