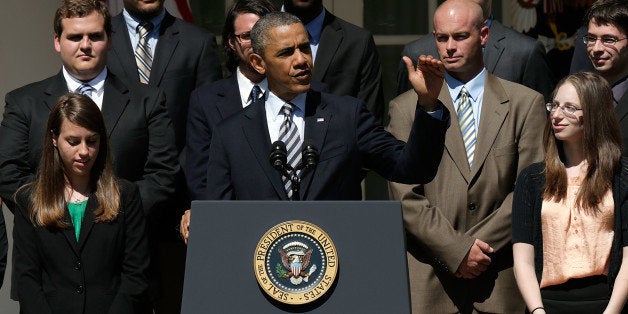 Companies working for the Department of Education over the past year have allowed hundreds of thousands of borrowers to default on their federal student loans rather than enrolling them in the Obama administration's debt-relief programs, new data reveal.
In results that have invited comparisons to the Treasury Department's lackluster distressed homeowner initiative known as HAMP, about as many student loan borrowers defaulted on their federal debts as were aided by the administration's three main initiatives meant to avert defaults, according to the Education Department figures.
President Barack Obama has made two of those programs -- Income-Based Repayment and a similar initiative known as Pay As You Earn -- central to what he described in August as his "personal mission" to make a college education more affordable for middle-class families. The two initiatives are more generous to borrowers than the third and similar program known as Income-Contingent Repayment.
All three programs cap monthly payments relative to borrowers' incomes. Borrowers with high debt loads or low wages generally would benefit most from the initiatives, though only recent borrowers are eligible for Pay As You Earn.
Obama has repeatedly noted that too few borrowers are aware of the debt-relief measures.
Some 600,000 borrowers who took on debt from the government's Direct Loan program to pay for college entered default in the 12 months ending in June, according to Education Department data obtained by The Huffington Post. Over the same period, about 620,000 borrowers with loans from that program took advantage of the debt-relief initiatives.
That breaks out to 630,000 borrowers enrolling in Income-Based Repayment, which launched in 2009; 50,000 borrowers falling out of Income-Contingent Repayment, a less charitable initiative that began in 1994; and 40,000 borrowers joining Pay As You Earn, which is the most generous of the three programs and launched last December.
Those figures worry some federal policymakers and student debt experts, who expected enrollment in the debt-relief programs to increase far more than it did after the White House prioritized them in June 2012, in the midst of the presidential campaign. Obama personally urged Education Secretary Arne Duncan to focus on Income-Based Repayment.
All told, about 1.6 million people, or 10 percent of the nearly 16 million borrowers with student debt from the government's Direct Loan program who are either repaying their loans or in forbearance or deferment schemes, are enrolled in the three debt-relief plans. Though that number still lags the 2.1 million borrowers in default, the gap has narrowed over the past year.
Despite the White House-driven improvements to Income-Based Repayment, millions of other student borrowers who likely qualify for the debt-relief programs are not being enrolled. In December, an economist at Barclays, the UK bank, estimated in a note to clients that more than half of borrowers with federal student loans last year qualified for lower payments under IBR. The note quickly made the rounds among federal policymakers in Washington, particularly at the Treasury Department.
"Higher education should be a pathway to opportunity, rather than to financial havoc," said Sen. Sherrod Brown (D-Ohio). "The Department of Education, Sallie Mae, and other servicers must work to limit default by making repayment options, like Income-Based Repayment, more accessible and understandable for borrowers."
And for some, the fact that hundreds of thousands of borrowers defaulted on their student loans in the past year suggests that the government debt relief programs simply aren't working.
"For federal student loans, there's no reason why students should be defaulting. It's a shame," said Rory O'Sullivan, policy director at Young Invincibles, an advocacy group representing 18- to 34-year-olds. "It's unfortunate we have these good plans out there, but we just don't do enough to help people get into them. The system we have now clearly is not working."
With student debt levels now approaching $1.2 trillion, government concerns are mounting that the number of borrowers in default and the number with high monthly payments risk sapping U.S. economic growth. As borrowers devote higher shares of their incomes to repaying their debt for longer periods of time, they reduce purchases of big-ticket items such as cars and homes, investments in potential new small businesses, and savings for retirement.
"We've got a crisis in terms of college affordability and student debt," Obama said in an Aug. 22 speech at the State University of New York in Buffalo. "Our economy can't afford the trillion dollars in outstanding student loan debt, much of which may not get repaid because students don't have the capacity to pay it."
Speaking the next day at another school in upstate New York, SUNY Binghamton, Obama warned that if young people are "burdened with tens of thousands of dollars of debt, in some cases it's impossible for them ever to pay it off, or they have to put off buying a home, or starting a business, or starting a family."
"And that has a depressive effect on our economy overall," he said. "So it's not just bad for the students, it's also bad for the economy as a whole."
Regulators have warned that rising levels of student debt risk curtailing consumption and slowing the U.S. economy. Obama has said the debt burden "holds back our entire middle class."
Chris Greene, a spokesman for the Education Department, said the roughly equal increases in the number of borrowers in default and the number enrolling in debt-relief plans over the past year was "purely coincidental."
"First, borrowers entering default are likely at very different points in their repayment lifecycle than borrowers entering IBR or Pay As You Earn," Greene said. "Second, borrowers default for different reasons, and not every borrower that defaults is eligible for the Income-Based Repayment Program or the Pay As You Earn program."
Yet falling wages and low employment -- the two main reasons why borrowers default -- suggest that millions more borrowers are eligible for the programs. Median weekly wages for bachelor's degree holders have fallen 4.8 percent over the last 10 years, according to inflation-adjusted data from the Bureau of Labor Statistics. Weekly paychecks for all college-degree holders over the age of 25 are down by 3 percent. The share of the working-age population holding jobs or looking for work fell last month to 63.2 percent, the lowest level since 1978, according to Labor Department data.
The average borrower with federal student loans now carries more than $26,000 in debt, a nearly 43 percent increase from 2007.
Adding to some experts' worries, the number of borrowers who fell behind on their loans likely far exceeds the number of borrowers helped by the administration's debt-relief programs.
The Education Department considers delinquent loans to be in default after the borrower has been late for 270 days, or nine months, and it does not disclose the number of delinquent borrowers with federal student loans. Data from the Federal Reserve Bank of New York, however, suggest the number of delinquent borrowers is increasing. About $52 billion in student loans that were being paid on time fell behind in the first half of the year, the highest first-half total in New York Fed data dating to 2003. Some 10.9 percent of student loans were at least 90 days delinquent as of June 30, 2 percentage points higher than the same period last year.
Since delinquent borrowers qualify for debt-relief programs until they've entered default, and borrowers generally fall behind on their loans after losing a job or income, student debt experts are questioning why more distressed borrowers were not funneled into the debt-relief initiatives.
Lauren Asher, president of the nonprofit Institute for College Access & Success, criticized the results as inadequate. "That is quite apparent," she said.
Asher urged the Obama administration to do "everything in its power" to ensure servicers such as SLM Corp., the student loan company better known as Sallie Mae, are informing struggling borrowers of the debt-relief programs.
The Education Department pays companies such as Sallie Mae to collect payments from borrowers, handle their questions and guide them to the best repayment plans.
But servicers are not obligated to place troubled borrowers into programs that link their required monthly payments to their incomes. For example, Sallie Mae's contract with the Education Department specifies that "servicers will have full discretion to promote or not promote services as long as they meet legislative and regulatory requirements and are cost neutral to the government."
On the section of its website dedicated to helping borrowers who are having trouble making their monthly payments, Sallie Mae promotes schemes known as deferment and forbearance that temporarily relieve borrowers from making payments, while mentioning the government's debt-relief plans only in passing.
"Pay As You Earn is featured on our federal loan servicing home page, and we provide [income-driven repayment] information multiple times in multiple ways: website, video, email, phone, letters, and web chat," said Patricia Nash Christel, a Sallie Mae spokeswoman. "In the last year alone we sent more than 50 million communications to customers advising them of payment options, including income-driven repayment, and we field approximately 50,000 monthly calls about IDR."
Some policymakers have proposed reducing the role played by servicers and making enrollment in the debt-relief programs effectively automatic. Rep. Thomas Petri (R-Wis.) has introduced legislation that would deduct payments on federal student loans from workers' paychecks, tying the payment amount to wages "to eliminate much of the administrative complexity that makes current IBR cumbersome for borrowers to use," he said.
In an April opinion on a case involving a debtor who wished to discharge her student loans by declaring bankruptcy, Daniel Manion, a senior judge on the U.S. Court of Appeals for the Seventh Circuit, recommended that IBR enrollment be required for those borrowers "who have concluded that there is no way they can pay off the debt."
Manion's opinion, while not setting national precedent, was heavily shared among student advocates. Borrowers are rarely allowed to have their student loan debt forgiven in bankruptcy.
Top current and former officials at the White House have been trying to increase awareness of the debt-relief programs to help more borrowers. Obama himself has mentioned Income-Based Repayment and Pay As You Earn several times in speeches.
"Too many students don't know that the program exists," Obama said in August, in a speech touting the initiatives. He expressed similar concerns last year.
Some student advocates claim that servicers deserve the blame for not publicizing the programs, while others argue that the Education Department has failed to ensure that borrowers are aware of their options.
Deanne Loonin, director of the National Consumer Law Center's student loan borrower assistance project, said that even when borrowers know about Income-Based Repayment and similar programs, servicers continue to give them bad information, making it difficult for struggling borrowers to pick the best payment plan for them. "It's still a problem," she said.
Loonin said she saw parallels between the Education Department's efforts to enroll borrowers into its debt-relief programs and the Treasury Department's handling of troubled homeowners who tried to enroll in the Home Affordable Modification Program, commonly known as HAMP. The two agencies have greatly relied on private-sector companies in hopes they'll register borrowers in government-funded debt-relief programs, only to be faced with disappointing results.
Greene, the Education Department spokesman, defended the agency's servicers, such as Sallie Mae. "No one repayment plan is appropriate for every borrower," he said. "As a result, the number of borrowers in a given repayment plan is not necessarily indicative of servicer performance."
The department's biggest servicers are in the midst of renegotiating their expiring contracts with the government. Sallie Mae hopes to expand its share of federal student loans, chief executive John Remondi told investors Monday.
The company may face an uphill climb. The Federal Deposit Insurance Corp. recently notified Sallie Mae that it plans to publicly accuse it of violating laws that ban "unfair or deceptive" practices and discriminatory lending, and of violating the Servicemembers Civil Relief Act, a federal law intended to alleviate financial pressures on active-duty members of the military. The Department of Justice, which enforces the law, also is probing the company.
Greene has said the Education Department was investigating the company's handling of federal student loans, adding that the agency closely monitors its servicers.
But the White House said last month that the Education Department would for the first time begin directly contacting borrowers who may be in distress to inform them of the debt-relief measures, bypassing the agency's contracted servicers such as Sallie Mae in a sign that the administration may sense problems in student loan servicing.
The Education Department will begin contacting a few million borrowers this fall, said Ajita Talwalker, White House senior policy adviser for education. Mostly using email, the agency initially will focus on borrowers who are putting off payments through forbearance schemes due to economic hardships such as unemployment, borrowers who have missed a few monthly payments, and those who have just begun to repay their debts.
The hope is that increased attention from the Education Department, thanks to White House prodding, could lead to lower monthly payments for millions of additional borrowers. Since Obama highlighted Income-Based Repayment in June of last year, enrollment in the program has more than tripled to 910,000 borrowers, government data show.
"As the president has said recently, there is still much more work to do," said Matt Lehrich, a White House spokesman. "In the coming months he will lay out an aggressive strategy to build upon the historic work his administration has already done to keep college affordable and help Americans struggling with their student debt."
Correction: A previous version of this story misstated the day that Remondi spoke with investors. It was Monday, not Tuesday.
Before You Go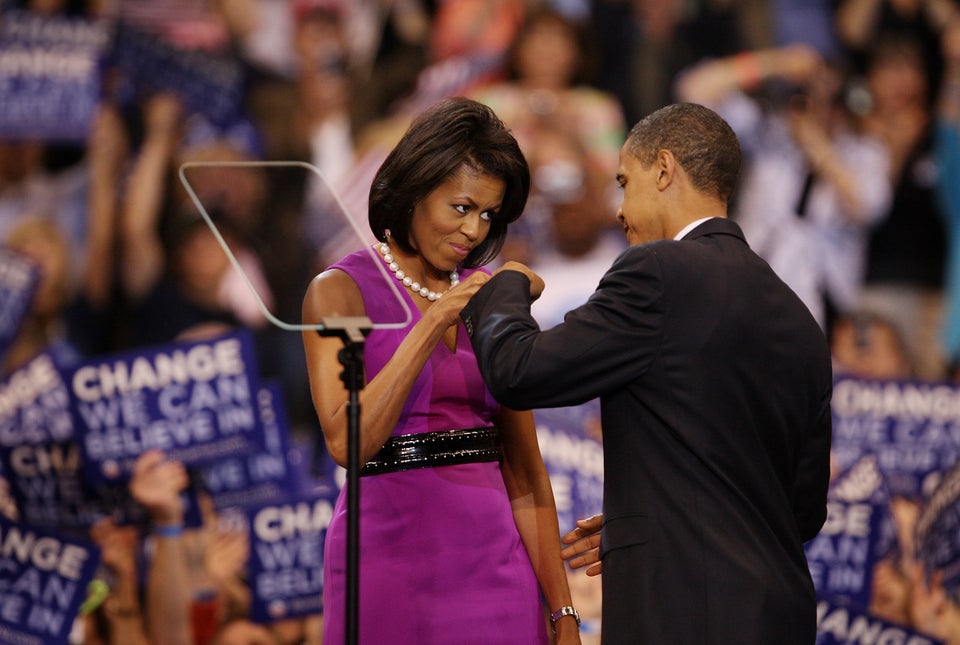 Obama's Fist Bumps
Popular in the Community