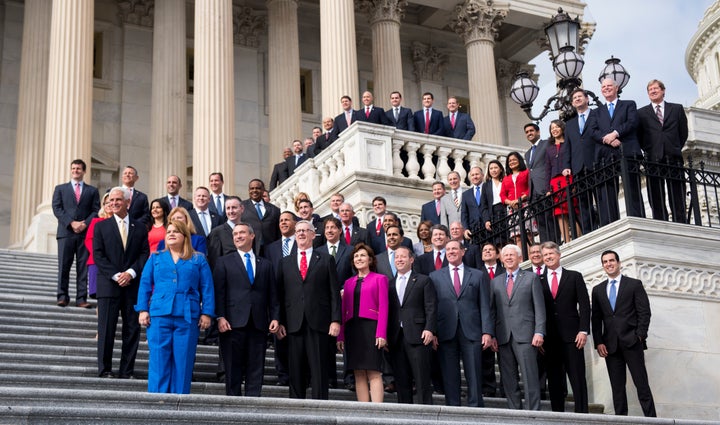 Despite major changes in the American religious landscape in recent decades, the Congress's Christian majority has barely wavered in the last 50 years.
The Republican-majority, 115th Congress was sworn in on Tuesday, just weeks before the inauguration of President-elect Donald Trump. The incoming Congress remains disproportionately white, male and Christian ― much more so than the general American public.
According to a new analysis by Pew Research Center, nearly 91 percent of the 115th Congress is Christian. That's significantly higher than the 75 percent of American adults who identify as Christian, and just slightly less than the 95 percent of Congress members who identified as Christian in 1961.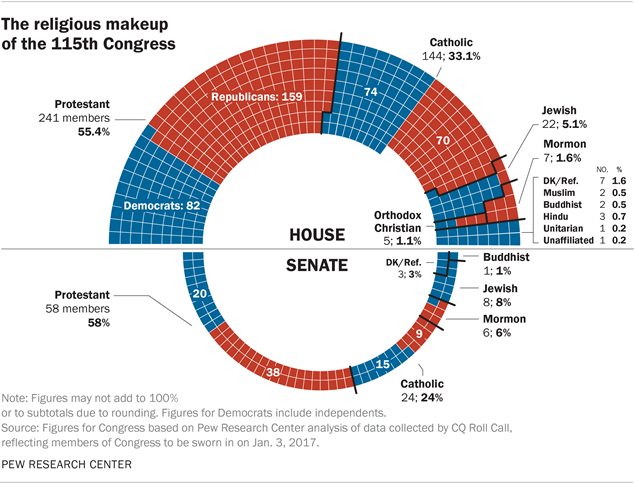 A whopping 99 percent of Republicans in the House and Senate ― all but two ― are Christian. Eighty percent of Democrats in Congress are Christian. And apart from Jewish Republicans Lee Zeldin of New York and David Kustoff of Tennessee, all other non-Christian members of Congress are Democrats, including newly-elected Hindu representatives Ro Khanna, D-Calif. and Raja Krishnamoorthi, D-Ill. The 115th Congress's freshman class also includes five new Jewish members and Buddhist Rep. Colleen Hanabusa, D-Hawaii.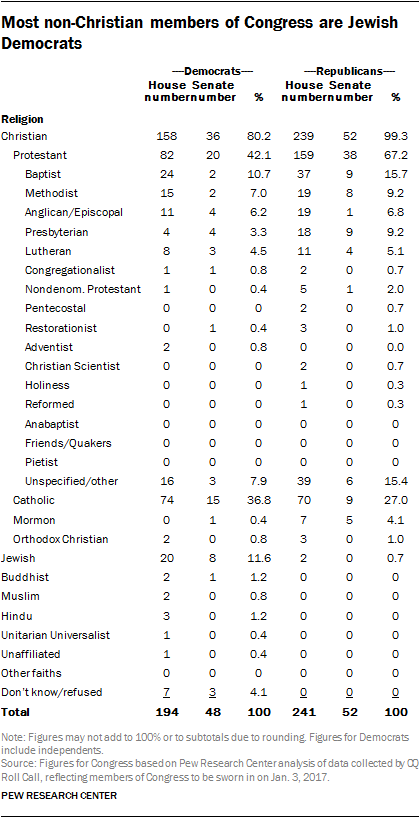 The 115th Congress as a whole includes 30 Jewish members, three Buddhists, three Hindus, two Muslims and one Unitarian Universalist. Among Christian groups, nearly 56 percent of Congress is Protestant; 31 percent is Catholic; 2.4 percent is Mormon; and less than one percent is Orthodox Christian.
"Apart from two Jewish Republicans, all other non-Christian members of Congress are Democrats."
Representation of Protestants, Catholics and Jews in Congress is greater than in the general public, while Muslims, Buddhists and Hindus are slightly underrepresented. Most stark, however, is the underrepresentation of the religiously unaffiliated who make up roughly a quarter of the American public but less than one percent of Congress. Just one member of the 115th Congress ― Rep. Kyrsten Sinema, D-Ariz. ― identifies as religiously unaffiliated.
Ten members, all of them Democrats, declined to state their religious affiliation.

While religious diversity in Congress remains roughly the same as in previous years, the 115th Congress is set to be the most racially diverse in history. The number of women of color will increase from 33 in the 114th Congress to 38. And record numbers of Hispanics, Asian-Americans and black lawmakers are joining the congressional ranks, gearing up to fight the good fight in 2017.
Popular in the Community