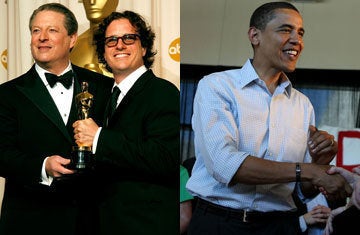 The pool report on Friday from the Obama press corps revealed an interesting tidbit: Davis Guggenheim, the director of An Inconvenient Truth, is making a (seemingly secret) documentary about Barack Obama that will apparently air at the Democratic National Convention in Denver, Col. next month.
After your poolers pulled away from Montana Technical College, home of the Diggers, at around 5:20, the bus made its way up toward old, historic Butte and pulled up to the Clark Chateau Museum, a mansion from Butte's glory days.

The pool was told repeatedly that Sen. Obama was merely doing a video shoot for the campaign's new media department, a routine operation. But Aliesh, hired by Essence to do makeup, tipped your pool off that Obama was accompanied by a famous film maker, as part of a film shoot for the Democratic National Committee and the convention. Obama entered the mansion at 5:45. He re-emerged at 6:43, with a stylish film maker in tow and a crew carrying a film camera, NOT the small digital cameras.

Jen Psaki still maintains nothing is abnormal, but the filmmaker is Davis Guggenheim, the Academy Award-winning director of An Inconvenient Truth. His father, four-time Academy Award winner Charles Guggenheim, chronicled John F. Kennedy. Credit Kim Chipman from Bloomberg with her brilliant Googling prowess.

Davis Guggenheim spoke briefly to your pooler before realizing he shouldn't be. He then said he was merely traveling with his son in Montana and doing some interviews. He promised to speak more after he consulted with the campaign. More TK.
REAL LIFE. REAL NEWS. REAL VOICES.
Help us tell more of the stories that matter from voices that too often remain unheard.