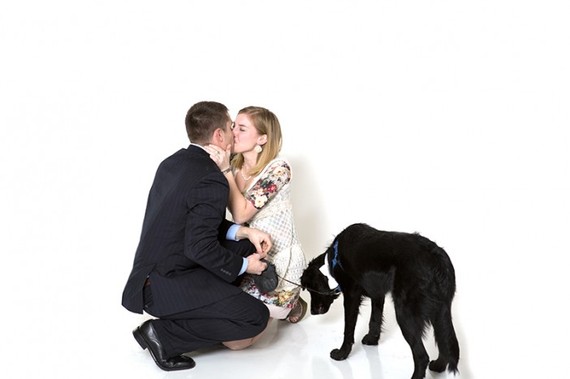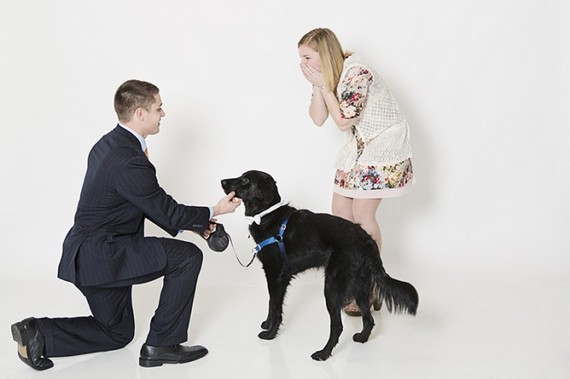 Proposing to your soul mate is no easy task. I know that even the toughest men and women crumble at the knees at the mere thought. And it's not because the love isn't there, or they don't possess strong feelings for their partner. It's because like many things worth doing, it's incredibly nerve-racking!
Enter Fido. When we think of easing the tension when the nerves get the better of us, what do we think of? A glass of wine? A massage? A bubble bath? How about your dog?
No matter how tense a situation is, the minute your dog starts bounding around the room, you can literally feel the mood lightening.
Incorporating your dog into your marriage proposal will not only help dramatically calm your nerves, but it will also keep the mood light, fun and playful.
When including their furry friend in their proposal, many people tie the engagement ring to the dog's collar. You could use a ribbon, or have the ring attached to a floral wreathe around your dogs neck instead if you want something a bit more fancy.
For the ultimate element of surprise, at a random time of day, ask your partner to call the dog and wait for the screams of excitement from the next room before entering.
Some dog lovers buy their dogs custom collars that say 'will you marry me?' on them. This is also a cute option which allows your dog to be involved, but not in charge of the ring as such. A handmade sign around your hound's neck would also do the trick. Once your partner realizes what is happening, you can still get down on bended knee and finish off with the traditional style proposal if you wish.
When it comes to including your dog in your proposal, don't be afraid to get creative. You're only going to do this once (fingers crossed), so you want it to be memorable and special.
Important: If you are a control freak, do not incorporate your pooch in your proposal. Dogs can be a little unpredictible so if you aren't one to go with the flow leave Fido with the babysitter for the evening.