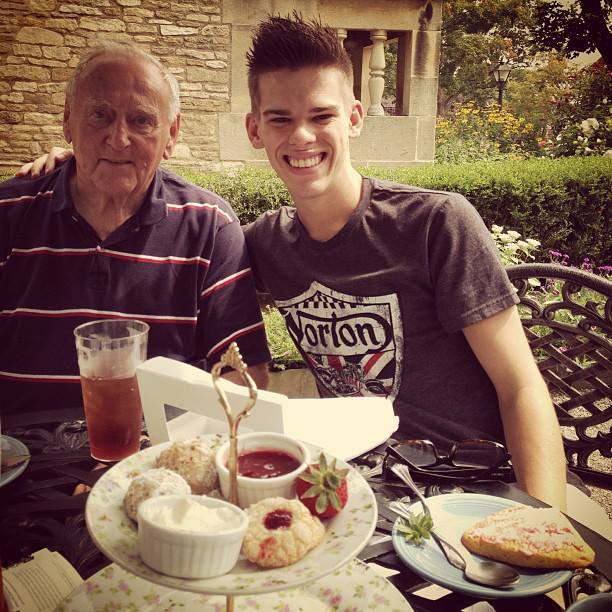 The Author and his grandpa Charles.
My mother and I were recently forced into a new job: caring for my grandfather who has Alzheimer's. My grandfather Charles requires around-the-clock care, and our family has adapted to his needs. Chuck, as his friends call him, is a light-hearted and funny retired Ford engineer. He was an expert mechanic, a war veteran and a doting grandfather to myself and my sister Charly -- who's even named after my grandfather. My grandpa isn't alone -- as over 5 million other Americans are struggling with this incurable and life-altering disease.  
Alzheimer's is defined by the American Alzheimer's Association as "a form of dementia that causes problems with memory, thinking and behavior. Symptoms usually develop slowly and get worse over time, becoming severe enough to interfere with daily tasks." Those with Alzheimer's lose the ability to do things that were once routine. As the disease progresses, patients forget their loved ones' faces, where they live and much more. 
The stress of this disease, though, largely falls on the patient's caregiver. An elderly adult caring for a loved one with Alzheimer's has a 60 percent chance of dying before the patient, and this past June, my family saw this firsthand. My grandma Margaret died suddenly of an aneurism after caring for her husband of 60 years. Her death left our family lamenting the stress she lived with in her final years.
Stepping into my grandmother's shoes has been a difficult experience for my mom and me. Trying to get through normal grief is hard enough, but simultaneously caring for my grandpa challenged us on many emotional levels. Slowly but surely, time eases the pain of grieving a loved one, but there remains a hole in our heart that will never be healed.
As a 19-year-old helping to take care of an 81-year-old with Alzheimer's, I began to reflect on how this disease will affect future lives. As of now, someone develops Alzheimer's every 68 seconds. That's scary enough, but by 2050 people could develop the disease every 33 seconds. 
The segment of the population over age 65 is also expected to double by 2030. While the number of older folks increases, the rate of those with Alzheimer's will also increase. Millennials like myself need to acknowledge the fact that we will become the manifestations of these horrifying statistics. The five million Americans currently with Alzheimer's are only a third of the 15 million projected to have the disease in 2050. I'm terrified to think what life will look like for the elderly when I turn 65 in 2058, and others in my generation should share that fear.
Young people tend to have an invincibility complex, through which the health issues of the elderly are the farthest thing from their minds. With such a serious health threat to our society, millennials simply cannot afford to only think about me me me. The problem of Alzheimer's in America grows greater by the year, and we cannot wait until 2050 to start and look for solutions. 
While I help with my grandpa's care, I hope my family's story will help others reflect on the devastating future of Alzheimer's. Though the statistics don't look bright, I remain optimistic my fellow millennials will try and think more about our collective health. 
REAL LIFE. REAL NEWS. REAL VOICES.
Help us tell more of the stories that matter from voices that too often remain unheard.