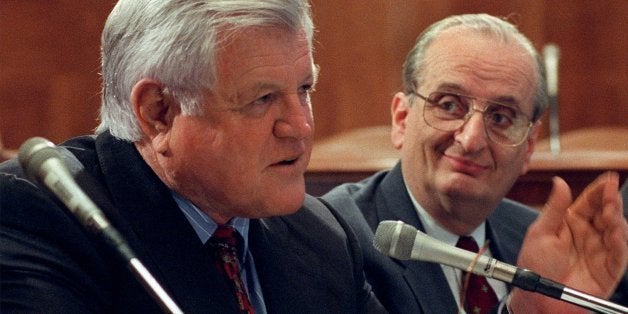 Thanks to a quirk of fate, two seemingly unrelated events happened this past Monday (March 30th) that, when taken together, shine a light on the most vital partnerships in our collective fight against cancer.
The first was the public opening of the new Edward M. Kennedy Institute for the United States Senate in Boston -- named in honor of perhaps history's greatest advocate for federal funding of cancer research -- a day after President Obama and Vice President Biden helped to inaugurate it.
The second was the public television premiere of "The Emperor of All Maladies," a new documentary based on a Pulitzer Prize-winning book of the same name that is a "biography of cancer", tracing the path of our history with the disease while profiling the scientists, researchers, doctors, and patients who have dedicated their lives to beating it.
These two disparate events are representative of a partnership that has saved the lives of millions of people -- a partnership that is currently in danger of fraying and possibly being destroyed.
Just as cancer isn't fought with a single weapon and relies instead on effective combinations of treatments -- this drug, and that therapy -- to make progress, our larger societal fight against cancer is no exception. It is the partnership between our political leaders on one hand, and the dedicated medical and scientific professionals on the other, that marshals, supports, and directs our fight against this disease.
Thanks to federally funded research grants, we have made astounding progress in understanding the complexities of cancer. We can, for instance, recognize and treat the nuances between different cancers. We can target cancerous cells while leaving healthy cells intact. We can monitor cell growth and manage side effects better than ever. We can even envision a cure. Thanks to this partnership, we are on the verge of genetic therapies and next-generation technologies that may tip the scales in our favor.
Yet, inexplicably, this partnership is in danger of being weakened at the moment of our greatest hope for a cure. Adjusted for inflation, the current budget for the National Institutes of Health, which leads America's research against cancer, is 22 percent lower than it was in 2003. Fran Collins, the director of NIH, has said that while the NIH used to fund one in every three research proposals, there is now only enough money to fund one in every six. In 2013, the NIH awarded 640 fewer research grants than the year before. In 2014, NIH research funding for cancer was $56 million less than it was in 2010.
This means we now have to fight for increased funding at a time when potentially monumental breakthroughs are in our grasp. In the war against cancer we've had to open up a second front. It is forcing some researchers who trained in the U.S. to take their talents abroad. A survey last year of research scientists found that nearly 20 percent would consider taking their research to another country including China, which is increasing its research spending even while the U.S. cuts back.
Hopefully, the tide is turning. President Obama's 2016 budget calls for an additional $1 billion in NIH funding. It would push the agency's budget to its highest level ever, which, when adjusted for inflation, would bring our country back to the level we achieved in real dollars in 2010. While the president's budget still has to go through the gauntlet of a Republican-controlled Senate and House of Representatives -- at a time when House leaders have proposed cutting the discretionary budget from which NIH draws its funding by $44 billion in 2017, $64 billion in 2018 and $72 billion in 2019 -- it's possible the White House will have an unlikely ally in this fight: congressional Republicans.
At a recent Stand up to Cancer event, Rep. Matt Salmon, a well-known Republican budget hawk, advocated for a $6 billion increase in NIH funding over the next two years -- proposing that $1 billion of that increase go to the National Cancer Institute. He was topped, moments later, by fellow fiscal conservative Representative Kevin Yoder, who asked why we aren't doubling NIH funding saying, "I think I can go to my 16-month old daughter and I can say, 'I borrowed money in your name to cure cancer' and she would thank me."
It is a sentiment that Senator Kennedy would have understood well. In 1971, he became the first member of the United States Congress to introduce legislation that became known as the "War on Cancer," which doubled our nation's commitment to fighting the disease. For the senator, this war was personal. All three of his children were stricken by cancer at various points in their lives. While his sons survived, his daughter Kara eventually succumbed to the disease. In 2009, just months after he sponsored a modernization of his landmark 1971 legislation, called the 21st Century Cancer ALERT Act, the senator himself died of brain cancer.
Senator Kennedy's passion in the fight against cancer was greatly influenced by his constituents. After all, the Massachusetts state capital is mere miles away from the Dana Farber Cancer Institute -- whose doctors, among many others, are profiled in the "Emperor of All Maladies." That an institute dedicated to Senator Kennedy was inaugurated the same day as a film about his most passionate cause premiered is a coincidence, yes, but it couldn't be more fitting.
Because at this very moment, the president's budget, and the increase in NIH funding it proposes, are being debated in Congress -- which is to say, the future of cancer research and the strength of the partnership between the political and medical community are being debated as well.
As someone who has participated in the fight against cancer for decades -- who worked for nearly two decades in the same hospital and with the same doctors featured in the film -- I know more than most that there are no sure things. One of the most difficult things about treating cancer is that "cancer" actually refers to a wide variety of diseases. Every diagnosis and every treatment are maddeningly different.
To me, what makes cancer so destructive isn't out of control cell growth, or malignancy, but its ability to eat away at hope.
For too many people, when they hear a diagnosis of cancer, they hear an irrevocable death sentence. Cancer is shrouded in fear and mystery, so patients don't go to the doctor. They don't explore new avenues for treatment. They lose hope. But they don't have to.
We don't have a cure for cancer -- yet. But we're gaining ground. The chance of surviving cancer -- from even five years ago -- has risen greatly. There is more hope today than ever before. But we can do more, starting with the current Congressional debate.
Now is the time for every member of the scientific community to raise our voices and make sure we are using every tool at our disposal. We must educate Members of Congress about the incredible breakthroughs that are within our grasp. We must call on our elected officials to be good partners and finish the job we began.
Senator Kennedy never lived to see the publication of "The Emperor of All Maladies," although his spirit is visible in every chapter of the past fifty years. He would no doubt express amazement, as the book and film show, that the first medical description of cancer was written in an Egyptian text in 2,500 B.C. It described "a bulging tumor in the breast ... like touching a ball of wrappings." When turning to treatment, the ancient author noted, "(There) is none."
We have it within our power today to change that answer. In this debate -- at this inflection point between life-saving progress and fatal inertia -- the choice is obvious: the more research we fund, the closer we get to a cure. Forty-five hundred years is long enough. Let's finish this journey once and for all.
Calling all HuffPost superfans!
Sign up for membership to become a founding member and help shape HuffPost's next chapter