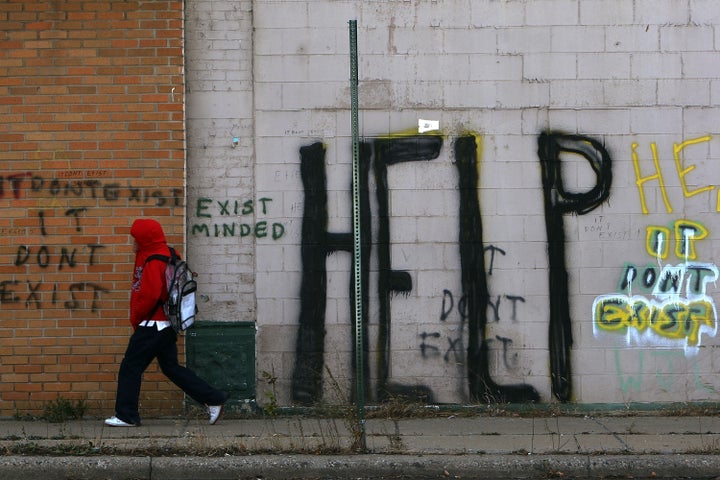 The marked increase in so-called concentrated poverty underscores the distress tearing at communities across the nation amid the worst economic downturn since the Great Depression. It highlights a stunning reversal of economic fortune since the 1990s, when powerful job growth combined with the expansion of tax credits for lower-income households lifted millions of Americans above the poverty line.
Between 1990 and 2000, the number of poor people living in concentrated areas of poverty plunged from 4.4 million to three million, according to the study. By 2009, the number again exceeded four million, and the Brookings researchers assume the figure will be larger still when the Census releases detailed data for 2010. Preliminary figures for 2010 showed more than 46 million Americans -- some 15 percent of the population -- living below the federal poverty line, defined as annual income of $22,314 for a family of four.
"The gains that we made in the 1990s, with targeted policies and a booming economy, a lot of those have been erased over the 2000s," said Elizabeth Kneebone, a senior research associate at Brookings' Metropolitan Policy Program, and the study's lead author. "Places that used to be solidly working class in the '90s have fallen behind after two recessions."
The broad elimination of working opportunities in many poor communities has left millions of people effectively stranded on islands of economic desolation, with the attendant problems of poverty -- dilapidated housing, crime, social strife -- deterring the investment that might alleviate their plight.
In New Haven, Conn. -- where the number of poor people living in neighborhoods of extreme poverty jumped by nearly half between 2000 and the latter years of the decade -- Jason Newton, 26, described an urban wasteland increasingly devoid of legitimate way to pay the bills.
"This whole area is just ignored," said Newton, who recently lost his job in housekeeping at a local hotel. "The violence is getting more and more, because there's nothing to do but do drugs and sell drugs. Businesses don't want to come out here. For the younger generation, they don't care to the point that they're out killing each other. There's not a lot for them to pursue. They don't have no hope."
While the broad expansion of poverty in recent years is the source of considerable concern among experts, concentrated poverty presents a particularly stark problem. Poor people living in areas in which many others are also struggling tend to confront heightened troubles that reinforce poverty.
Schools full of poor children tend to have less experienced teachers, higher dropout rates and more troubles to contend with at home that take up the time and resources of staff. Large concentrations of poor people can require municipal attention -- from counseling to law enforcement -- absorbing resources that might otherwise be devoted to other public benefits, such as parks and cultural offerings.
Neighborhoods with concentrated poverty tend to be afflicted with higher crime rates and lower real estate values. This hinders the ability of residents to borrow against their assets to finance businesses, while discouraging outside investors from setting up new ventures -- all of which perpetuates joblessness.
"When you're surrounded by people who have money, even if you're bankrupt and out of work, maybe you live next door to a guy who has money and you could go into business with him," said Newton. "Here, the options for the guy on the street, it's like, if I'm not out selling drugs, I'm in jail. They have no options."
The study released Thursday morning compares poverty rates in 2000 to averages from the data running from 2005 through 2009. The result is a tapestry of extreme poverty that varies considerably by region.
The study found particularly prominent increases in concentrated poverty in the industrial Midwest, where the loss of manufacturing jobs has eliminated a crucial source of livelihood for lesser-educated workers.
In the Detroit and Toledo metropolitan areas, nearly one in four poor people was living in an extremely impoverished neighborhood by the latter half of the 2000s, according to the study. Overall, Midwestern metropolitan areas saw rates of concentrated poverty nearly double between 2000 and the second half of the decade.
Southern communities also suffered significant growth in extremely poor populations, with El Paso, Baton Rouge, La., and Jackson, Miss. among the metro areas with the sharpest increases.
The number of poor people living in areas of extreme poverty in the suburbs increased by 41 percent between 2000 and the latter years of the decade, as compared to 17 percent growth in cities during that same timeframe, according to the study. Still, poor people living in concentrated poverty inside cities still vastly outnumbered those in suburbs.
Though the northeast saw less of an increase than other areas of the country, New Haven -- best known as the home of Yale University -- stands out as one of the nation's fastest-growing centers of concentrated poverty. By the end of the decade, nearly one in four poor people living in the city was in a community with 40 percent or greater rates of poverty.
Newton has seen it unfold up close.
Two years ago, he was earning $12-an-hour driving people with developmental disabilities to medical appointments. But that job was in the suburbs. When his car broke down, he lacked the money to fix it, forcing him to rely on infrequent public bus service to get to work. He quit that job to take a position at the hotel. It paid only $10 an hour, but it was close to his apartment, making it possible for him to accrue more hours because he was able to work on short notice.
But the hotel was itself struggling. For weeks at a time, management told him not to bother coming in.
"There were no business meetings," Newton said, "no people coming into the hotel."
When he lost that job six weeks ago, he had no savings to fall back on, forcing him to borrow from friends just to make the rent on his subsidized apartment.
He has been looking for work day after day, but has come up empty, frustrated that all the better paying jobs -- at medical offices, where his resume shows experience -- seem to be out in the suburbs. Employers seem reluctant to take a chance on a guy who lives in the city, with questionably reliable transportation.
Newton is a single, young African-American man living in a time in which the unemployment rate among single African-American men 25 years and older is 21 percent.
He went to college for a couple of years, and now he is searching for a way to resume his studies, researching possible sources of grant money. But Newton is also thinking seriously about a job in the only industry that seems to be holding steady in his neighborhood: fast food.
"I've never been a guy to work at McDonald's or Popeye's or KFC," he says. "I've tried to be involved in helping people. But it's about finding a way to pay the bills."
He tries to keep his mind centered on what he can control, what he can achieve, despite the strife around him.
"Just a couple of days ago, a 13-year-old boy got killed," he said. "When I look in the paper, and there's that obituary, it just shatters me."
Newton was recently walking around in his neighborhood when he overheard two guys talking, and the snippet of their conversation now replays itself in his head.
"This dude was like, 'If I lose my job I'm going to be out here doing another job,' some kind of robbing people," Newton said. "I see things like that, I keep it moving. I hold it in the back of my head that's what's out on these streets."
It was like that when he was growing up, too, to a large degree. "It was no peaches and cream," he said.
Yet he senses a change: Never abundant, jobs have become permanently scarce, with employers afraid to take a chance, and many companies just moving away.
Newton says he looks around and sees so many people like him, so many people eager for work and unable to find it, and there is little comfort in not being alone.

"I can't think about the negative," he said. "I've got to surround myself with positive people, positive thinking. Sometimes, you experience things you never want to experience but you've got to keep it together."
Here are the metro areas with the greatest increases in concentrated poverty from 2000 to 2005-09, according to Brookings. The concentrated poverty rate refers to the percentage of poor people in a given metro area who are living in neighborhoods in which 40 percent or more of the local population is poor.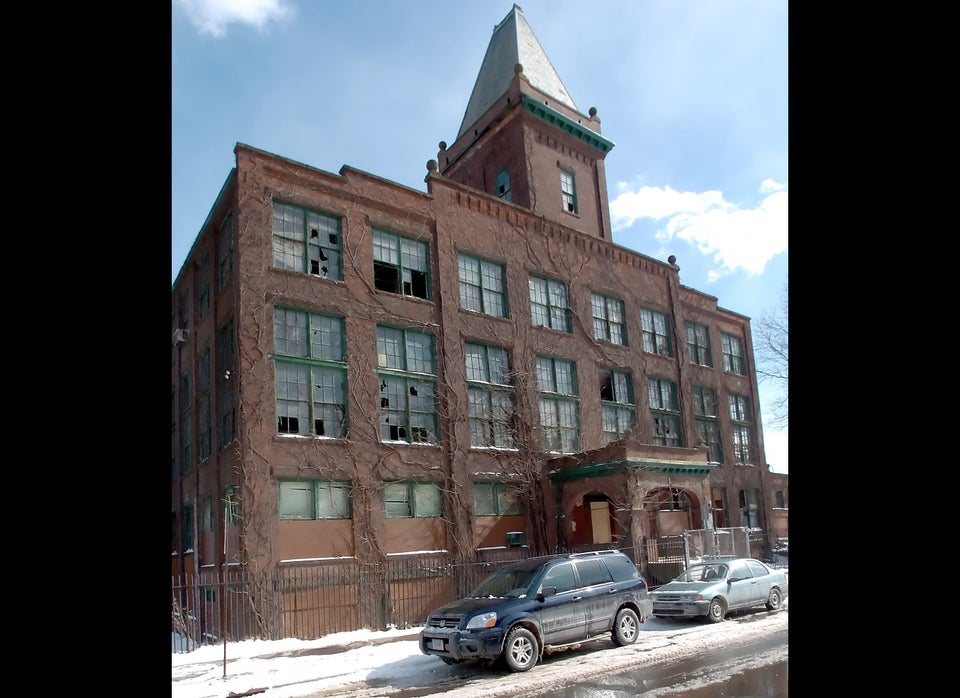 Cities With Greatest Increase In Concentrated Poverty: Brookings