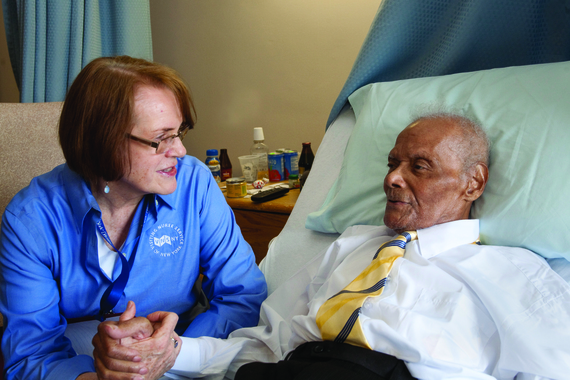 When her mother was dying of cancer in her 60s, Yveliz Panuccio was so deeply in denial that she refused to believe it even after her mother had passed away. "I sat at the bedside staring at her, and I said, 'Okay, God, this is when you do the miracle,'" recalls Yveliz. "But she never woke up."
Yveliz and her Dominican-Argentinian immigrant family wouldn't hear of hospice care at the time, viewing it as giving up on a beloved mother to whom Yveliz was whispering in her ear until death, "I'm fighting for you, you're going to be fine." But eight years later, when her father was terminally ill in his 90s, Yveliz was more open to hospice. The palliative care, resources and support brought comfort to him and peace of mind to the family.
In the wake of her father's death and moved by her family's experience, Yveliz left her career in banking for one in caregiving. She is now a hospice liaison for Visiting Nurse Service of New York, discussing end-of-life care with patients and families at Elmhurst Hospital in Queens, including many Spanish-speaking families like her own. "I know exactly what they're thinking," says Yveliz. "I know exactly why they're holding back. It's in our culture; it's threaded in our religious beliefs."
Hospice's palliative care model is increasingly recognized for bringing quality of life to end of life, yet Hispanics in America typically underuse it. Recent statistics show that about 7% of hospice users in 2014 were Hispanic, while Hispanics make up 17% of the U.S. population, according to census figures. Amid national efforts to broaden outreach and access among Hispanics and Latinos, a team from Visiting Nurse Service of New York Hospice and Palliative Care recently explored with me key cultural reasons why people from these cultures may avoid hospice, and discussed solutions for how we can bridge the gap.
Never is the Latino cultural value of familismo--centrality and cohesion of family--more apparent than when a loved one is sick. "The families want to care for their sick, and they don't want to surrender control," says Elizabeth Santana, LCSW, a VNSNY bereavement counselor. This belief system can render families ill-disposed to hospice care.
Yveliz felt this way about her mother, although she agreed to hospice for her father because he was older and the hospice team member enumerated some "exit strategies" for the plan of care she had decided for her father, including the option to decline a Do Not Resuscitate order (DNR). Liz points to this flexibility as an example of the cultural competence needed to increase hospice access for Hispanic families. "It's important for families to know that they have options and can opt out at any time," Liz emphasizes.
'You Don't Mess with God'
Fatalismo--a belief that life is in God's hands, related to the English fatalism but without the connotation of despair or resignation--can also put Hispanic families at odds with hospice, at least initially. "'Can you believe the doctor had the nerve to tell me my mom is dying? Only God can tell me that,'" Yveliz quotes some of her patients' families as saying. "You don't mess with God," they said.
Yveliz respects their perspective, while also explaining how it can coexist with hospice's palliative end-of-life care. As she discusses options with patients, she says, "You're absolutely right. Nobody has the last word except God. But in the meantime, we want to help you take care of your Dad." That two-part approach opens the door to discussing the day-to-day resources and support that hospice provides.
Translating the Language of Care
For Spanish speakers with limited English, the language barrier can stand in the way of information, education and access to hospice care. In fact, the Spanish translation for hospice--
--means nursing home or orphanage and connotes abandonment, which sets the wrong tone for end-of-life care conversations. "As a Girl Scout growing up in the Dominican Republic, we would visit the
hospicio
because nobody else would visit them," says Yveliz.
And the word desahuciado, used to inform a Spanish-speaking family of a terminal prognosis, also has dreadful connotations. "We hear, 'We're throwing in the towel,'" says Yveliz. "The term is a death sentence." The word is used in telenovelas, or soap operas, to kill off characters instantly and dramatically.
Next Steps: Deepening Cultural Awareness
"In most Latin American countries, you don't speak too much about death," says Rocío Lorena Ruíz, a Peruvian immigrant interning as a bereavement counselor with VNSNY Hospice & Palliative Care. "If someone in your family dies, it's seen as something horrible, punishment maybe. We have a lot of ideas about death that are no good for us. We need more information and education about hospice, to normalize death and grief."
Our caregivers have noticed a shift in openness and acceptance among first-generation immigrants compared with their immigrant parents. Yveliz is working with a South American family who has entrusted the granddaughter with her grandmother's healthcare decisions, because the middle generation of South American immigrants trusts her--a healthcare worker herself--to navigate the system. Yveliz is helping the young woman discuss hospice with her mother's generation so her grandmother can receive palliative care to enhance her final months.
"If we want to include more Hispanic and Latino families in hospice, we need people like Yveliz talking with the family, someone bilingual and bicultural who knows what the core values are, can pick up on the ambivalence, and talk through it with a lot of support and understanding," says Elizabeth Santana.
As we continue to deepen our bicultural understanding and increase our bicultural workforce, we further the ultimate goal of hospice care, notes Willis Partington, LCSW, a bereavement counselor with VNSNY in Queens. "When a Latino family comes on hospice," he says, "there's the reassurance that there is somebody who's going to walk with you every stage of this journey."