National School Counseling Week is Feb. 2-6, and it's a great time to pause and reflect on the amazing contributions that school counselors make every day. I started Mytonomy in 2011 with current high school counselor Sean Burke, and we think about how we can help counselors impact students every day.
Counselors like Gerry Oxx, at Godinez Fundamental High School in Santa Ana, California, are particularly inspiring. In his office by 5:30a.m. on most days, Gerry gets his paperwork out of the way early, so that he can maximize the in-person time with this students during the day.
Despite a caseload of over 500 students, mostly at-risk, first generation kids, Gerry, working with his colleagues, has sent dozens of students to top liberal arts colleges. The counseling department at Godinez has helped the class of 2014 earn over $200,000 in private scholarships, and over $6M in institutional aid (over a four year period).
Oxx continues to support students while in college, especially during freshman year when adjustment issues hit home, and there is no one to talk to at campus. He's an extra member of their family, and thus often gets invited to their college graduations (he's attended Harvard's twice). In return, Gerry asks his students to "pay it forward," and be good hosts to current Godinez students should they visit.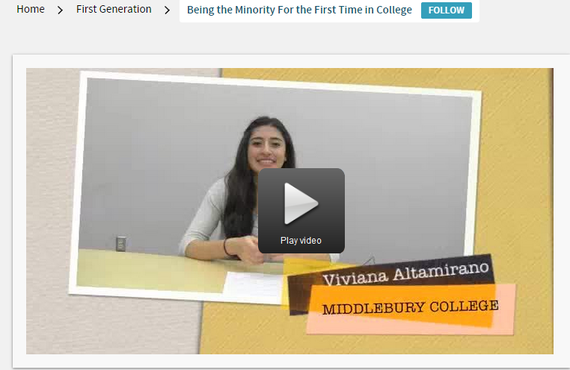 Gerry succeeds due to this outstanding personal commitment to his student's success -- he is a superhero and the Tom Brady of School Counselors, in my mind. He simply works harder to create the time that is not naturally allotted in the school year, to connect with students.
But given the research that shows we get better student outcomes when counselors spend more time with students, why not try different approaches to getting more counselor time for more students?
What we need to do is not a mystery, and it hinges on two key areas: People and Technology Adoption.
First Lady Michelle Obama's Reach Higher Initiative has done a great job in celebrating school counselors and championing additional investment in the profession. Given the unacceptably high ratio of students to counselor nationwide, it is imperative that we hire more properly trained counselors -- educators that have been certified in college advising and not just mental health.
And non-profit college access groups like the College Advising Corps, College Possible, and Strive for College, amongst others, all have positive student outcomes with their models of advising that leverage near-peer mentoring.
Furthermore, let's debate the merits of encouraging dedicated "seat time" for college advising during the school day. Charter schools and independent schools do this, but it's tough to roll out in public schools as existing subjects want to keep their time, especially with testing demands.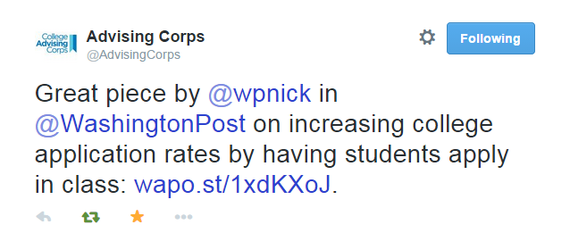 As the hiring of more/better educators in counseling will take time, we must complement our investment in People, with the realization that is it our job as adults, to convey necessary College Knowledge to students, in a way that resonates with them. Technology can play a big part here.
For today's generation, their medium of choice is video and peer-based information sharing through social media. Information transmission for college admissions involves two key components for adults: (i) passing on foundational knowledge and (ii) nagging students to fill out key forms with deadlines.
We know which tools to use for both tasks. Kids today use YouTube as a giant "how-to" guide -- why can't we ask educators to pick up their iPhones and start recording short videos?* When it comes to "nudging" students to take action on their FAFSA forms or other tasks, there is clear academic research that shows that texting can be very effective.
As adults, we need to drop the "judgment" -- just because we read brochures back in the day, and typed up our applications on typewriters, and might today regularly check our email, doesn't mean we can give up on kids that don't act that way.
Without mandates, technology adoption in schools is slow and scattered; students also need a nudge to embrace digital tools that can help them, as do counselors.
As counselors are swamped and have little bandwidth once school is in session to take on new projects, we need to use the summer for training.
Hence, this Modest Proposal:
Foundations focusing on college access, should consider banding together and funding "Digital Counseling Fellowships," which would pay counselors to attend a weeklong professional development course on learning best practices with digital tools.
Nudging counselors to adopt technology to get the rudimentary knowledge sharing and nagging off their plate, will free up our educators to do what most love to do: interact with students and help them with their human problems that computers can't tackle.
My co-founder ("Mr. Burke" to his kids) has seen this first hand, having gone digital at one of the country's top high schools, Thomas Jefferson High School for Science & Technology.
Many of you may correctly point out that the reality in many districts is that not all kids have broadband. But on that matter, I am an optimist.
Whether it's the action of my alma matter (Google) in pushing high-speed connections, or federal funding for broadband, progress is happening. In countries like South Korea, counselors have adopted digital tools and nudged their students to engage with college knowledge, outside of the classroom. There's no reason we can't do that at home!
Students at all income levels use Instagram, Snapchat, Facebook and YouTube - these are mass market tools. Let's not gloss over that HOW we transmit information matters. The future of our students is at stake.
*That's why Sean and I created Mytonomy, a video Q&A platform for college and career, implemented statewide in NC with our partner, CFNC.org.
Popular in the Community