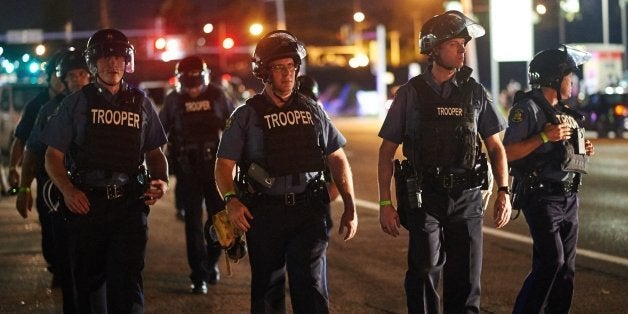 As I went to watch the video, I initially decided not to open it. I was tired of looking at footage of what now looks like reruns or copycat videos taking place over and over again.
As I eventually watched in horror, like so many others did, I thought, "what can possibly be written in a statement that hasn't been said before? And, what good would it do?" It took me a while to even think it was worthwhile saying anything.
Any incident can be picked apart to find a myriad of "reasons" -- regardless of its legitimacy -- as to why this execution took place. The question of whether or not these circumstances warranted death, is overridden by whatever "reason" we find. Never mind that given the same circumstance, most know the likelihood of survival would increase for those with less melanin in their skin.
Therefore, I decided the most helpful thing might be to let our color rich residents know which infractions are punishable by summary execution on site. So, in general, if you are black, and especially a male (though not solely), please avoid the following as the only possible response will be deadly force:
Selling cigarettes
Selling CDs
Playing with a toy plastic gun
- In your apartment building
- Being by yourself in a playground
- In a store that sells the toy gun in your hand, while talking calmly on the phone
Driving away, whether or not the officer or anyone is in danger
Slowly jogging away, whether or not the officer or anyone is in danger
Taking out your wallet
Sitting in your car, talking to friends on the eve of your wedding day
Taking out your driver's license, even if you were asked to do so by the officer (you may survive the ensuing shooting)
Throwing a football around (It may hit a police vehicle)
Refusing to participate in purchasing marijuana
Taking out your key and entering your own home
Entering the stairway of a public housing building
Resisting arrest/talking back, even if you're being hurt in the process, or have questions as to why you're being detained
This may lead to the perplexing but just as dangerous problem of avoiding,
Being arrested, handcuffed and put in the back of a police car
Being handcuffed, arrested and placed face down in a train station
Please, and this is extremely important, understand that this is not an exhaustive list. A general rule of thumb on deciding survivability seems to be to take any number of human actions, responses, mistakes and or violations and use melanin as a multiplier. Class may also be added to the formula.
Additionally, and also critical to bear in mind is, this list only includes interactions with official law enforcement, and therefore does not include warnings against such things like:
Purchasing iced tea and skittles
Playing your car music too loud or
Knocking on someone's door to ask for help
Considering the refusal to sincerely acknowledge the role race truly plays in this country, the complexity of police work and the purposeful steps needed to address it, perhaps this list can help instead.