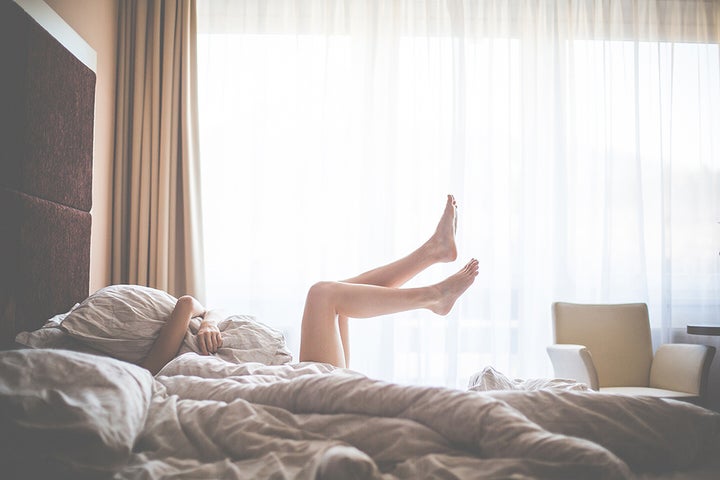 I have a loving husband whom, after 17 years married, I still think is hot. He tells me I'm beautiful every day, and often describes what parts of me are beautiful.
I am blessed and grateful, and I recognize everyday how lucky I am.
But it isn't all roses and unicorns. As all couples do, we have gone through our highs and low and managed to get through to the other side with an eye on reflection and growth. I appreciate the relationship we have everyday.
So, although we love each other and still take each other's breath away...we don't 'get it on' that much anymore.
With kids we are often too tired, distracted, busy or just not in the mood at the same time.
One time, when my first son was still a baby, we drove 5 hours to Quebec City for a romantic getaway and ended up sleeping for most of the weekend. I know you all have similar stories!
So, like everything else I strive to do when connecting and coaching moms, I dig deep into topics that I continue to be inspired by and learn from.
I've collected what has worked for me, and what we keep practising. I believe we never finish learning… everything we strive for just grows and changes as new challenges face us and we pass through new phases.
If you want love, give love.
If you want more love, affection, hugs, intimacy with your partner you have to give it. Even when you're tired. Even if he/she hasn't. Don't think 'he doesn't do I'm not going to'... do you really want to play that highschool dramatic game? This is your chosen partner. Sincere vulnerability is what we get with each other.
Have regular intimacy dates.
Having an ongoing sexual relationship in your marriage is important.
Younger couples in their 20s will get together 4x or more per week. That number goes down as our age and responsibilities increase. Older couples in their 40's & 50's report 2-4x per month.
I believe connecting intimately can happen on many levels and doesn't always has to end climatically (although that's pretty nice too!)
Maintaining physical connection gives your marriage staying power and re-affirms that you are a team.
If it's no longer spontaneous, plan it. And get together. Even if you don't feel like it, lying next to each other in the buff can be the start of something.
Romantic getaways may be nice to plan but they aren't always feasible. You can plan romantic escapes at home. Trade date night sleepovers with friends.
Non-sexual physical touching like hand holding, kissing hello & goodbye, laying together, sitting on the couch next to each other. We used to always greet each other at the door with a kiss...we don't make it to the door anymore, but we still kiss good morning, hello when arriving home, and goodbye when walking out the door.
Say I love you. Txt him during the day when you're thinking of him. Communicate bits of love.
Compliment your partner of others - this builds a sincere sense of attachment - and it models healthy relationships in front of your kids too.
Remember Simon & Garfunkel and Cecilia?
They were making love in the afternoon! Forget about after the kids have gone to bed. You're zonked. If you don't fall asleep with them you're settling into your evening and getting ready for the next day.
Sneak away when the sun is still out and have some fun. Or go into work a little late one morning...you can!
The time we went for therapy was really eye-opening. The biggest take away was our homework to hold regular 'business meetings'. You determine the frequency, but having one weekly to start is very reasonable.
Use the time to review logistics, household issues, how things are running.
Not personal stuff, just to the point items as they would be in a place of work. Separate your alone time clearly, so when you do have a date night set or other alone time you are not tempted to talk about budgets or the kids tutoring etc.
Everyone has different sex drives and natural libido highs. According to Dr. Sandra R. Leiblum, Ph.D who has written 4 books on sexual therapy, 30-40% of women complain of low sex drive. Women from all ages are suffering from low libidos, we are over stressed, over worked, not taking time for ourselves to connect with ourselves (first and foremost), not eating great diets which taxes our adrenals and our digestive system.
If you've always had a low libido and you're ok with that and comfortable and happy with infrequent sex, there's nothing wrong with that. It's when it suddenly changes from high to low or nothing that is more concerning to doctors. (If you feel like you have a dysfunction issue, distress, anxiety, health-related, sexual preference etc please respect yourself and your partner and seek the support of a therapist).
Increasing libido can be as easy as exercising more, getting more sleep, and reading racy novels. Just getting into the moment, without the pressure of what the outcome will be a great warm up too.
There are also a long list of herbs that can help so talk to a herbalist, or a naturopath and make sure it's right for you before trying and that nothing interacts with any medications.
Happy and strong relationships are made up of many layers, and intimate contact is a big part of it. How that plays out will change based on our life events and phases and temperaments. What doesn't change is our need for connection with our chosen partners - that should always be celebrated.
Want to get Buzzing in the Bedroom?
New online course to help increase intimacy and spice things up, even if you only have 10 minutes!
How to get into the right frame of mind to feel sexy for date night
Tips for not being bloated or tired
Re-connecting with your partner to strengthen your relationship
Tantric breath practices to connect with your partner on a deeper level (emotionally and physically)
Skills to elevate your sexual encounters and have more intense orgasms
Natural aphrodisiacs for you and your partner
Related
Popular in the Community