Sometimes as a writer, I come across a family so beautiful and inspiring, I have to share it with the world. The Newman family is one such family. Here they are below: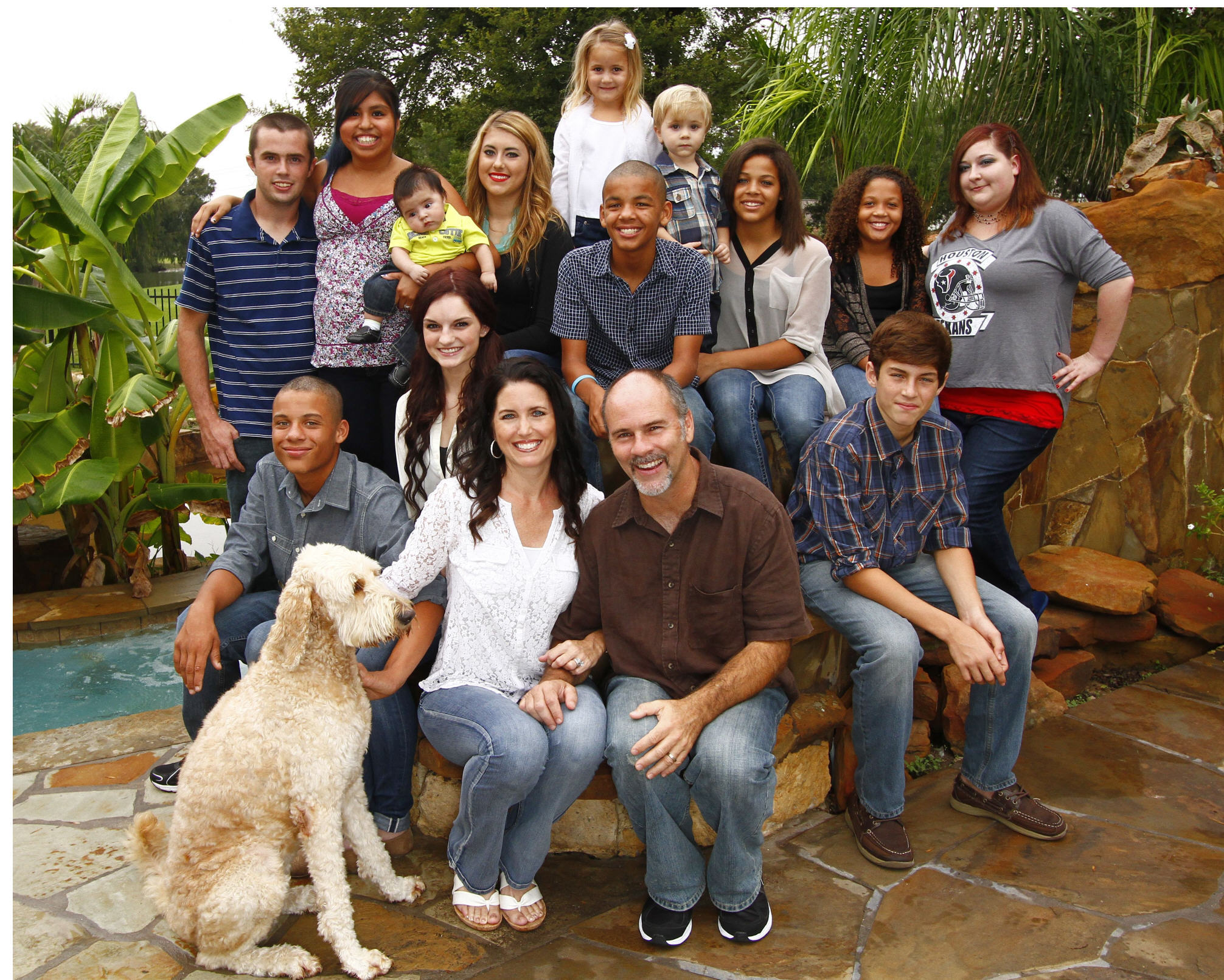 The smiles on their collective faces say it all. Each and every child in the busy and thriving Newman household feels blessed and happy to be part of their unique family. That's because there's more than enough love to go around for 11 children, many adopted. The children may have different biological parents and different races, but they all blend seamlessly.
John Newman is dad to this brood of 11; he has shown them all that faith and caring are the reason they are a family today. He considers them all a precious gift.
When he married his first wife, Darlene, she brought a biological daughter, Shannon, to the marriage. Cancer then made Darlene unable to have any more children, and so she and John decided to adopt.
Shortly after their decision to adopt, they heard of a baby girl, 11-months-old, who was unable to be cared for by her parents. Hannah, whose birth parents were Hispanic, was their first adopted child together, followed by Nichelle, who they adopted at age seven, when her mom was unable to care for her. Next came Zoe, who they adopted in infancy from an unwed teenage mother they knew at church.
After those three adoptions, while the family was feeding the homeless in downtown Houston, they came across a homeless couple that was expecting a child. They befriended the couple, and working through Children's Protective Services (CPS), they adopted that couple's son Noah when he was born.
Noah's biological parents had drug problems and remained homeless, but remained a couple. Each time they had another baby; CPS called John and Darlene and asked if they wanted Noah's siblings. As a result, one by one they adopted Emily, John Jr. and Lauren, all of mixed race from the same homeless parents.
After seven adoptions, Darlene and John divorced and Darlene relocated to Florida. John remained steadfast in his parenting of his adopted children. With two little ones in diapers, he managed, though at times he brought the children to his workplace: a small car dealership that he owns.
The single dad of seven also maintained his vision of one big happy family and had faith that he would find the perfect mate to be a full time mother to his busy household. It took him all of three months after his first date with Allison Newman, who he met on the website e-Harmony, to marry her.
They married five years ago, and Allison brought her own two children, Abby and Steven into the family. Abby says she likes it because she is never lonely. John and Allison are now parents together of biological children Christin and Timothy, which gives them a total of 11 children.
When Allison started dating John, she was well aware that John had seven children that were all adopted, including one with special needs. The former nurse prayed hard before she married him. John's loving nature and compassion and his caring for his children won her over; she realized that helping John raise his household was her purpose in life.
Becoming mother to John's children five years ago, Allison gained their trust by listening to them, and handling concerns immediately. Now they all call her "mom."
The eldest Nichelle, adopted with his ex-wife, is now in her mid-20s and lives on her own, as does John's married adopted daughter Hannah, age 20, who recently made him a grandfather to baby Hunter and a father-in-law to Alex.
With nine children living in the family home, John rules the manor with his second wife Allison with a loving but firm hand and strong Christian faith. Children still at home are Zoe, 16, Noah, 15, Abby, 15, Steven, 14, Emily, 13, John Jr., 12, Lauren, 10, Christin, four, and Timothy, two.
"Our family is BEYOND blended," said John. "I am so grateful for my wife helping me to raise this amazing family together."
With six teenagers in the home, there could be difficulties. The Newmans swiftly handle conflict to restore peace.
"All the different personalities living under one roof is truly non-stop entertainment," said Allison. We certainly don't run a perfect home, but we try to love unconditionally while keeping in mind that each child is different, having unique needs.
Allison manages the busy household each day, and keeps everyone organized.
Some of the children are home-schooled, while others go to a part-time school that offers home schooling the rest of the time. Extra curricular activities make life even busier, but they try to do a lot of things together as a family. Vacations are a highlight and they use a buddy system to keep track of everyone.
Every day, each child gets a list of responsibilities for the day. They share equally in household chores like cleaning, helping with kitchen duties and laundry, as well as looking after the smaller children.
"I wouldn't trade my life with anyone," said Allison "I feel blessed beyond measure."
Currently living in Sugarland, Texas, they are teaching their children that their secret to a good life is "being compassionate and putting other people first." What a perfect example of that these children have in their parents.
Related
Popular in the Community