When Jessica, 32, sat down to make her birth plan before her daughter's birth last May, she had one priority (in addition, of course, to everyone's health and safety): The "breast crawl."
Newborns are hardwired to breastfeed, and the breast crawl is the practice of letting them use those instincts to slowly inch their way to their mother's nipple to nurse for the very first time. Immediately after delivery, the baby is placed on the mother's abdomen and given time to scoot up to her breasts, sniffing along the way. (BreastCrawl.org says says it generally takes between 30 and 60 minutes, after which babies who haven't arrived at the breast yet may need a little help.) Proponents say that giving babies that first hour of life to make the journey helps promote early initiation of breastfeeding ― which has clear benefits ― and eases moms and babies through one of life's biggest transitions.
"It's not something I'd heard about before," says Jessica, who went to a practice with two midwives and two OB-GYNs ― all of whom were supportive of the idea. "When I read about it, I thought it sounded magical."
Fortunately, Jessica and her husband hired Austin-based breastfeeding and birth photographer Leilani Rogers to document the birth, and she captured the crawl inch-by-inch. "To witness the connection baby made with mom over the span of that 48 minutes was fascinating," Rogers said. "She didn't fuss, just slowly but surely made her way to the nipple and latched on once she was in just the right position."
These captions have been edited and condensed for clarity.
Before You Go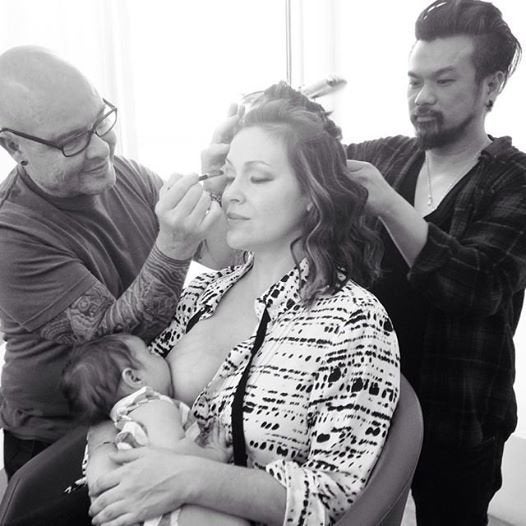 Breastfeeding Moments In Hollywood
Popular in the Community