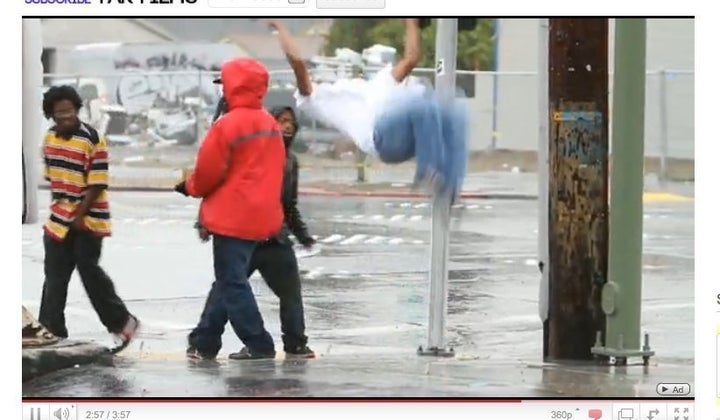 A video showing a group of four young men performing a street-corner dance on a rainy day in Oakland, CA has gone viral on YouTube, and with good reason.
The dancers, who perform acrobatics and ballet-like moves, walk on their toes like Michael Jackson, and perform backflips--all on a rainy sidewalk--are incredible to watch.
The video, which was produced by an Oakland production company called YAK Films, was posted nearly a year ago. YAK Film's YouTube page has 109 other videos on it, mostly of urban dancing.
Unlike so many viral videos on YouTube, the YAK Films video is well-produced, featuring skilled editing and cinematography in addition to the obviously talented dancers. The editing seems to have been manipulated at times to slow down the dancers' movements.
YAK Films describes itself on its Vimeo page as a production team of "young photographers and filmmakers" who are devoted to "youth-led multimedia production" in order to "provide a voice for resistance and an alternative to played-out mainstream media."
The video was directed and edited by Yoram Savion, 25, who is a Media Literacy and Production Instructor at an Oakland non-profit organization called Youth UpRising, which organizes programs for youth leadership and development.
Calling all HuffPost superfans!
Sign up for membership to become a founding member and help shape HuffPost's next chapter