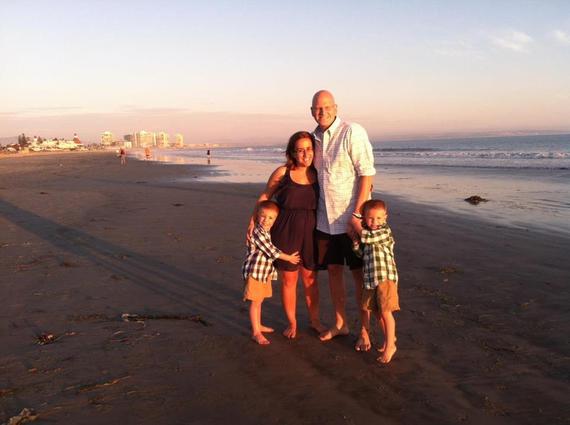 At the age of 26 and 32, Jenny Cross and her husband, Andy, received news that would forever change their family; he had cancer. The moment he heard the diagnosis, they knew their lives would never be the same."Whatever it takes, is what we will do," Andy promised Jenny.
It was a difficult decision to be honest and open with their children throughout the process. As a family, the Crosses decided to begin to fight the disease beyond just its impact on Andy. They began their activism in fighting the illness and even their boys, Kamden and Gavin, at the young age of four, volunteered to take part in acts of kindness for others suffering from cancer.
It was Christmas Eve of 2012 when their story took a tragic turn. Jenny explains, "After putting our boys to bed, I had to rush my husband to the hospital. We celebrated Christmas at his bedside before saying our final goodbye. I remember the moment as if it was yesterday. I remember having to turn to our children and having to find the way to tell two four year old boys what happened to their father. I had made a promise that no matter what for our family and others, we would continue his journey and his fight of the illness by doing Whatever It Takes."
From that moment, Jenny and her boys, moved forward with their mission to help others with the spirit that was instilled in them from Andy's brave fight. They launched Andy Cross - Whatever It Takes, Inc. and have helped over 150 families by providing such things such as food, gas, school supplies, family passes to water parks, and fun packages such as a night out to the movies. This past Christmas they adopted 12 families, and helped supply them with gifts to get through the difficult time of battling illness at what is meant to be a joyous time of year.
The boys have been the heart of the movement. With the same tenacity and good heart their father had, they've lived his legacy from a young age. Kamden and Gavin were just four years old when they told Jenny, "If we can make one person smile, for one moment, while going through what we have, then we have blessed them."
From this, Jenny says, "The Smile Box was born. We pick out some of their favorite things, and add in a few needed items. The boys decorate the box and they are delivered. Together, we create smiles for others." They have brought joy to hundreds of people in the past few years.
The Crosses live and create kindness every single day. They've triumphed over tragedy and, in doing so, show that greatness can come from the greatest despair. Whatever it Takes started because Jenny wanted her sons to be able to work through their heartache. "We still have our moments. At the end of the day, though, they see their dad as a superhero because of all the smiles we've helped create."
Kamden and Gavin have so much heart and courage, born of the love and leadership of two outstanding parents. Andy's love lives on through the heart and actions of his wife and two incredibly kind sons. If you would like to help support Kamden and Gavin in their mission to carry on their father's legacy of love and generosity to those who are in need, please visit Andy Cross Whatever It Takes.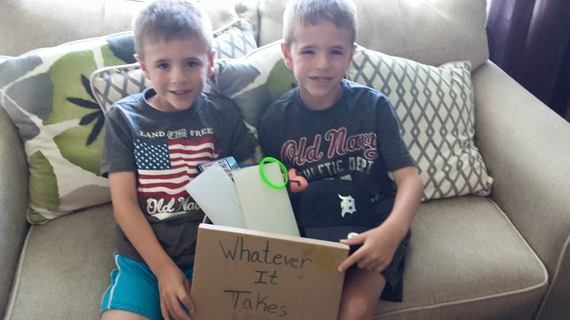 REAL LIFE. REAL NEWS. REAL VOICES.
Help us tell more of the stories that matter from voices that too often remain unheard.