This week begins a four part series on incredibly kind kids. It is uplifting to hear how even very young children so often feel compelled to practice acts of kindness and champion charitable causes. This says even more about the parents that raise them; knowing that supporting their little ones' desire to make the world a little bit nicer is the right thing to do.
The stories of other children's generosity will likely inspire others to get involved, maybe even in these waning weeks of summer vacation.
This week, it's my pleasure to introduce you to four year old Rohan Bhatia from Great Neck, NY. His parents, Rishi and Jillian Bhatia, say that "Rohan is definitely an old soul. He is very curious about the world around him and constantly asks questions about how he can help to make the world a better place."
Rohan is best known for his work fundraising to help save elephants and rhinos from poachers through fundraising, which were reported by the Great Neck Record, his hometown paper.
Rohan's mother says his interest in fighting for these majestic animals came about "because they are his favorite animals and when he heard that they are endangered because of poachers it made him very sad. When I heard about the march that was taking place in cities around the world we decided to create a fundraising page and walk in the march for pledges."
Even though Rohan has completed his march, you can contribute to the cause by visiting the International Anti Poaching Foundation online.
Since marching, Rohan is looking for new ways to get involved in fundraising and volunteering. Jillian said, "Most recently, he heard that his aunt volunteers at a children's hospital and immediately wanted to sign up. He was super disappointed when he found out he would have to wait until he was 15. He said his next project will be a lemonade stand to raise money for people that do not have food or water."
Rohan's mom also said something unforgettable that I hope to instill in my future children: "We try to teach our children how to give back to the world around them. It is very important to us that they grow up to be charitable, caring, and empathetic individuals."
Good job Jillian and Rishi, it looks like you are off to a great start with Rohan! Thanks for helping to make the world a nicer place by raising a compassionate and incredibly kind kid. I hope many of us will follow in his tiny footsteps.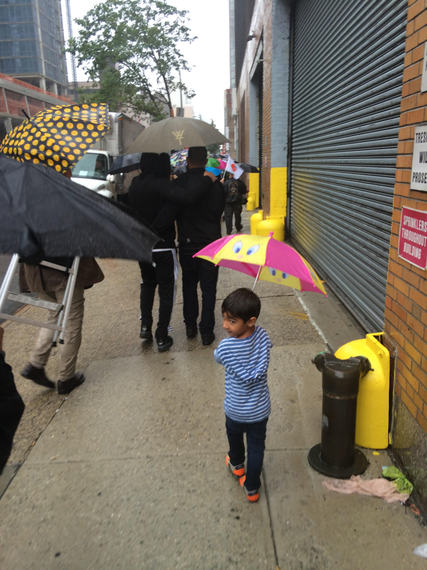 Calling all HuffPost superfans!
Sign up for membership to become a founding member and help shape HuffPost's next chapter