The slang word "trill" is a combination of the words "true" and "real," and those hip to trendy vernacular use it to validate someone's awesomeness and authenticity. So, when we spotted the hashtag #TrillYoga, we knew we were in for a treat.
In fact, a quick search of the hashtag on Instagram will yield nearly 5,000 images of women (and a few men) twisting, bending and striking their best yoga poses while wearing little to no clothes. This sexy take on the ancient Hindu-based practice is a bit shocking a first, but there's no denying the beauty and strength radiating from each photo -- which is exactly what Claire Fountain had in mind when she coined Trill Yoga.
"Trill Yoga doesn't follow the rules, it makes them," Fountain,who is a yoga teacher/trainer/writer, told The Huffington Post. "It's OK to be any body shape, to wear what you like, to listen to what you like, and realize you don't need a fancy studio -- you don't even really need a mat."
That's certainly true since Fountain's Instagram account -- which boasts approximately 221,000 followers -- captures the 29-year-old, New York City-based yogi striking poses in unexpected places like the street corner, the airport, and even a subway station.
An all-inclusive and creative approach to yoga is easy to get behind. Fountain, who started practicing yoga at 15 years old to help deal with anxiety and depression, says the difference between more traditional yogic disciplines and Trill Yoga is that her philosophy is "rooted in the physical and practice, less esoteric and spiritual." She feels that a combination of her yoga background, personal training experience, and overall breathing techniques aren't as intimidating as some forms of yoga.
Some might find yoga intimidating due to the tall, slender body type that is so closely associated with the practice.
Fountain's curvy, muscular body is testament to the fact that you don't have to be thin to get your Downward Facing Dog on. And when it comes to her curves, Fountain has no problem showing them off.
"If being comfortable in my own skin, and what my body is capable of is sexy, then so be it. But I don't associate the word "sexy" with anything I do," Fountain said. "If someone brings that to my image, that's their choice as I don't sexualize myself."
Even so, it's impossible to separate the sex appeal from the Trill Yoga movement. At first, second, and even thrid glance, Fountain, along with the other yogis posting pictures with the #trillyoga hashtag look as though they might just want to flaunt their figures. But Fountain insists the movement is not about being eye candy -- rather it's about encouraging a healthy lifestyle, and more importantly, self acceptance.
"It's just a reminder to me that stereotypes exist, and that's part of why Trill Yoga is so important to me. To break down the notion that yoga can't be strong, modern, hip, and even sexy, in a real, raw way."
So, what's next for Trill Yoga?
Fountain plans to go on tour teaching classes. At the moment she isn't attached to a specific yoga studio -- she takes on private clients (which have included Lebron James and some of his Cleveland Cavalier teammates), and is also available for events and workshops. Fountain would also like to develop an interactive website where followers can obtain information about the #TrillYoga movement, and purchase products like guide books and yoga mats for larger bodies.
"Hopefully I can represent something that is real and genuine, and show that it's OK to be shaped this way, it's OK to read books and be healthy, and that it's OK to carry on doing yoga despite judgement."
Check out theses Instagram images of other yogis showing off their #TrillYoga skills...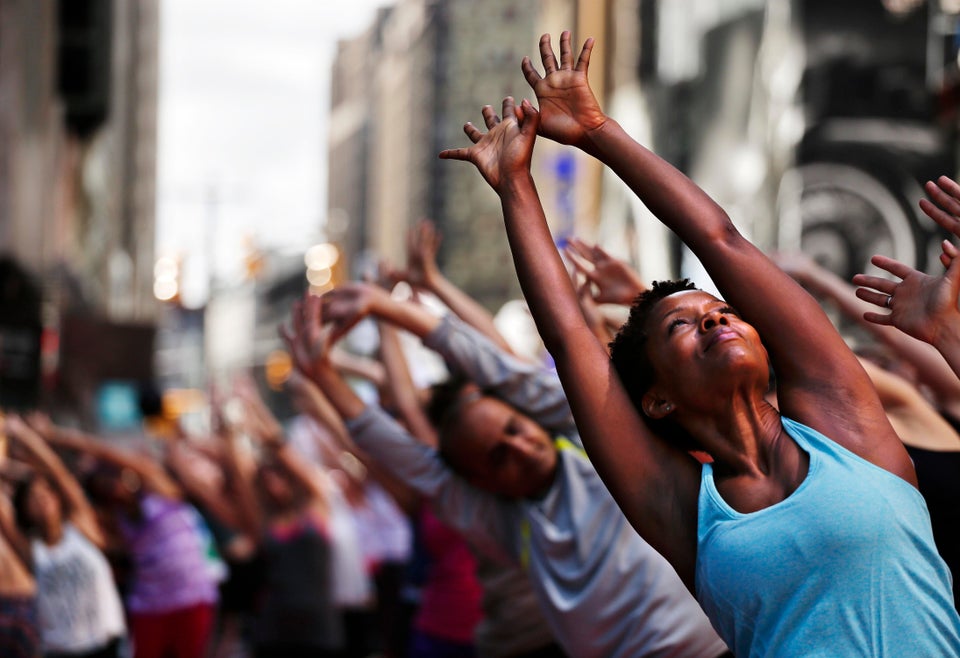 Here Are Photos From International Day Of Yoga