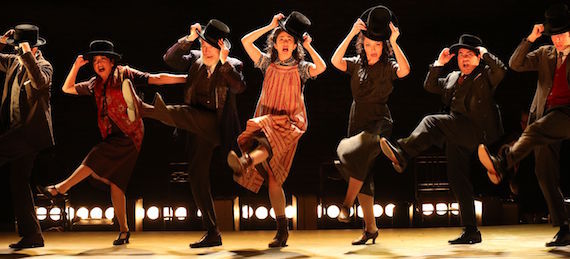 It's hard to find the words to properly praise Indecent and its co-creators Pulitzer Prize playwright Paula Vogel and Director Rebecca Taichman, except to declare it a brilliantly conceived, superbly written, imaginatively staged, exquisitely performed, bi-lingual magnum opus with an intricate, convoluted plot in which six exceptional actors slither between time past and time present, assuming 40 different personally and professionally linked characters. To sum it up: Indecent is a factually accurate, intriguing, intimate, heartfelt, and totally unforgettable Tour de Force!
It's a play about the unfortunate history of another play, God of Vengeance, a first play, written in in Yiddish in Warsaw in 1904 by 24-year old Sholem Asch, an audacious Polish-Jew with a worldview. God of Vengeance is a moral melodrama, which, according to Indecent, had its first reading at the Warsaw literary salon of I. L. Peretz, the most profound and mystical of the founding fathers of modern Jewish literature who wrote in the Yiddish vernacular. The plot of God of Vengeance was a far cry from the tales of upright, worthy, long-suffering, shtetl martyrs preferred by the religious status quo.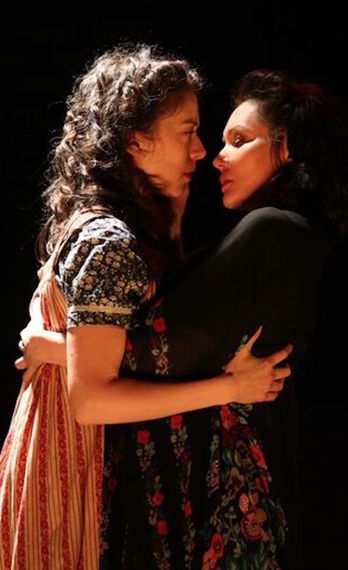 The central character is a successful Jewish entrepreneur/brothel owner (Feh! Feh!) whose aim in life is sheltering his still-pure-enough-to-sleep-with-the-$10K-Holy-Scroll-Dad-commissioned-as-a-tradeoff-for-her-marriage-to-a-pious-scholar daughter Rivkele from his crass and corrupt enterprise operating 24/7 in the cellar beneath the family manse. But even as Yekel grovels and attempts to confess his sins to a Rabbi more interested in arranging a match for a rich man's daughter than the rich man's remorse, Rivkele was in the arms of her beloved Manke, one of her father's sex-workers. Religious hypocrisy and domestic violence soon ensue and you don't need Einstein to tell you that there ain't gonna be a happy ending. Yekel is infuriated enough to banish Rivkele to the spiritual and sexual defilement of toiling beside beside her beloved in the brothel.
God of Vengeance was considered a bold, seminal work by some, an act of traitorous libel by others. It was first performed in Yiddish in Poland, followed by a successful production in German in Berlin starring Matinee Idol Rudolph Schildkraut. Within months it was playing in Russian in Moscow. Then New York beckoned, where starring Rudolph Schildkraut, God of Vengeance struck a chord with the baseborn Eastern European immigrants who attended the theater on the Lower East Side.
An English translation presented at Greenwich Village's gay-friendly Provincetown Playhouse ruffled no feathers. Then it moved Oy Vay! Uptown to the Apollo Theater where, even though the producers had themselves pre-censored the lesbian love scenes, deleting all the tenderness and leaving just the lust, the play's money-buys-absolution theme upset the upward mobile, uptown-bound, Yankee-fied German Jews, incensed that a play that "aired our dirty laundry," could be seen and understood by Christians.
Rabbi Joseph Silverman of Manhattan's prestigious Temple Emanuel lodged a complaint about the play for libeling the Jewish religion and 15 days after it opened, the vice squad arrived, arrests were made and the production was shut down. Could nothing save the day? Maybe the appearance of Sholem Asch, but he was contending with more threatening fish. "There are massacres right now all over Europe!! And I'm supposed to care about what I wrote when I was in short pants?" Indecent's remarkable script, unflinching direction and outstanding music instead confront what most concerned its playwright. The actual greatest indecency of the 20th Century -- the systematic murder of six million Jews.

Indecent opens with the players dangling like marionettes at the rear of the stage. The first to come to life is a dusty figure in an old suit with Holocaust ashes pouring from his coat sleeves and trouser legs when he moves. He's Lemml, the stage manager, who introduces himself first and then the other five actors and three musicians -- a fiddler, a clarinetist, and an accordionist, who lead the cast in singing a merry Socialist folksong about how they are all brothers and band together. I'm always stunned by the joy of klezmer music, that a group of people who have suffered as much as the Jews have can produce such happy melodies. The joy of the music was reflected in the faces of audience members seated near me, as they recalled fiscally more impoverished but emotionally wealthier times.
Our next stop is at the bedroom of newlyweds, Sholem Asch and his bride Madja, who recognizes the words in the love scene between Rivkele and Manke as the ones spoken by her to Sholem the night he seduced her. Writing about Indecent has reminded me how very decent I found Indecent. I've decided to see it once more before it closes on June 19 and believe me, I almost never see anything twice. The performances by all of the performers, particularly Richard Topol as Lemml but also Mimi Lieber, Max Gordon Moore, Tom Nelis, Steven Rattazzi and musicians Michael Cohen, Lisa Gutkin and Aaron Halva were outstanding, but the intimate scenes between Katrina Lenk and Adina Verson demonstrate again that love is humanity's common denominator.
Vineyard Theater
108 East 15th St. 10003
323-353-0303
www.vineyardtheatre.org
Photo Credit: Carol Rosegg
Calling all HuffPost superfans!
Sign up for membership to become a founding member and help shape HuffPost's next chapter