Indeed, which proclaims itself the world's top job site, said Monday it has stopped advertising on Tucker Carlson's Fox News show and has "no plans to advertise on this program in the future."
Indeed said in messages to several people who asked on Twitter about its advertising that the company hadn't run ads on "Tucker Carlson Tonight" for "over a month now."
"As a company, we are nonpartisan ― our site is for everyone, regardless of background or beliefs," Indeed said in a statement to HuffPost. "Indeed has not advertised on the Tucker Carlson Tonight program in over a month, and has no plans to do so in the future."
The announcement follows Carlson's rant last week in which he called immigrants "dirty." Life insurer Pacific Life tweeted over the weekend that the company strongly disagrees with Carlson's comments and would stop advertising on his show "as we re-evaluate our relationship with his program."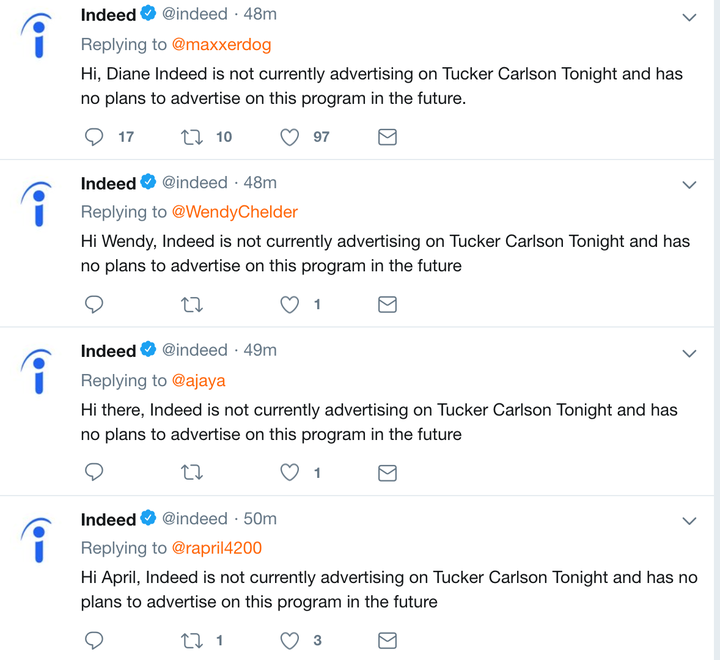 "We have a moral obligation to admit the world's poor, they tell us, even if it makes our own country poorer and dirtier and more divided," he said. Then he twisted the Emma Lazarus poem on the base of the Statue of Liberty to criticize immigrants even further. "Huddled masses yearning to breathe free? Nope, cynical shakedown artists who have been watching too much CNN."
Pacific Life said it hadn't advertised on Carlson's show for "just over one year," and hasn't sponsored other Fox News shows either, according to The Hollywood Reporter.
"Our customer base and our workforce reflect the diversity of our great nation, something we take great pride in," the company said. "We will not be advertising on Mr. Carlson's show in the coming weeks as we re-evaluate our relationship with his program."
Fox responded to the Indeed announcement with the same statement it issued after Pacific Life's withdrawal, denouncing "media watchdogs."
"It is a shame that left-wing advocacy groups, under the guise of being supposed 'media watchdogs,' weaponize social media against companies in an effort to stifle free speech," the network said a statement to HuffPost. "We continue to stand by and work with our advertisers through these unfortunate and unnecessary distractions."
Many people on social media are calling on other Carlson advertisers — including Pfizer, Expedia and Subaru — to quit sponsoring the show:
Mitsubishi, which advertises on the show, told HuffPost it "will monitor the situation and adjust our advertising if necessary."
"Our advertising media spend is determined based on demographics and psychographics, not politics," the brand said.
A spokesperson for Bowflex said in a statement, "We can confirm that Nautilus, Inc., parent company for Bowflex, has pulled its ads from the Tucker Carlson Tonight show. We buy media broadly across many news networks, and do not target ads based on specific programs or hosts. However, we have requested that Fox News remove our ads from airing in conjunction with Tucker Carlson Tonight in the future. Aside from our decision to remove our ads from his show, we have no other association or affiliation with Mr. Carlson."
A spokesperson for AstraZeneca, which advertises on the show, told HuffPost the brand would "continue to assess our advertising purchases regarding the heightened attention surrounding this matter."
"The content and opinions of the outlets, networks or websites for which we advertise are not reflective of our views or values as a company," the spokesperson said.
HuffPost has reached out to other companies still advertising on "Tucker Carlson Tonight" and will update this article with responses.
This article has been updated to include statements from Mitsubishi, Bowflex and AstraZeneca.
Popular in the Community