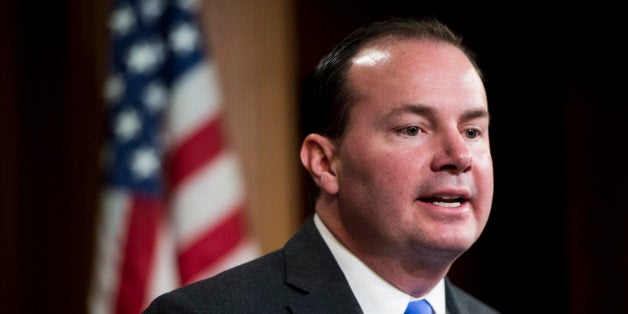 WASHINGTON -- Sen. Mike Lee (R-Utah) mounted a largely symbolic bid Friday to end the White House's authority to indefinitely detain Americans without trial.
The conservative Republican senator offered an amendment to the National Defense Authorization Act that was immediately blocked.
"The bottom line is that there is simply not enough time left before we adjourn to debate even a single amendment, and surely not a single amendment of this complexity," said Sen. Carl Levin (D-Mich.), chairman of the Senate Armed Services Committee, who objected to Lee's request to debate his amendment. Levin added that he had previously supported a similar measure.
The White House first asserted the right to indefinitely detain terrorism suspects after the Sept. 11 attacks, citing the war powers granted by the Authorization to Use Military Force that Congress passed to target al Qaeda and its backers.
It is under that authority that federal officials have been holding suspects at Guantanamo Bay, Cuba, without trial. This policy also applies to Americans, although after Congress codified that particular power in an NDAA three years ago, President Barack Obama said he would not use it.
Still, the law remains on the books, and Lee said he wanted to end that by attaching to the NDAA a measure he and Sen. Dianne Feinstein (D-Calif.) had been unable to get passed before.
"Sen. Feinstein and I had one objective with the Due Process Guarantee Act, which is to guarantee the right of the American people, while they exist, while they live from day to day, on U.S. soil, that they will be free from indefinite detention without trial, without the rights protected by our Constitution, without the rights that we've come to associate wit our habeas corpus guarantees and other constitutional protections," Lee said.
"These are rights that we understand are inseparably connected with liberty, and they long predate the existence of our Constitution and our republic," he said.
Lee stood little chance of succeeding, as leaders had already signaled that no amendments would be allowed. Nevertheless, in a year when the U.S. government's power of indefinite detention has seldom been discussed, Lee's bid to debate the matter at least made it part of the record.
Brian Phillips, a spokesman for Lee, said that the senator "will continue to push for the inclusion of the Due Process Guarantee Act in the NDAA each year until it succeeds. It strikes the right balance between security and individual freedom, has broad bipartisan support, and a version of it received 67 votes two years ago."
"We're hopeful that the new majority in the Senate will consider this legislation to protect Americans' fundamental rights," Phillips added.
This post has been updated to include comment from Sen. Lee's spokesman.
Michael McAuliff covers Congress and politics for The Huffington Post. Talk to him on Facebook.
Calling all HuffPost superfans!
Sign up for membership to become a founding member and help shape HuffPost's next chapter
BEFORE YOU GO
PHOTO GALLERY
Least Environmental Senators