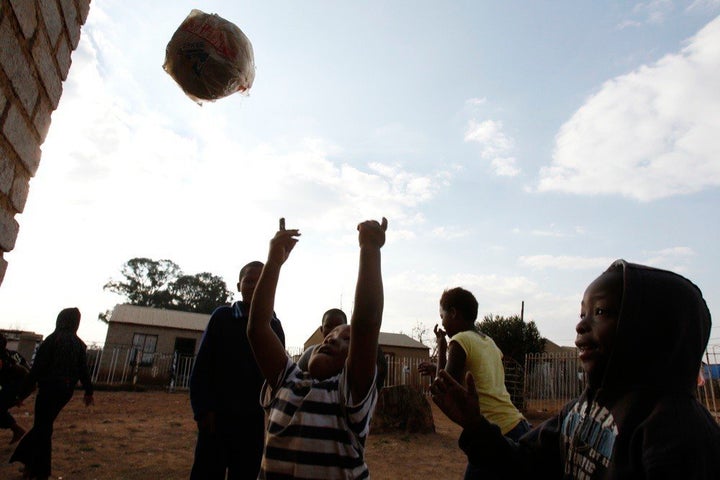 How three young, ex-corporate lawyers from the U.S. are giving women artisans in Rwanda new opportunities through fair trade partnerships.
Lawyers, especially those from the corporate finance world, are typically not known for being bleeding heart humanitarians. Yet, what happens when they decide they want to change the world? Indego Africa, a nonprofit social enterprise based in New York City and Kigali, Rwanda and run by three young ex-corporate lawyers, appears to be the result.
Launched in 2007 by Matt Mitro, a former practicing attorney for Akin Gump LLP in Washington D.C., Indego Africa is many things to many people. It's a fair-trade online retailer, high-end fashion wholesale supplier, nonprofit organization, and, as a handful of women in Rwanda would say, a university. Above all, it is a social enterprise experimenting with a new way of doing business that hopes to lift families out of poverty and tie consumers, designers and companies of the world's fashion industry directly to the economic freedom of African women.
Indego Africa partners with small Rwandan "cooperatives" -- women artisan owned and operated producers of traditional baskets, bags, and other local products -- and connects them to the growing global market for African inspired handicrafts, clothing, accessories and, yes, even chic yoga mat carriers.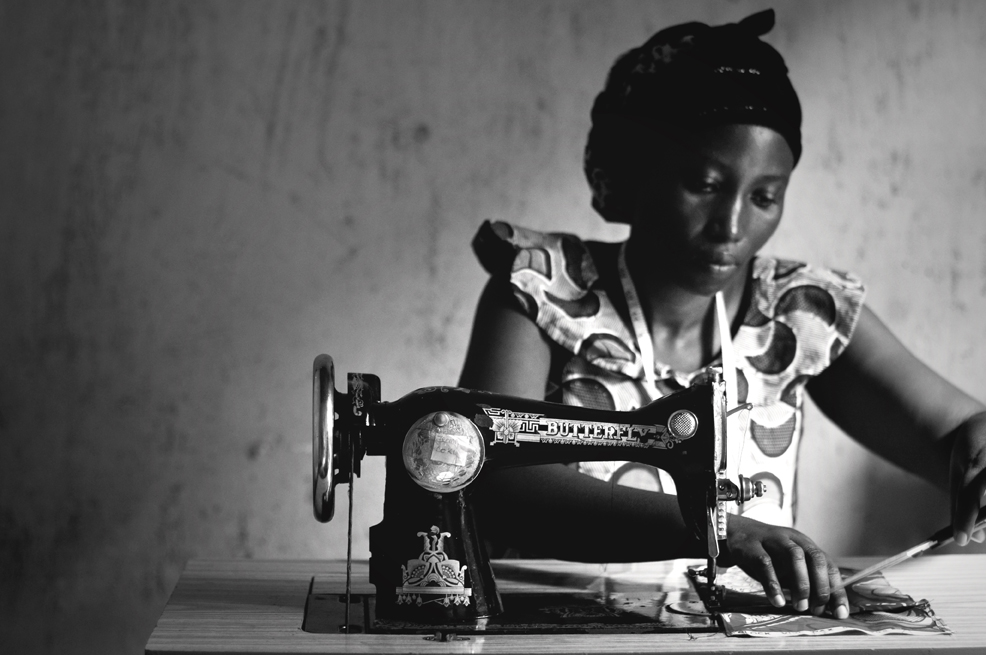 Yet the most compelling part of their model, and what sets them apart from other "fair trade" vendors is this; Indego Africa invests 100 percent of its profits from sales, plus donations, into culturally-tailored training programs for its cooperative partners. Multiple times a week, top student scholars from Generation Rwanda -- a nonprofit organization that provides scholarships for socially vulnerable young people in Rwanda -- come teach the women basic yet essential business skills such as accounting, management, literacy, English and computer skills.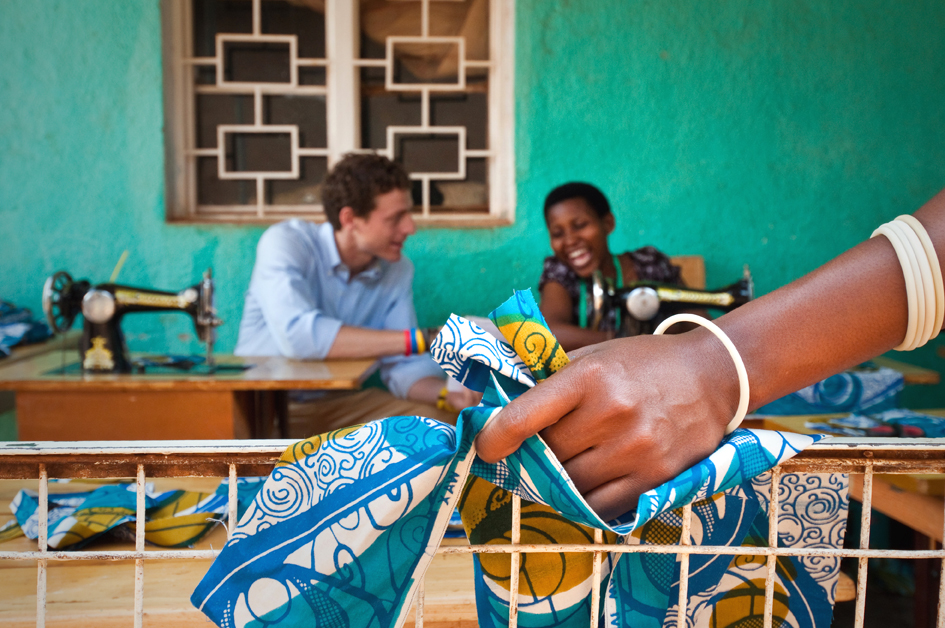 Though Rwanda's economy has grown exponentially since the 1994 genocide, it is still one of the economically poorest countries in the world. Ninety percent of the population relies on agriculture-based income in rural areas and well over half of the population is living under the poverty line. Most of Indego's women artisans are direct victims of the genocide, many losing parents, brothers, sisters, husbands, friends and relatives. For them, with little to no formal education, opportunities in Rwanda are still extremely limited. By forming small cooperatives, they are able to band together and share knowledge, talents and resource to produce beautifully crafted products and make an independent living.
One warm morning in mid January, I tagged along with Benjamin Stone and Conor French, Indego Africa's CEO/President and CFO/COO respectively, as they held their Monday morning meeting at Cocoki, one of Indego's first cooperative partners in Rwanda's capital city of Kigali. Founded by Emelienne Nyiramana, a bright and lively Rwandan entrepreneur, Cocoki brought together the women in Emelienne's community to produce small textiles and earn a little income.

During my visit, the women were working on an order of 700 beautiful and vibrantly patterned handbags for online retailer "Shop Bop." To date, this was the biggest order Cocoki had received. However, according to Indego's team, it won't be for long.
Orders coming through Indego Africa's wholesale division, according to the team, are taking off. Partnerships with high-end global designers such as Nicole Miller, and apparel companies like Polo Ralph Lauren and Anthropologie, are coming in faster and larger than the young organization has ever seen, says French. Already, Indego has enough contracts in place for 2011 to double their 2010 revenues.
Their ultimate goal, they say, is to put themselves out of business. By offering the women the business acumen and confidence they need to run and manage a successful company, and connecting them to international markets, there should eventually be no need for Indego's involvement, allowing the organization to shift focus to another cooperative or even country.
Remarkably, after just a few years they are already seeing the success of their model playing out.
According to their recent 2009-2010 Social Impact Report, their cooperatives have seen a 153 percent increase in bank account ownership among their women, a 42 percent reduction in the number of women with no permanent residence, and a 96 percent increase in the number of families eating at least twice a day. Cocoki, their most successful cooperative partner, is currently working on developing a direct partnership with designer Nicole Miller, and the story of its founder, Emelienne Nyiraman, stands out among many others.
Less than three years ago, Emelienne was carrying water 17 kilometers a day, earning just 25 cents for her effort, to support her five children. This year, she graduated from Goldman Sachs 10,000 Women Initiative Entrepreneurship Certificate Program at the School of Finance & Banking in Kigali, and is bringing Cocoki to new markets across the globe.
Indego Africa is currently fundraising for a "historic" trip to bring her to America (learn more here). Her story highlights exactly what Indego Africa considers "a huge success."
To date, Indego Africa has sold well over 10,000 items made by its partner cooperatives. In a growing age of consumer consciousness, Indego's growth is no doubt fueled by consumers demand to know where, why and how their products were made. The story of each artisan, written on the tags of every item and detailed online, is an immense draw to design and apparel companies hoping to expand, and even profit from, this growing consumer market. From a pair of Tom's Shoes (www.tomsshoes.com), to a bracelet from ChooseHaiti, the story of a product for the consumer is becoming as trendy, fashionable, and marketable as the product itself.
What Indego Africa seems to be doing is attempting a new business model in which their profits are intrinsically linked to the development and empowerment of individuals and communities around the world. Although the organization is registered as a nonprofit, it runs like a business. They care about their bottom line. They watch their margins. They have producers, suppliers, distributors, customers, clients, benchmarks and quarterly reports.
For consumers, the bottom line is this. For $45.00, you can sport a hand-knitted scarf while sharing the story of its creator, Emelienne Nyiraman. Indego Africa can continue to expand its impact by partnering with new cooperatives. Emelienne can continue to run Cocoki profitably. And a cooperative of women in Rwanda will receive a fair wage income, an education, and valuable skills that will help them towards economic independence and freedom. Now, is that an effective donation, or really cool new form of capitalism? Let the consumer decide...
Related
Popular in the Community