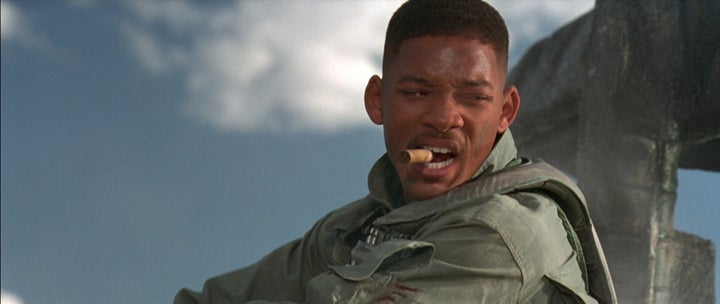 Can we truly celebrate "Independence Day" without its original leading man?
According to Vulture, Fox is planning two, back-to-back sequels to the 1996 sci-fi smash hit that starred Will Smith, Jeff Goldblum and Bill Pullman. The first film, directed by Roland Emerich, earned $306 million domestically and $817 million worldwide, and helped launch Smith's box office star to the stratosphere. Clearly, the studio has incentive to make the film happen, but Smith has every reason to hold out for a giant pay day. As such, the two sides are locked in a financial battle that could get ugly -- or at least make the films a whole lot less pretty.
Smith made major cash to jump back into the "Men In Black" franchise, with a second film coming in 2002 and a third due out next year. Vulture reports that the studio could make the films without Smith -- the scripts are being written right now -- but obviously, that's not the preferred outcome.
Having slowed his career down to help launch his kids' careers -- son Jaden broke out in the remake of "The Karate Kid" while Willow is a budding pop star who whips her hair all around -- Smith last featured in the 2008 drama "Seven Pounds," which earned $168 million worldwide. His last two action films, 2008's "Hancock" and 2007's "I Am Legend," took in $624 million and $585 million globally. "Men In Black II" earned $414 million in world receipts.
Who, exactly, would take over for Smith in a leading part is unclear; obviously, they couldn't recast the role. Along with "MIB III," Smith is attached to star in M. Night Shayamlan's "One Thousand AE" with Jaden. He is also rumored to be working on a new album.
Popular in the Community