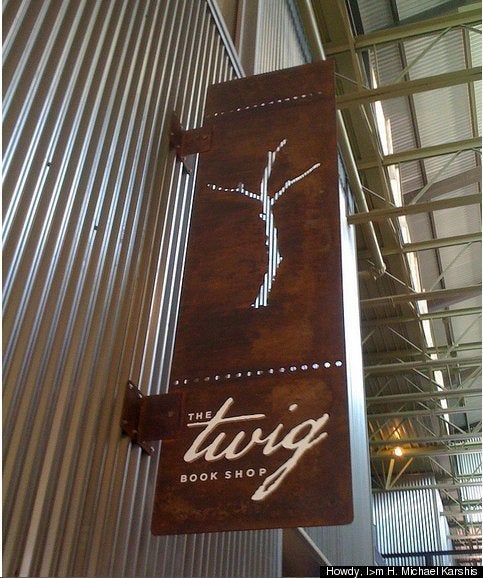 In our focus on independent bookstores, we introduce you to The Twig Book Shop, long a fixture in San Antonio's literary community. It recently moved to a more spacious location in the historic Pearl Brewery building at 200 East Grayson Street. I asked manager Claudia Maceo Sharp about what makes The Twig unique, the economics and daily operation of independent bookstores, how independent bookstores can do well in the current economic climate, the challenges posed by technology, and innovative means to make independent bookstores more vital than ever to literary culture.
Shivani: Tell us something about the history of The Twig Book Shop in San Antonio. What role has The Twig played in the local literary community?
Sharp: The Twig budded from L&M bookstore back when Harris Smithson owned the two. As best as we can figure, based on those who can still remember, The Twig came about in 1972. Local lore has it that Harris and others were at a cocktail party when one quoted Alexander Pope, "T'is education forms the common mind: Just as the twig is bent, the tree's inclined," and the other responded that The Twig would make a fine name for the new bookstore.
Most notably, The Twig has evolved as a destination for its children's books, local authors and Texana--Texas geography, history, and biographies, and a showcase for local publishers. We also have many off-site sales for schools, literary organizations, and non-profits.
Shivani: You moved recently to the new location on East Grayson in the historic Pearl Brewery building. What was the reason for the move, and what are your feelings about the new location?
Sharp: The Pearl development team invited John Douglas, the owner of The Twig for the past 11 years, to consider opening a bookstore at Pearl. He and his wife Frannie have owned Viva Bookstore for about 35 years. At first he was not interested, but about six months after the initial contact, they approached him again. By then I had begun to move to The Twig from Viva so I could take over the manager position from Susanna who was interested in becoming semi-retired. It seems that there were concerns about the previous location and a sense of possibility offered by Pearl. We decided to listen to what Pearl had to say. The Twig had been in its location for many years; it had evolved several times by moving and branching out (no pun intended). After many conversations with Pearl representatives and bookstore consultants, John and Frannie finally chose to take that leap to share the vision at Pearl, a vision of partnerships and being a place where people from all over San Antonio can gather.
Shivani: You come from a background in teaching. What made you take on the job of managing The Twig, and what are the things about the bookselling business that have most surprised you as a newcomer?
Sharp: That is one of my favorite questions to ponder because it is a never ending marvel to me. I am sure in my past I have vowed never to work in retail because here I am. You really have to watch out for such vows.
I decided to retire at age 52 when I became eligible after 30 years of teaching. I had had a rich career that included all elementary levels and college teaching. After a wonderful year with a dear class of fourth graders and a fabulous team of teachers. I knew I was standing at a threshold. I had thought I might join the Peace Corps. I thought I might teach at the Defense Language Institute. I was not going to retire to eat bon bons and watch soap operas. I knew there would be a new chapter of my life to launch. I even fantasized I'd have time to write for once (me, chuckles). I was also teaching at UTSA as an adjunct, so I finished that summer semester and became officially retired. That September, I opened an email one Sunday afternoon that announced a part time job opening at Viva Books. I thought that might be fun for the interim. I sent off my resume, interviewed with the manager there, and was hired. What a blessed place that was. What a gentle birthing into retail! As I stated above, John and Frannie own Viva and The Twig. One thing led to another and here I am. I had been a long time customer at The Twig too.
Shivani: How are independent bookstores different from the chain bookstores?
Sharp: Over and over customers share that they feel the charm of the store, appreciate the personal service they receive, and value our knowledge of the books in the store. We are willing to do out of print searches and order straight from the publishers. We carry self-published books too.
Shivani: What are the economics independent bookstores have to operate under?
Sharp: Uhhh, supply and demand? Seriously, it is very hard. There are many independent bookstores pulling up stakes every year. At best, turning the bookstore inventory as many as four times a year and minimizing costs, a successful bookstore can expect a 2 to 3 percent profit margin. We try to be conscientious of what our customers want by maintaining a high literary standard and knowing what is available. Beyond that, we try to educate our customers how important it is to buy locally. I think San Antonio has shown an increased awareness of the importance of buying locally, keeping their money here and therefore investing in our community.
Shivani: Is it very hard to make independent bookstores successful?
Sharp: Yes. I try to stay focused on what we do well, like customer service and book knowledge, and not on what we cannot provide. We cannot compete against electronic books and deep discounts, so we won't compete in that arena.
Shivani: What are the most difficult obstacles to making independent bookstores profitable that you have encountered so far?
Sharp: The low profit margin if one only sells books, and the challenge of providing customers an experience they cannot get online or at a chain store. We small stores have all the same demands on our personnel as a large store with far fewer employees--the same number of hats with fewer heads.
Shivani: What does the book-buying public understand least about independent bookstores? Are there some misunderstandings you'd like to remove?
Sharp: When I first began to work at Viva and found the tasks to be so complicated, my colleagues would chide me, albeit lovingly, by saying, "And you thought we were just a bookstore." It is a fantasy to think that you can sit behind a counter and read until a customer comes up to pay for a book. Bookselling requires physical and mental stamina. Ordering books requires poring over catalogs with publishing representatives, vendors, and authors. These days a bookseller must have a comfort level with various computer programs from point of sale programs to search engines and publication designs. Boxes of books come daily that must be unboxed, received, and shelved. Organizational skills go beyond alphabetizing. Marketing books once they are in takes retail and design sense. Shelves must be culled of books that are not selling and returned to the publishers or authors. And there is always dusting and sweeping to be done. Oh yeah, and then read, read, read. I used to feel like all I had time to read was the back of a book. After a year as manager that has improved somewhat.
I have found booksellers to share a common ideal about the world. We care deeply about our communities, about the power of the written word throughout the centuries, the importance of sharing the stories of our human condition. We are finding and even creating new ways to connect with each other, between various organizations and businesses, in partnerships and special projects.
Shivani: In the current economic climate, specifically as it relates to books, what do independent bookstores have to do to survive and even thrive?
Sharp: Be all the more attuned to customer needs and interests to sell more books, sell book-related items, provide services, and use space in avant-garde ways. In addition to books, we also sell some locally made cards and art. We sell related stuffed animals and puppets, bookmarks, book lights, magnifiers, puzzles, hats, cards and stationary. We have used our space to host the Shakespeare and the ballet companies, promote plays, support local authors in readings and book launchings, and we have joined in organizational purchasing promotions.
Shivani: On a day-to-day operational basis, how does the independent bookstore differ from the large chains?
Sharp: As I said above, the plethora of hats on fewer heads seems to be the biggest operational difference. I do not have a different book buyer for children's books and adult books, much less the different genres. I do not have floor managers or personnel directors. No marketing director, etc.
Shivani: Do you make book buying and promoting decisions differently than the large bookstores? How so?
Sharp: Not having worked in a large bookstore, I cannot be certain, but my impression of an obvious area in which we differ is that we forego the large bulk purchases of mass market releases. Instead of the New York Times Bestsellers we display our bestsellers based on independent booksellers data. The results often overlap but include more literary works in general.
Shivani: What should the book-buying public do differently?
Sharp: Think of your local independent bookstores as community gathering places. Look for events there, subscribe to their email lists, check out the websites. Browse the shelves for autographed copies of books by local authors; they make unique gifts. For those people who do not think of themselves as readers, I believe that they just have not found the right book yet. A bookseller at your local bookstore may know of just the right one to get them started. We often carry books that someone might not buy for themselves but would love to have as a gift. So many people find that the books they purchase reflect who they are and the books as such.
Shivani: Tell us how recent technological innovations affect your business--both negatively and positively.
Sharp: Our website has become more significant. A person can now order a book from us online. We post our events there and news about us. We also are learning to use Facebook and other social networking sites effectively.
OK, I know you are referring to the Web Retail Empire That Must Not Be Named. It has had a very painful impact. I do not believe that books will disappear for a very long time, if ever, but we must be attentive to what our customers want more than ever. Research shows that many electronic book buyers are still buying hardcopy. There are still gratifying and useful reasons to do so. I have a feeling that there will always be something endearing about a smear of banana on Good Night Moon that you shared with your one-year-old whose sentimental value cannot be replicated even when those electronic devices can display children's books. Billy Collins recently shared that poetry is often reformatted on some electronic devices so that the lines fit into its dimensions, thereby changing the intent of the author's very intentional shaping of the poem. Perhaps books will become collectors' items, displayed as art, souvenirs, or in display cases like spoons, thimbles or shot glasses. We must be willing to compensate by providing what our patrons want and expand our inventory and services to include items that can still reflect our unique, community-minded philosophy.
Shivani: "The independent bookstore is in danger of extinction." Is this statement overblown?
Shivani: Do independent bookstores need more help from the publishing industry? What kind?
Sharp: They are hurting too but also compensating. The bulk of our revenue is made during the last quarter of the year. But we must order year round and have ordering peaks throughout the year. Visited by publishing reps seasonally, we want to provide the most recent releases and also provide for store events. Publishers' patience with the cash flow has shortened considerably from what I've been told. It does not take long to be put on credit hold in which case books are not shipped. Books not shipped mean books not sold which means no cash to pay for those already ordered. We really really want to be able to pay our local authors and publishers in a timely way, but often I feel like I must say, take a number. Taxes, salaries, the big publishers, our main distributor! Take a number. It is not uncommon to hear booksellers utter prayers of thanksgiving, see them cross themselves, genuflect, make some grateful gesture to owners with deep pockets or a strong local economy with long-standing, positive relationships with their banks.
Shivani: Describe for us what it's like at the booksellers associations and other meetings you've recently attended. What is the mood, and what are business insiders excited (or worried) about?
Sharp: Many have referred to the recent past with a dark look of fear remembered. However, this year at the American Booksellers Association Winter Institute and at Book Expo America, I heard members with many more years than my own remark that the tone was encouraging. Fewer bookstores are closing, the sessions are geared toward making modifications to what we are doing in ways that can be competitive and emphasizing our charming and delightful relationships. It was a love fest. Many authors are also taking stands, becoming vocal advocates for the independent local bookstores.
Shivani: What are your plans and visions for The Twig?
Sharp: The partnerships within San Antonio...and beyond! I mentioned earlier the Shakespeare Company, the ballet company, playwrights, poets. We can be a gathering place for so much more that has any sort of literary connection. Literacy is not only reading, but writing, listening and speaking. Right now, in the works, is a multi-faceted project with the San Antonio Museum of Art in which we hope to provide family oriented activities and related books while they host a visiting exhibit from the Brooklyn Museum of Art on Egypt. We hope to plug their monthly thematic family events that are coordinated with the Bureau of Cultural Affairs and Chamber of Commerce. We currently participate with a literacy program where we are a donation site for new and gently used books that will be distributed to children identified as needing books by their schools this fall. These are just a couple of examples of how we hope to forge our future at The Twig.
Shivani: Tell us the most pleasant surprise you've had since you started managing the bookstore.
Sharp: Without a doubt, the experiences I have had day after day of someone coming into the store with one intention but having an almost magical mystical creative experience--a connection, an idea, a possibility forms beyond anything either one of us may have predicted. We are truly realizing that we are greater than the sum of our parts. We must live into those experiences and live with the awareness that the possibilities come in unsuspecting packages.
Related
Popular in the Community