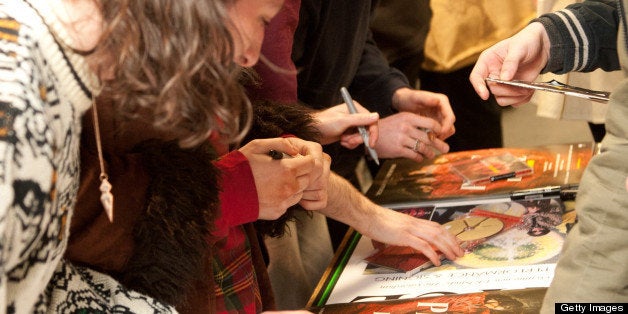 "It's like when you buy some nice apple juice at a farmer's market from the man who made that juice and can tell you everything about the fruit, the orchard and why he used those apples."
That's how Joe Daniel, the creator of the Independent Label Market, describes the experience of independent labels selling their music directly to the fans, face-to-face. The event, which launched in London back in May 2011 and later headed to Brooklyn, is making its second appearance in the Los Angeles area later this week. But what began as a simple idea of Daniel's has grown, partnering with IAMSOUND Records for the second year in a row and bringing on Myspace as Presenting Sponsor. It represents something much larger than just a day of buying and selling music: the rise of indie.
After spending a night selling merch for one of the bands on his own label, Angular Recording Co., Daniel felt that every label head might get something out of the experience. "People at labels don't often get the chance to interact with the people who buy the music which they spend all their time working on and trying to make into a nice product," says Daniel. "Chatting with someone at a market stall is much more fun than scrolling through YouTube comments."
Owner of IAMSOUND Records Niki Roberton and coworkers watched as the event grew, finally reaching out to Daniel and together creating the LA version of the project last year. Roberton hopes that 2013 will be a similar experience to ILM's West Coast premiere but to a greater degree:
Last year, we had music fans, crazy music nerds, locals, passersby that came through. It was a real mixed bag, which makes it even more exciting. Running an independent label and being able to communicate direct to consumers is worth its weight and really gave us a great feeling to introduce the label to so many new people.
Enter Myspace, a social network with its roots in music and in the midst of a massive re-launch. An ongoing relationship with IAMSOUND, "coupled with our ties to and love of the Indie scene, it just made sense to partner with the ILM and sponsor this year's event," says Global Vice President of Marketing, Christian Parkes.
But events like the Independent Label Market aren't only about returning to the old-fashioned ways of buying and selling music in an era when almost every song in the world is just click away. With the major labels constantly absorbing each other and shrinking in the process, the indie community has swooped in to take their place.
"As the majors struggled to come to terms with the new state of music courtesy of digital distribution, independent labels and artists in particular, seized the opportunity: they understood the power of being able to connect quickly, and directly with their fans," explains Parkes. "It leveled the playing field between the majors and indies in many ways. As a result, you have bands exploding out of nowhere."
"'Independent' labels were branded that way because they were off the grid (of the majors)," he continues. "Now, they've become the grid. It's really exciting and inspiring to see the scene adapt and grow."
With all the tools available to independent labels and artists today, there's enough space for everyone, leading to an atmosphere of support rather than the traditional cutthroat music industry.
Colin Stutz, co-founder of Hit City U.S.A., says that it's his label's second year of participating in the ILM largely due to this relationship between independent music professionals.
"Last time it was a blast meeting the heads of these different labels, as well as meeting new music fans and introducing them to our company. On both sides of the booths the vibes were strong and communal, like, we're all in this together. It's totally inspiring."
Paul Devro, one of the three individuals behind Mad Decent Records, echoes Stutz's sentiments. "We may all release different kinds of music but we all truly love music and what we do. We are definitely all connected."
When asked about the original goal behind the Independent Label Market, Daniel responds "It was sort of a reductionist idea about bringing indie labels back to their very essence: one or two people banging on about music very passionately to anyone who'll listen." With the rise of independent music makers, perhaps the industry as a whole will finally return just that: people banging on about music very passionately to anyone who'll listen.
Independent Label Market, which is free and open to the public, returns to Los Angeles this Saturday, May 4 from 11am to 4pm at Micheltorena Elementary School in Silver Lake.
REAL LIFE. REAL NEWS. REAL VOICES.
Help us tell more of the stories that matter from voices that too often remain unheard.