The Music Industry Self Help Guide 2nd Edition is a comprehensive, educational resource publication that was created to help independent artists emerge through the underground and independent sectors of today's music industry while also giving them immediate access to the tools and platforms they will need to implement to obtain forward momentum in their individual careers. This entire book was also re-tooled to provide multiple reference points for quick and easy navigation, and now includes a step-by-step guide on how to register a copyright.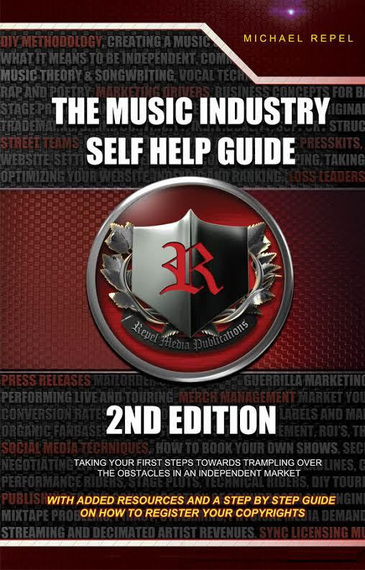 Mike Repel, who has recently appeared as a guest speaker at the 2016 NAMM Show;  has stated that
"In this competitive industry which is fueled by delusion and lack of guidance, there has not yet been a book made publically available to shepherd the naïve through the earliest stages of their careers. So I took it upon myself to write the book that I wish I had access to when I was 16 years old."


Panel at NAMM Music Conference 2016 in Anaheim, CA- Photo by Piero Giunti
 
Repel's background as an indie artist, manager, and also as a former independent record label owner gives this book a dynamic perspective into artist development from all angles. It will help the artist not only understand the fundamentals of their own career development, but also why the industry requires these steps.
Over 100 topics are covered in the span of thirty-four chapters that will empower the individual to obtain the basic foundation necessary before any manager, publicist or record label will even be able to consider them for any realistic opportunities.
"This is an excellent, no-holds barred manual that any musician, especially those in the beginning and intermediate stages of their career should take to heart. All of the bases are covered. And while each chapter deserves a thorough read, the layout of the book makes it simple to find or revisit individual topics at those points in your career when you specifically need to refresh your memory on copyright issues, or merchandising, for example." 
"Arm yourself with knowledge. "The Music Industry Self Help Guide" was like reading my own thoughts, as if Mike entered my head and took my step by step playbook when working with clients. A definite must read for any artist looking to succeed in the ever changing music industry."
- JB Fetzer Founder/Fetzer Entertainment
 
A free preview of the The Music Industry Self Help Guide includes a very in-depth table of contents.
Copies of the 2nd Edition of The Music Industry Self Help Guide are available for international mail-order here. Also available Amazon Kindle Edition and Barnes & Noble Book Store.
Repel's interview with Lucky Star Radio at NAMM Music Conference 2016 click here.
Calling all HuffPost superfans!
Sign up for membership to become a founding member and help shape HuffPost's next chapter