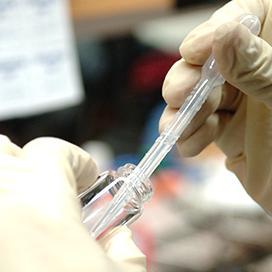 Science conducted at independent research institutes (IRI) is a critical part of so many of the scientific and health care advances that we all enjoy. The quality of the work at IRIs is extremely high, but the economic realities following more than a decade of stagnant National Institutes of Health (NIH) funding pose a serious threat to the future of new discoveries.
Since the recession, one out of every nine IRIs have been forced to turn off the lights permanently, leaving only 80 still in business. According to the Duke Cancer Institute, budgetary reductions along with inflation have resulted in a 20 percent decrease in purchasing power for IRIs. That's a staggering one-fifth of total budget and would equate to a funding crisis for any other business or industry. The financial struggles facing IRIs are now detracting from their missions, which are focused solely on improving the well-being of the public.
Although the impact on the larger innovation ecosystem may not be apparent at present, it is creating a ripple effect that will be felt by all of us in the future, in the form of lost or delayed research opportunities, a smaller pool of truly creative scientists, and the demise of U.S. leadership in biomedicine to competitors, such as China, that are making enormous investments in science.
The Uniqueness of Independent Research Institutes
IRIs operate in a biomedical research ecosystem that includes colleges and research universities, independent hospitals, and independent institutes on the not-for-profit side. Corporations, foundations and governmental agencies which fund most academic research are on the other.
How good is the research conducted at the IRIs? A key metric is competition for NIH grants, which has gone from intense to extreme over the past decade. Grants are evaluated on five criteria: potential impact on human health, scientific approach, innovation, investigator expertise, and institutional environment. During the doubling of the NIH budget in 2001, 32% of grants submitted were funded. Today, just 18.1% receive approval. Despite the formidable competition, last year funding to IRIs totaled nearly $3 billion. IRIs achieve a 15% higher success rate for grants compared to colleges or universities. Although this sounds promising, consider this: just 12% of total NIH funding to outside groups goes to IRIs.
Another measure of innovation is patent awards, and more importantly patent licensing and royalty income, which reflects perceived value to corporate and venture partners. According to data from the Association of University Technology Managers (AUTM), independents and hospitals far outperformed universities, with 228% higher revenues generated per research dollar in 2011.
And at the pinnacle of international scientific achievement, five scientists at IRIs have shared the Nobel Prize in Medicine or Physiology for discoveries that revolutionized their respective fields in the new millennium. Taken together, it is clear that IRIs are intense innovators! One wonders how much more could be achieved if more NIH, philanthropic and corporate dollars funded IRI research.
Laser-Focused Research Initiatives
Each IRI is hyper-focused and specialized in their respective discipline, and combined, these organizations cover diverse areas of study. As one example, at the Forsyth Institute, we have spent the last decade recruiting new scientists and acquiring cutting-edge technologies to set the stage for scientific advances that will revolutionize our work.
Founded more than 100 years ago, Forsyth has been instrumental in identifying the bacteria that cause dental decay and periodontal (gum) disease, and in clarifying the beneficial effects of fluoride in preventing decay. We have moved on and are now dedicated to determining the connections between oral health and overall wellness. With the realization that the mouth is the portal to the rest of the body, this extends far beyond healthy teeth.
Our research seeks to understand the interactions between the mouth, the oral microbiome, and inflammatory and immune responses. We also investigate how the mouth is a gateway to understanding systemic conditions including heart disease, type 2 diabetes, arthritis, cancer, and other chronic diseases of aging.
One landmark achievement includes identifying the 700 bacteria that can inhabit the human mouth, sequencing their genomes, and learning what genes they express when they 'behave badly' and cause disease. Forsyth is also using saliva rather than blood to diagnose disease. We are identifying children at risk of developing Type 2 diabetes, individuals who suffer from active tuberculosis or Lyme Disease, and athletes who have suffered concussions, all without a needle stick. Another focus is developing new drugs that naturally resolve inflammation rather than merely block its development, preventing many of its effects on conditions like heart disease, arthritis and diabetes.
Forsyth is fortunate to provide its talented scientific team the freedom to explore many promising avenues to improving overall wellness. However, despite successes in discovery research, preclinical studies and even clinical trials, there are many other projects that are delayed or shelved because the resources simply don't exist to support them
In Massachusetts alone, we are surrounded by five additional world-class IRIs, including the Broad and Whitehead Institutes in Cambridge; the Dana Farber Cancer Institute and Joslin Diabetes Center in Boston; and the and Woods Hole Oceanographic Institution in Falmouth. My colleagues at these organizations face the same challenges yet continue to have equally important successes every day. This is true of independents on a national level as well, but so much more could be accomplished with additional resources.
Funding the Future of Innovation
One factor that allows IRIs to be successful is undoubtedly the ability to focus solely on research. Scientists at IRIs have fewer responsibilities compared to their peers in academia, who must also teach and engage in committee work. This provides scientists at IRIs with time to concentrate their thinking and efforts on research problems, and the freedom to pursue their intellectual interests with few competing demands.
However the NIH downturn has left independent research institutes especially vulnerable. NIH funding makes up a much larger proportion of IRI budgets than it does at other research institutions, which often have large endowments, and major alternative revenue sources from tuitions or patients, to see them through lean times.
Fortunately, some help may be on the way. The 21st Century Cures Act is the first major initiative to boost NIH funding since 2003. It calls for $8.75 billion in new funding over five years, with 10-15% filtering down to IRIs. It is far from a perfect proposal, but it is a valuable first step.
Without expanded support, the economic challenges facing IRIs today pose a serious threat to tomorrow's discoveries. However, funding the future of independent research should not fall solely on the shoulders of the NIH. As a group we must seek to form new and dynamic partnerships with the biopharma industry to more efficiently translate our discoveries into practical benefits for human health. Robust philanthropic and foundation efforts must also augment NIH funding to support our ground-breaking work.
The freedom which exists at independent research institutes is what inspires Forsyth and other IRIs to future breakthroughs in human health. The goal isn't to satisfy stockholders, but rather, improve the well-being of current and future generations. Together with the help of government, the business world, and the public sector, we can not only preserve but strengthen this critical area of the innovation ecosystem.
Philip Stashenko, DMD, PhD, is President and Chief Executive Officer of the Forsyth Institute. In this capacity, he provides leadership for all institutional activities and oversees all scientific, clinical, educational and community outreach programs. Founded in 1910, the Forsyth Institute is the only independent research organization in the United States dedicated to understanding the important connections between oral health and overall wellness. Forsyth scientists are shaping the direction of precision medicine through pioneering biomedical research and its direct application to new diagnostics, devices and therapies. To learn more, visit www.forsyth.org.
REAL LIFE. REAL NEWS. REAL VOICES.
Help us tell more of the stories that matter from voices that too often remain unheard.