 WASHINGTON -- President Barack Obama added another powerful budget negotiation ally when one of the nation's largest and most prominent charity coalitions this week publicly backed the White House proposal to raise tax rates on the wealthiest 2 percent of households.
The endorsement announced Wednesday by Independent Sector, a nonprofit advocacy group representing more than 600 member organizations, reverses the group's earlier determination to remain neutral on proposed tax increases -- a decision it reaffirmed last Friday.
The Independent Sector's switch came the day the Business Roundtable, a corporate lobbying group of CEOs from some of the country's biggest companies, also announced it had dropped opposition to tax rate increases for the wealthy, after spending most of the year lobbying to protect Bush-era tax rates for the top 2 percent.
As budget negotiations between the White House and congressional Republicans intensify, statements from interest groups like Independent Sector and the Business Roundtable show how the administration is carefully building support for raising taxes on the top income bracket. The success at getting both groups to publicly back the president's position, despite ongoing disagreements on other issues, marks a turn in Obama's favor in reaching a deal to avert the so-called fiscal cliff.
Independent Sector CEO Diana Aviv sought to downplay the significance of the group's about-face and adamantly maintained there was no quid pro quo with the White House. She said the board of Independent Sector has long favored greater revenues as a tool to cut deficits and "became more specific this time [with the 2 percent number] because that's what was on the table."
But coming after Independent Sector initially declared it was "not interested in getting in the middle of a partisan political struggle," the sudden board vote and follow-up statement were a clear departure from the group's previous position. As Aviv explained, "the board believed that not making a statement might be construed as not caring or not being engaged."
The administration spent more than a week staging a full-court press to convince charities to publicly endorse tax increases for the rich, both through closed-door meetings and a conference call late last week. In each discussion, White House officials made the case that charities stand to benefit more from a tax increase on the wealthy than they do from the Republican proposal to raise revenue by capping deductions and closing unspecified tax loopholes.
Administration officials argued that the GOP plan had more potential to hurt charitable donations. "You look at the top 1 percent of households in this country -- under [the GOP] proposal, 97 percent of them would lose any incentive at all to give additional money to charity," said Jason Furman, principal deputy director of the National Economic Council, during a briefing with reporters last week. "These are households that are responsible for one-third of tax-deductible giving. You take away their charitable deduction completely, you're going to get $10 billion less a year going into charity."
If Republicans carved an exception for the charitable deduction from their proposal, the GOP's estimated total revenue would fall to $450 billion -- nowhere near the amount of revenue the president has requested, Furman said.
Independent Sector's board voted unanimously on Tuesday to issue the statement containing a reference to the top 2 percent of earners. Participants in a conference call hosted by the group on Wednesday afternoon were unaware of that vote. A veteran nonprofit executive who was on the call told The Huffington Post there was no mention on the call that the coalition had issued a statement a few hours earlier endorsing the president's tax plan.
This may have been in part because the conference call conversation was dominated by talk of a possible cap on the charitable deduction, which has been backed in different forms by both Obama and GOP leadership. Aviv said that Independent Sector still vehemently disagrees with the White House on this issue, and that she talks to members of the administration nearly every day to make sure they know it.
Nonprofits generally oppose a cap on charitable deductions and that opposition may unite them, said the nonprofit executive, who didn't want to be named because his employer is involved in budget negotiations. "Opposing a deduction cap is basically the only position that's universal enough for groups on both sides of the political spectrum to endorse," he said. "Once you start talking about raising or lowering taxes, you're touching on issues that people feel really strongly about -- both donors and stakeholders -- and no one wants to say the wrong thing."
A similar situation is playing out in Congress, as both Democrats and Republicans hedge their words when discussing the charitable deduction.
"I'm not supporting any particular cap or approach" to charitable deductions, Sen. Rob Portman (R-Ohio) told HuffPost. "But I am supporting tax reform, and I think it can be done in a way that would be positive for nonprofits and for all of us."
Another Republican, Rep. Lou Barletta (Pa.) said he was "obviously" concerned about charitable deductions, but was reluctant to call for its exemption from proposals to reduce the deficit. "As a former mayor I know what they do for the communities around America and how they help," Barletta said. "But we need to wait and see the final negotiations that we bring to the table, because the devil is in the details."
Democrats were quick to blame Republicans for any future drop in charitable giving, arguing that if they were just open to raising tax rates on the wealthy, charitable organizations would face less potential harm.
"My view is that it is both easier politically and better substantively to raise the top rate," said Sen. Chuck Schumer (D-N.Y.). "To say in general, I want to limit deductions is easy. [When] you start looking at the specific ones, it's much harder."
The contours of a deal are still far from certain, but between the charitable sector and the Business Roundtable, it's increasingly clear that Obama is positioning as many allies around him as he can.
"The biggest value the charity sector brings Obama is PR," explained the nonprofit executive, who said he was glad that Independent Sector was taking a stand. "But by stepping out in public, they also offer the president a chance to deny Republicans the talking point that the GOP is on the side of charity. Everyone wants to be on the same side as charities."
Before You Go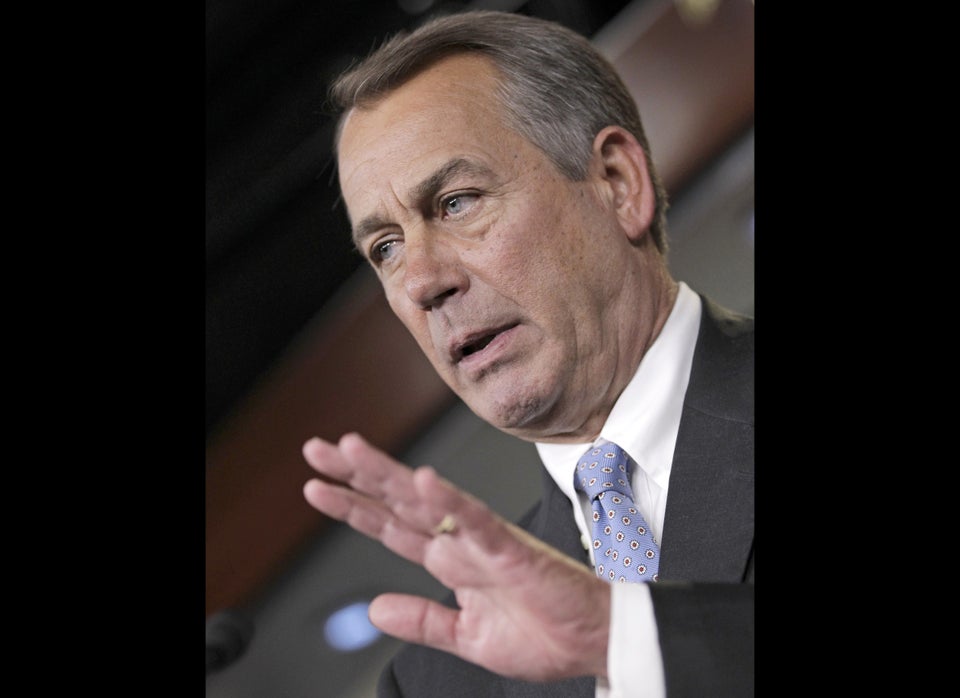 Republicans: Wealthy Already Pay Enough In Taxes
Popular in the Community